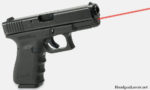 Editor's Rating
Users' Rating (Click a star to rate this laser.)
Summary:
Jed Henson's review of and rating for the LaserMax Guide Rod Laser Glock Gen3, including a description, field report, photos, pricing, specs and user ratings.
Editor's Review
For close to a decade now I've employed a Glock 19 Gen3 as my nightstand gun. A few years after I bought it, I began toying with the idea of adding a laser sight to the pistol. I'd been working through nighttime home-invasion defense scenarios, and it occurred to me a laser sight might improve my ability to target and/or deter any bad guys who ascended the stairs toward our bedrooms.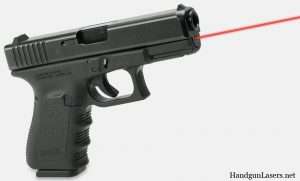 I began researching laser sights, and Lasermax's guide rod lasers jumped out at me. I liked the fact they're internal and therefore don't increase a pistol's size, form factor or weight in any way. I also preferred their manual on/off switch as opposed to automatic grip activation switches.
I purchased a red Lasermax guide rod laser and installed it, and it's been in my Glock ever since. My review follows.
The Details
Lasermax's Glock Gen3 guide rod laser kit includes a guide rod unit that consists of a recoil spring integrated onto a guide rod with end caps to retain the spring on the rod. This unit replaces the factory guide rod unit that comes with your Glock 19 Gen1, Gen2 or Gen3 pistol. (Lasermax offers Gen4-specific models for that generation pistol.)
The Lasermax guide rod contains either a red, green or infrared laser. The red laser produces a 5 mW, 635 nm blinking beam, the green laser a 5 mW, 635 nm blinking beam, and the infrared laser a 0.7 mW, 850 nm blinking beam. All three lasers shine a 0.3″ dot at 7 yards and 0.75″ dot at 25 yards. Lasermax says the red and green lasers are visible up to 1,000 feet.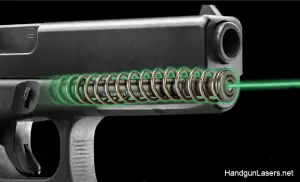 The guide rod also contains three 393 silver oxide/alkaline batteries that provide 1–3 hours of continuous use. Lasermax says the batteries will function from 14 degrees F up to 120 degrees F.
The laser kit includes a new factory take-down lever as well, and a new take-down lever spring. The new lever serves as the laser's ambidextrous activation switch. When centered, the laser remains off. When you press the lever one click through the frame either right or left, the laser activates. In addition to the tactile clicking sensation, the lever includes yellow lines on the right and left to help you visually assess the laser's status.
LaserMax says its lasers meet or exceed both mil-spec and U.S. Homeland Security durability test standards. Each laser reportedly undergoes live test firing, and is backed by a five-year warranty.
Installation
You don't need a gunsmith to install this laser sight. First, clear and fieldstrip your Glock, including popping the factory guide rod unit out of the slide. Then press down the take-down lever spring as far as possible (Lasermax provide a handy poker tool), and, while holding the spring down, remove the take-down lever by pushing it sideways through the frame. Release the spring, turn the frame upside down and tap it—hopefully the spring will fall out. If it doesn't, gently pry or pull it out with the poker, tweezers, etc.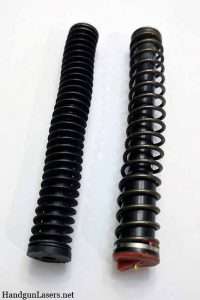 Install the new take-down lever spring, using the poker tool to push the spring's smooth end into the socket as far as possible. Install the new take-down lever, making sure the aforementioned yellow lines face the shooter.
Finally, install the new laser guide rod unit, taking care it's positioned correctly per the supplied instructions. LaserMax says this laser is self-aligning and can't be knocked out of alignment. So, simply mate the slide back up with frame, cycle the action a few times, and that's it—your laser should be ready to go.
In the Field
The learning curve for this laser is pretty small because the take-down lever also functions as the activation button. That means when you hold your pistol in the ready position with your trigger finger resting alongside the frame, your trigger finger is touching or in close proximity to the lever, making it easy to snap the laser on or off. And if you take a two-hand, thumbs-forward grip, your support hand's thumb rests on or near the lever, too.
To me, the lever is a little difficult to push, and maybe a little inconsistent regarding how far you must push it to activate the laser, at least from the left side. At the range, this isn't an issue, but in an honest-to-God emergency it might pose a problem.
After installing the laser, I compared the laser dot's location with the sight picture. It looked right on, and the first trip to the range confirmed it. In short, my bullets fly to the dot. In fact, I'm a little embarrassed to admit I shoot my Glock 19 better with the laser than the sights.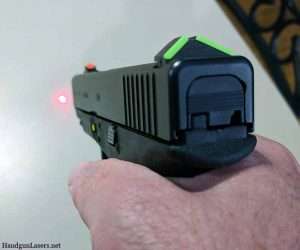 Over the years, I've fired hundreds of rounds through the Glock with the laser installed, and I've turned it on and off countless times at the range and during house drills. I don't clean my guns all that often, but I have stripped and cleaned the Glock several times since I installed the laser. Through all this use and manipulation, it has never failed.
I should also note I've changed the laser's batteries only once over the past five years. Lasermax recommends replacing them once a year, so obviously I'm pushing it. Lasermax also recommends replacing the recoil spring after 5,000 rounds, and I'm nowhere near that number yet.
I've seen some discussion online about holsters turning the laser on, leading to early battery death. This appears to be a holster-specific issue, and it's never occurred with my three holsters (a Remora holster, a Galco leather inside-waistband holster, and a Safariland security holster). If you buy this laser, make sure you check it out with your holster(s) before carrying it.
Final Thoughts
Lasermax began producing guide rod lasers way back in 1988, and I'm a little surprised this style laser doesn't dominate the market. I guess I'm biased, but I like the fact I didn't have to change holsters or grips to accommodate this laser sight, and that I didn't have to hang a laser off the rail and thereby alter my Glock's balance.
I appreciate the laser's ease of installation, accuracy and durability. New laser sights hit the market each year, but I've found one that works well for me and my nightstand gun.
________________________________
Jed Henson is an author, editor and publisher.
Pricing & Shopping
Note: LaserMax offers guide rod laser sights for the following Glock Gen3 models: 17, 19, 22, 23, 26, 27, 29, 29SF, 30, 30SF, 31, 32, 33, 34, 35, 36, 37, 38 and 39.
MSRP: $399 (red)
MSRP: $449 (green)
MSRP: $459 (infrared)