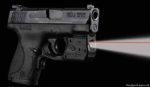 Users' Rating (Click a star to rate this laser.)
Summary:
The description, photo and pricing of the Crimson Trace Laserguard Pro laser sight and light combo.
Manufacturer's Description
The Crimson Trace Laserguard Pro is a trigger guard/rail-mount laser sight and tactical light combo built in a black polymer housing with a rubber overmold grip activation button. Other features include:
Four operational modes, including laser/light on, laser only on, light only on and laser/strobe light on;

a master on/off button that also selects the operational mode;

The Laserguard Pro on a Smith & Wesson M&P Shield.

one CR2 lithium battery designed to provide up to 2 hours of continuous use;
a 150-lumen white light; and either a
either a 5mW red laser or a 5mW green laser, both of which produce a 0.5″ dot at 50′.
Crimson Trace says this laser is factory sighted at 50′, and that you can easily install it yourself, and adjust it for windage and elevation.
Crimson Trace currently offers the Laserguard Pro for the following pistols:
Glock full size (17/22/31+)
Glock compact (19/23/32+)
Glock subcompact (42, 43, 26/27+)
Smith & Wesson M&P9 Shield, M&P40 Shield and M&P45 Shield
Springfield Armory XD-S.
Crimson Trace offers select models pre-packaged with a custom Blade-Tech Klipt ambidextrous inside-the-waistband holster. The laser-light is backed by a three-year warranty.
Pricing & Shopping
MSRP: $279 (red laser, without holster)
MSRP: $379 (green laser, without holster)