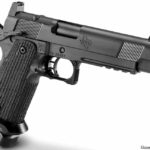 Users' Rating (Click a star to rate this gun.)
Summary:
The description, specs, photos, pricing and user ratings of STI's HOST DS pistols.
Manufacturer's Description
STI's HOST DS is a double-stack 1911-style pistol built on a steel frame with a steel slide, and chambered in 9mm, .45 ACP or 10mm. STI calls it the HOST because it can "host" a suppressor via a threaded bushing barrel and a small classic cut; an optic and/or light via an under-barrel picatinny rail; and an optic via a pre-tapped slide.
Other features include:
Either a a 4.15″ or 5″ barrel, both with a thread protector;
a 4.5-lb. trigger pull;
tall, fixed, tritium, suppressor sights;
black tree bark-style stippled grips;
a Dawson Precision tool-less guide rod;
a tactical magwell;
a black diamond-like-carbon (DLC) finish; and
 a 126mm magazine and a 140mm magazine.
Note: STI offers the HOST DS in 10mm only with the 5″ barrel.
The Specs
| | | | | | |
| --- | --- | --- | --- | --- | --- |
| Caliber | Capacity | BBL | OAL | Height | Weight |
| 9mm | 18+1, 21+1 | 4.15″, 5″ | n/a | n/a | n/a |
| .45 ACP | 11+1, 13+1 | 4.15″, 5″ | n/a | n/a | n/a |
| 10mm | 15+1, 18+1 | 5″ | n/a | n/a | n/a |
Pricing & Shopping
MSRP: $3,199
More Photos