Editor's Rating: 7.0/10
Users' Rating (Click a star to rate this gun.)
Summary: Duane Daiker's review of and rating for the Magnum Research Micro Desert Eagle pistol, including a description, range report, photos, pricing, specs and user ratings.
Editor's Review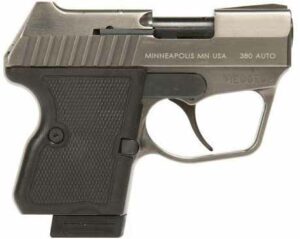 Usually when I review a firearm, I try to figure out where it fits in the market. When I saw the Magnum Research Micro Desert Eagle (MDE) at the SHOT Show, I had trouble immediately figuring out where this gun fits. It's not the smallest .380 on the market, although it's one of the shortest in overall length. It's certainly not the lightest pocket auto, but it's not the heaviest, either. It's not the cheapest, but it's far from the most expensive.
In short, I wasn't immediately sure what would make this gun stand out from the competition. I got my hands on one and ran it through its paces, and my observations and thoughts follow.
Gun Details
The MDE is a pocket-sized .380 ACP semi-auto. The gun is all metal construction, with a nickel Teflon plated steel slide over an alloy frame. Even with such solid materials, the gun weighs in at only 14 oz. empty, which is substantial but not a pocket brick. Operation is by virtue of an unusual gas-delayed blowback system that permits use of a lighter weight slide and springs. The quality of materials used in this pistol, as well as its fit and finish, is quite high.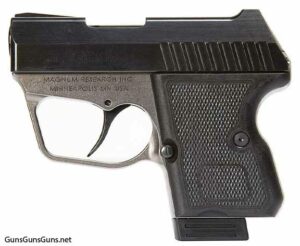 The MDE is double-action-only with a recessed external hammer. No external safety is offered or required with this double-action design. The only other external control is a traditionally placed magazine release on the left side of the grip at the bottom of the trigger guard.
This pistol doesn't have a slide release, and the slide doesn't lock open. The magazine holds six rounds. The magazines are nicely constructed with a witness hole for each round, and a base pad.
The pistol's fixed sights are nicely milled into the slide. Unlike many pocket pistols, the MDE's sights are quite distinct and usable. The sight picture is of the standard variety, and is easy to acquire. For a pocket pistol, the sights are superb and make this gun very capable of accurate aimed fire.
The double-action trigger pull is heavy at a little more than 8 lbs. However, the pull is very smooth—not gritty at all. There is some stacking before release, but not enough to interfere with easy operation. An accidental discharge, however, seems unlikely.
The most noticeable feature of this gun? The very short barrel. Barrel length measures only 2.22″, much like a traditional snubby revolver. This gun has a distinctive look because the slide and barrel extend a bit past the front of the trigger guard. It looks a bit odd but makes the gun quite compact and results in a very short overall length.
For what its worth, the MDE isn't a new design. Magnum Research licensed this design, which was formerly produced in the Czech Republic by ZVI and named the Kevin. The MDE, however, is made in the United States and fully backed by Magnum Research.
Range Report
This diminutive firearm handles well. The slide is relatively easy to operate and features deeply milled grasping grooves. One of my testers has very large hands, and the MDE worked well for him—no slide bite, and no problems manipulating the gun in typical drills.
The MDE is a fine shooter, too. A combination of good sights and a decent trigger permitted me to shoot a 1.5″ group freehand at 15 yards. My other volunteer testers achieved similar results. I would say results are more than combat accurate, and very impressive for a gun sporting little more than two inches of barrel length. Recoil is snappy, of course, but very manageable.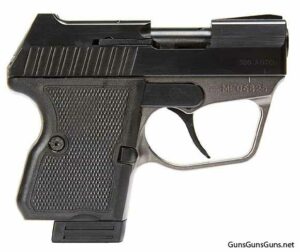 I fired the MDE over a Shooting Chrony chronograph set up 10 feet from the muzzle for 10 consecutive shots to measure velocity (the temp was 65 degrees Fahrenheit). I measured accuracy by firing two, five-shot groups offhand at 15 feet. My results:
Hornady 90-grain JHP/XTP: 710 fps, 1.5″ group
I tested the pistol primarily with the Hornady 90-grain JHP/XTP premium defensive ammo. The Hornady jacketed hollow points (JHPs) ran flawlessly in the MDE. As noted above, even with the short barrel, muzzle velocity averaged a reasonable 710 fps. In short, I was pleased with the performance of the Hornady ammo and would use it as my carry load.
For comparison, I tried an assortment of other premium ammo in the MDE as well. The gun failed to digest only one brand, which seemed to have a shorter overall cartridge length. [Note: The name of that ammo now escapes the author. —ed.] With that exception, the gun functioned flawlessly for several hundred rounds using a variety of ammo.
Carrying Concealed
Carrying the MDE is an easy proposition. In my opinion, this snubnose semi-auto is best suited for pocket carry. To test my premise, I prevailed upon Kevin Manley at K&D Holsters to provide one of his Pocket Defender Deluxe holsters. This design from K&D Holsters proved to be a great choice to carry the MDE. (Sadly, K&D is no longer producing holsters.) When carried in a pants pocket, the MDE can be almost forgotten until needed.
Note: Pocket carry is a natural for this tiny powerhouse, but you need a proper holster to stabilize the gun, distribute the weight and break-up the outline.
Final Thoughts
The gun is at a higher price point than some of the other .380 ACP pocket pistols on the market, but not too much higher. I believe the quality and functionality of this pistol warrant the slightly higher price.
It turns out that this is just a very good gun. It shoots well, handles well, carries well and functions well. I couldn't find a real weakness in the MDE. It may be hard to put a label on this model, but it packs excellent shootability and handling into a high-quality, compact design. I feel very comfortable carrying this gun, and I'm confident it will perform when called upon.
Bottom line: Selecting a defensive pistol is a highly personal matter, but I think the Micro Desert Eagle deserves your strong consideration.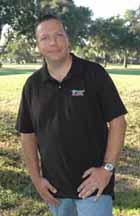 Duane A. Daiker is a contributing editor for Concealed Carry Magazine, but is otherwise a regular guy—not much different from you. Duane has been a lifelong shooter and goes about his life as an armed, responsible, and somewhat opinionated citizen. Contact him at [email protected].
The Specs
| | | | | | | |
| --- | --- | --- | --- | --- | --- | --- |
| Caliber | Capacity | OAL | BBL | WI | HI | WT/OZ |
| .380 | 6+1 | 4.52″ | 2.22″ | 0.90″ | 3.71″ | 14 |
Micro Desert Eagle Pricing
MSRP: $500–$535