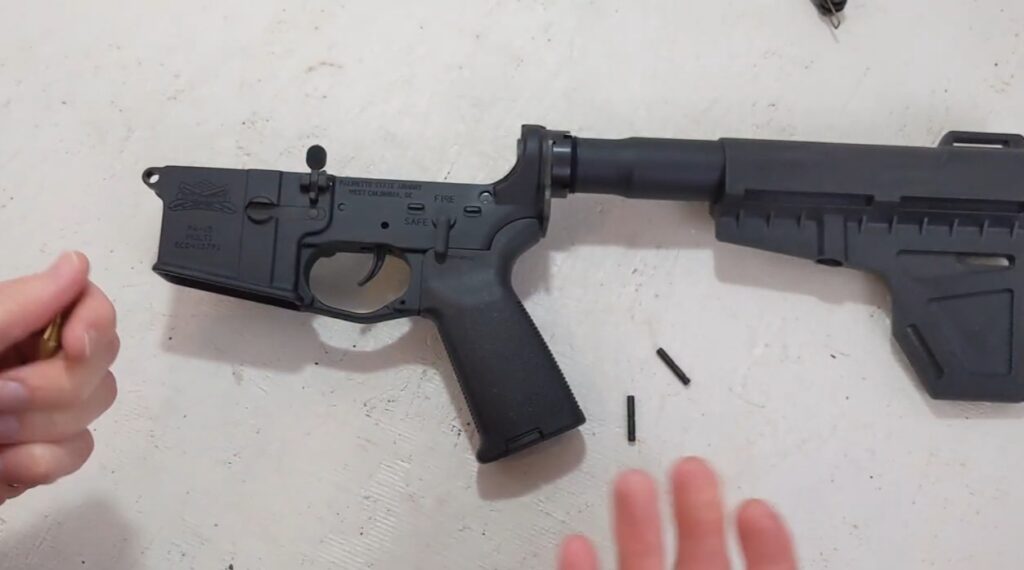 So you picked up a great deal on your lower build kit but don't have cash for a trigger upgrade? That's not a problem! You can still end up with a serviceable trigger. In this article, we'll show you how to improve a Mil-Spec AR15 trigger in about 20 minutes.
What is a trigger job?
We don't have anything against standard Mil-Spec triggers – they're completely functional. But let's admit it, they're heavy and gritty and the amount of creep is beyond acceptable, so shooting them is less enjoyable (and sometimes affects accuracy). So to eliminate those, we upgrade the fire control group. 
How do we do that?
Of course, purchasing a new drop-in trigger is always an option. But, let's say you don't have $200 laying around that you want to invest in this particular build.
Is there a way to make the most of your mil-spec trigger instead?
We thought you'd never ask! Read on and you'll find out, but know that if you do it incorrectly, you can make your gun unsafe! 
So, if you're unsure, use a gunsmith. And if you think you may have messed up, just buy another cheap trigger to practice on until you get it right. It's really not hard if you just do a little at a time and then check your results.
How to Perform an AR-15 Trigger Job: Polish the Trigger for Lighter Pull Weight and Smoother Pull
You will need:
Whetstone or very fine sandpaper
Polishing Wheel
Polish
Gun Grease
The smoothness of the surfaces will determine how well your trigger performs. So, you want a very fine whetstone.  I used a DMT whetstone with Extra Fine and Extra Extra Fine sides.
Diamond Machining Technology (DMT) FWEEE Diafold 2-Sided Portable...
Portable, lightweight with convenient fold & go handles which enclose and protect the diamond whetstone when not in use
Two sided sharpener with extra fine diamond (3 micron/8000 mesh) to provide the finest polished edge of all bonded diamond abrasives and extra-fine diamond to polish and refine an edge
Sharpens knives and tools faster than conventional stones with DMT's monocrystalline diamond surface
Last update on 2023-05-25 / Images from Amazon Product Advertising API
What it Changes
What it Doesn't Change
1. Remove the Fire Control Group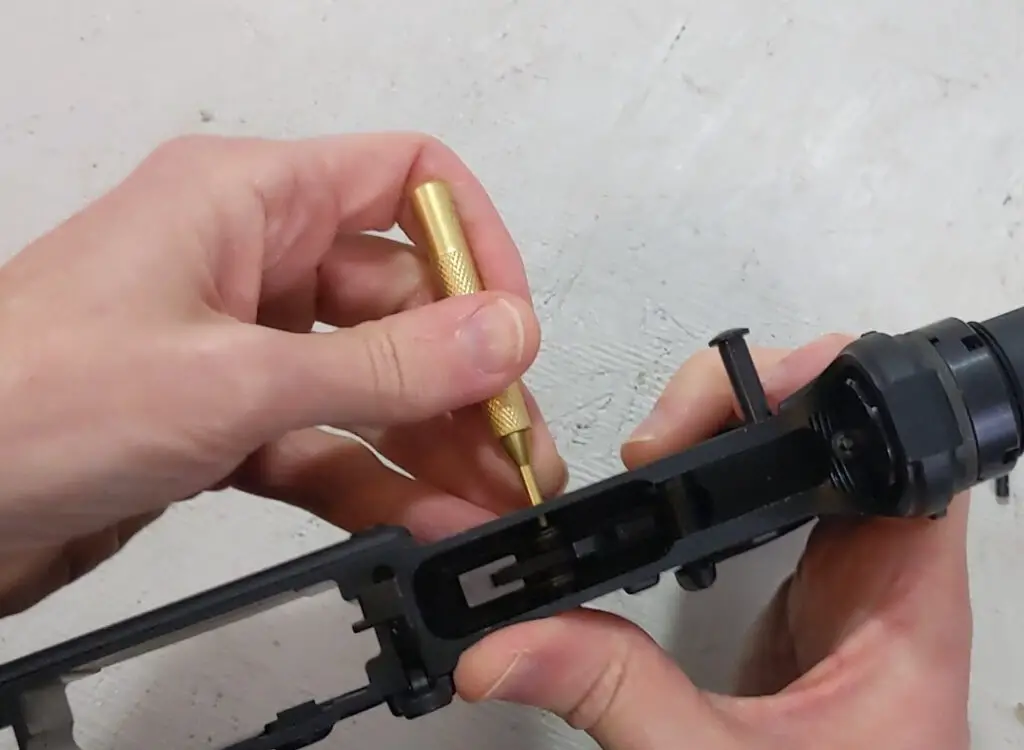 Carefully push the two retention pins that hold your fire control group together. You can use a ⅛ size punch for this to give you more leverage. Take out the hammer and hammer spring, disconnector, and trigger. Be careful not to let these parts go flying across the table!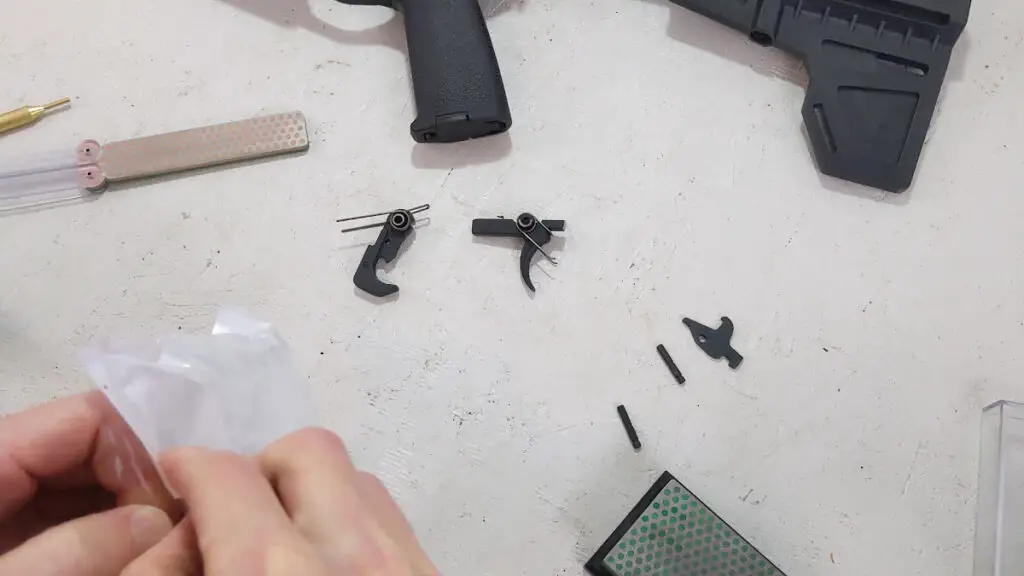 2. Polish the Trigger Face
For polishing the trigger face, use the extra fine whetstone first then work your way to the one with extra extra fine sides. Smoothen only the critical parts. We can't stress this enough, be very gentle in doing this step so you don't end up changing the shape. Doing so will affect the trigger's performance, or worse, cause accidents.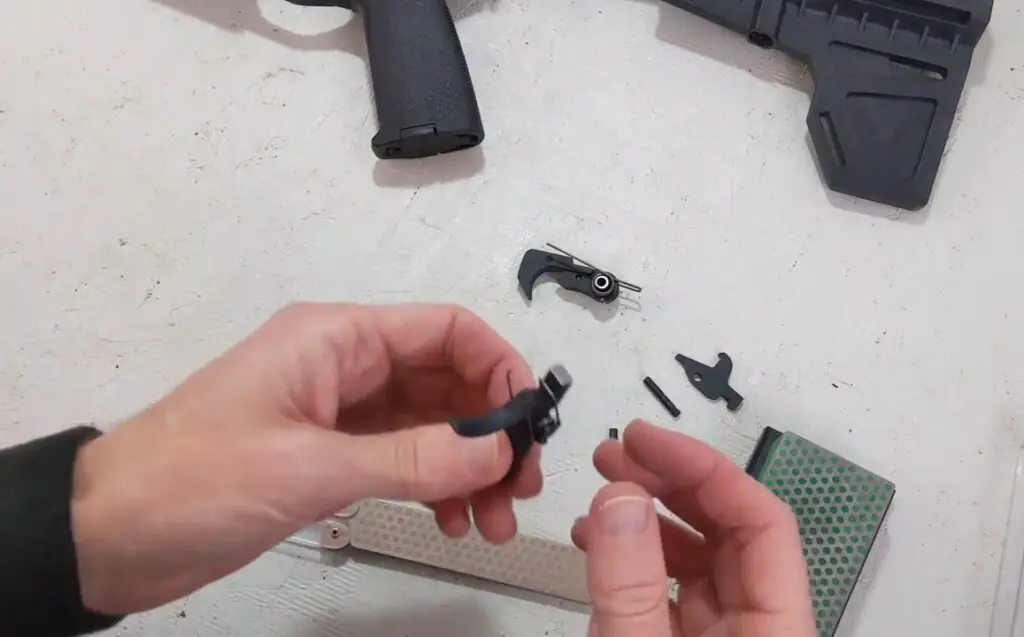 3. Polish the Hammer Notch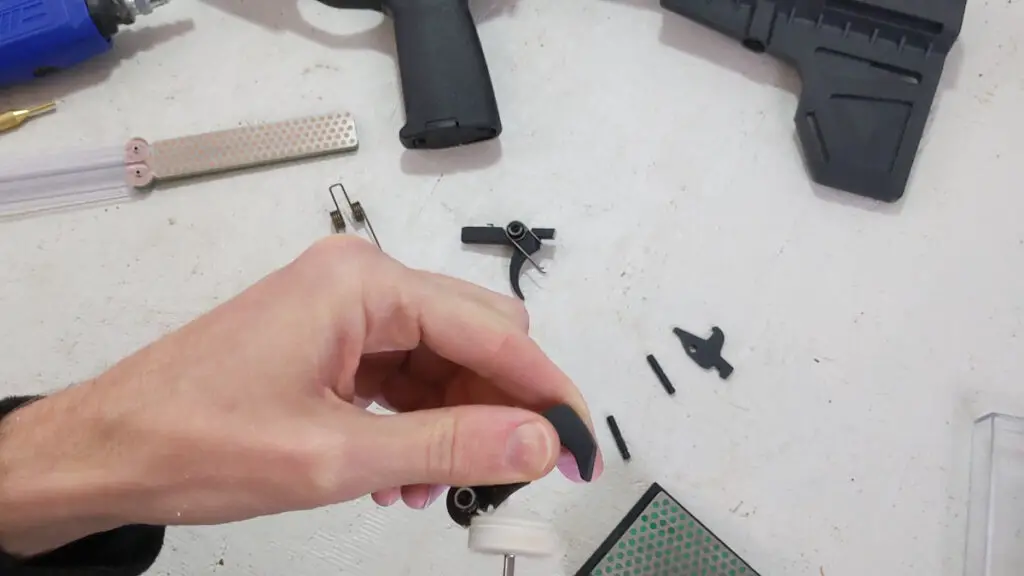 The hammer notch is the most important surface. It's critical that you understand exactly what you're doing and do not change the shape of this surface or remove too much material. If you do, you can make your weapon unsafe! 
4. (Optional) Polish the Sides of the Trigger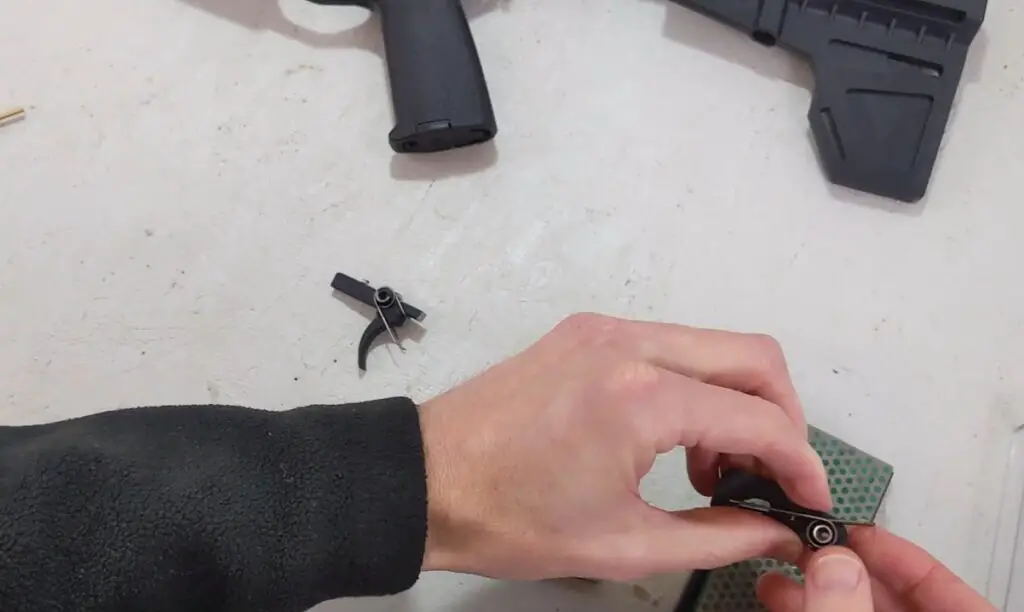 The sides of the trigger where the retention pin passes through will be adjacent to the interior of your lower receiver. So, if those are rough edges from a cast, you'll likely feel that friction as the trigger rotates and rubs against the lower when you pull it. So, I polish these surfaces as well.
5. Reassemble the Lower Receiver
Once you feel good about what you've done, reassemble your lower and check the operation of the trigger, being sure not to let the hammer fly forward and damage your lower as you test it. If you're happy with the feel of it, you're done!
Here's an easy-to-follow video of an AR-15 trigger polishing job:
Of course, there are a couple of other ways you can improve your trigger besides just a polishing job. Let's cover those in case you don't want to stop at polishing.
How to Adjust Your AR-15 Trigger's Pull Weight with New Trigger Springs
Another way to really improve the pull weight of the trigger is to completely replace the springs with a spring replacement kit. If you don't quite get to the pull weight you'd like with polishing alone, a new set of springs is a cheap and simple way to get exactly the pull that you'd like. 
What it Changes
What it Doesn't Change
Take up
Pull length
Break
Reset
You can purchase kits that target specific pull weights, so there's a decent amount of customization available here.
How to Lighten Your AR-15 Trigger By Trimming Your Trigger Springs (Not Recommended): Least Expensive, Least Flexible
One option that I've seen recommending is to shorten the ends of your current trigger springs. To be sure, this will change the moment arm of the bearing surface of the springs and make your springs feel a little lighter. But, if trimmed too much, it could affect the safety of the trigger by compromising the ability of the spring to hold the trigger back consistently.
What it Changes
What it Doesn't Change
Take up
Pull length
Break
Reset
How to Trim Your Trigger Springs
Remove the fire control group
Trim the two ends of the spring slightly
Reassemble the lower and check the operation
Remember, getting this wrong can have dire consequences!
Can you think of a scarier behavior than a trigger that drops and fires unexpectedly? 
Simply put, this could be dangerous, and I would just get a new set of springs. They're very affordable and safer!
How to Replace Your AR-15 Trigger: Most Expensive, Most Flexible 
There are a slew of options for new drop-in triggers for AR-15s. You can get single or double stage triggers, heavy or light, binary actions . . . practically anything!
This is also the most expensive option.
What it Changes
Pull Weight
Take up
Pull length
Break
Reset
What it Doesn't Change
How to Put in a New Drop-In Trigger
Remove the fire control group
Insert the new trigger into the lower and align with the holes
Reinsert the pins into the lower and check the operation
I think the Rise RA-140 drop-in trigger is a great value for the crisp break and clear reset. You can check out the current price using the link below. PSA always has competitive prices.
Conclusion
That's it! Pretty simple, right? Just make sure you know what you're doing to avoid accidents. Familiarize yourself with gun parts, use the right tools, and seek help from a professional (or a friend with experience) if you're not sure what to do.