Whether you're putting together a new build or just upgrading your AR stock, getting the right buffer system for your setup is critical. In this article, not only will we explain the difference between Mil-Spec vs commercial buffer tubes, but we'll also review our favorite brands!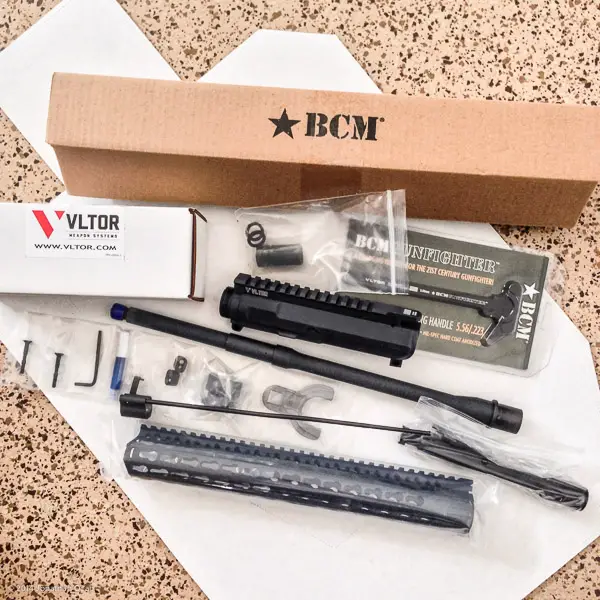 What is an AR-15 Buffer Tube?
The buffer tube (or receiver extension) houses the two other main parts of an AR-15 buffer system – the large spring called the action spring and the recoil buffer mechanism. 
Aside from housing the recoil buffer, the buffer tube also serves as the buttstock attachment point.
So why do we need to go through all the trouble when picking a buffer tube size?
Well, the size you choose may limit the stock options that you select later. It's best to pick something out ahead of time and make sure your buffer tube will be compatible with it.
Mil-Spec Vs Commercial Buffer Tube: What is the difference?
Size
A Mil-Spec receiver extension has a diameter of 1.14 inches, while a commercial one has a diameter of 1.17 inches.
Once upon a time, the commercial tubes were a standard pipe size, easier to get on the market, and therefore cheaper for manufacturers. These days with the popularity of the AR platform, commercial and mil-spec tubes run about the same price and there are a lot of good mil-spec options for tubes and stocks that are available.
Material
Mil-spec buffer tubes are manufactured from a single sheet of 7075-T6 alloy aluminum and have undergone a forging process so they're more durable. And because military and law enforcement personnel prefer Mil-Spec standard gun accessories, this type of buffer tube has wider aftermarket availability because of the perceived superiority.
Commercial buffer tubes are normally made from 6061 Aluminum or similar material. In general, they're less durable and not as solid as Mil-Spec buffer tubes because they're made by putting multiple pieces of metal together. Of course, that's not just a rule of thumb and manufacturers can make either size using the same process if they want. You have to do your research on the one you pick out.
However, only a few manufacturers continue to produce commercial receiver extensions so aftermarket support is limited.
Cost
Forged 7075-T6 alloy aluminum is more expensive so Mil-Spec buffer tubes normally cost more than their commercial counterparts.
Our Pick for the Best AR-15 Buffer Tube: Bravo Company AR-15 Buffer Tube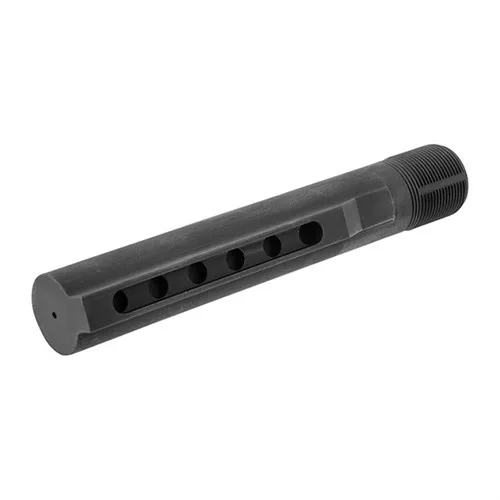 Aside from its 7075-T6 aluminum construction, this Bravo Company AR-15 buffer tube is made more durable by its hard-coat anodized finish. As expected from a BCM product, this tube's overall quality, fit, and finish are better than most brands.
Pros
Quieter than other brands
Well-made
Cons
Costs a bit more than other brands
What Customers Say
The best. I only use these on my gun builds.

Michael West
Extremely well made. Decent wall thickness and o.d. is the same all the way down. Perfect fit with mil-spec stocks.

Mcgyver
Looking for a Full Kit?
Buying an entire assembly is more convenient and saves you a bit. Here are the best ones on the market.
Spike's Tactical AR-15 Buffer Tube Assembly Kit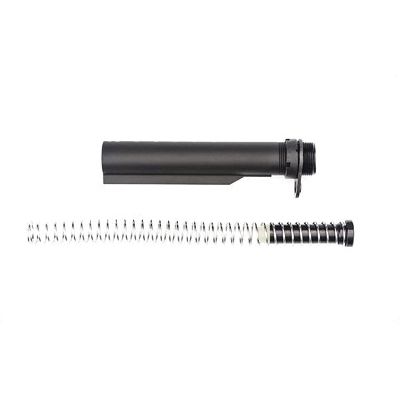 Spike's Tactical AR-15 buffer tube features a pretty good finish that can hold up over time. It costs more than other assembly kits but for those who are willing to spend extra cash for a high-quality assembly, it's totally worth it.
Pros
Excellent recoil mitigation
Quiet action
What Customers Say
I replaced my buffer tube with a Spikes ST-T2 and I can feel a big difference in it. I'll now use ST-T2 buffers in all my AR builds.

tonyparson4392
One of the best upgrades I made.

Bandit3072
PSA Freedom Complete 6 Position Mil-Spec Diameter Buffer Tube Assembly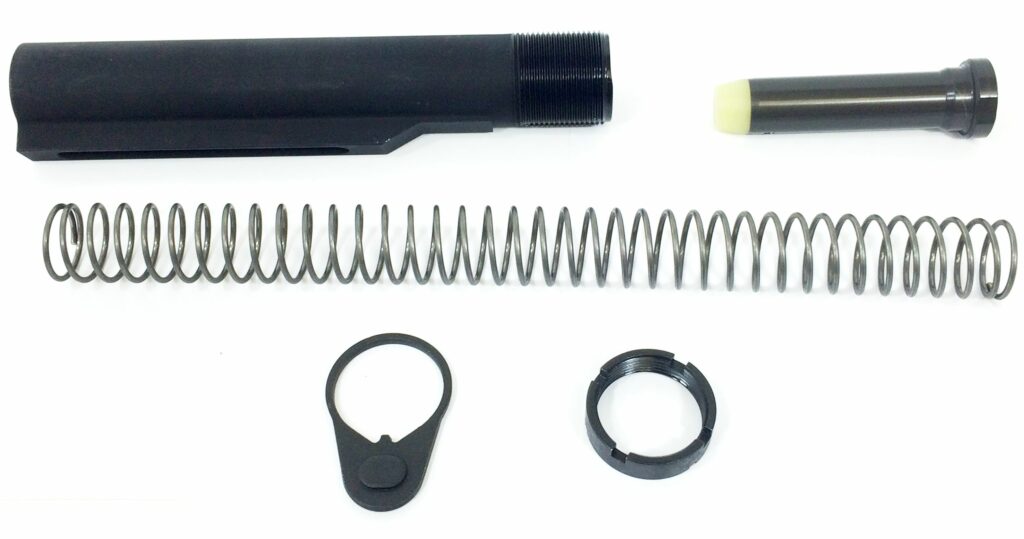 This assembly kit from Palmetto State Armory comes with good-quality parts and gets the job done for a reasonable price. And if this one doesn't do it for you, they have a ton of other options for kits of any size all the way up to complete lowers with furniture.
Pros
Affordable
Easy to install
Mitigates recoil well
Cons
Value option, so don't expect a premium spring and weight
What Customers Say
Bought this to build a binary Aero lower. Worked like a charm out of the box, with no issues with 5.56 or 300BO.

B.I
Perfect threading, clean overall, and functions relentlessly well.

Time of Truths
Palmetto State Armory Magpul MOE Lower Build Kit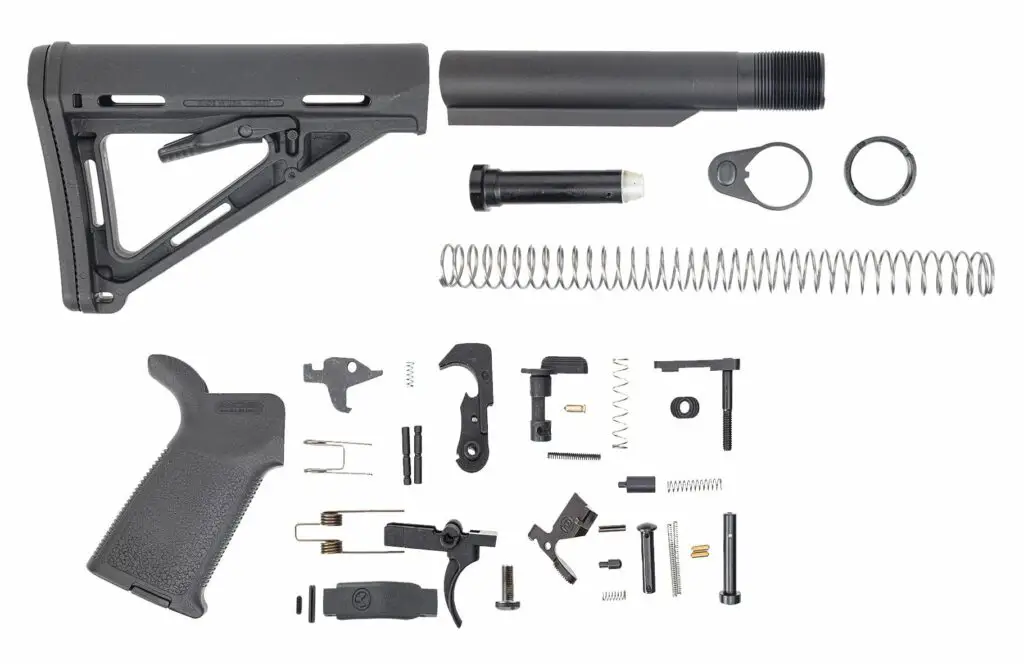 Now here's our recommendation for an entire lower if it's what you're looking for. PSA offers this lower build kit at a decent price (only 100 bucks!), and it works smoothly! This kit includes a Mil-Spec MOE Stock, a Magpul Industries MOE grip, a Mil-Spec buffer tube assembly, and a PSA Classic Lower Parts Kit.
Pros
Affordable
Complete kit
Easy to install
Cons
Some reports of fitment issues
What Customers Say
Great value to build out a lower!

Eli W.
Great kit, esp for the price. Everything fit perfectly and runs well.

Steven T.
Upgrades
JP Enterprises AR15 Silent Captured Springs Gen2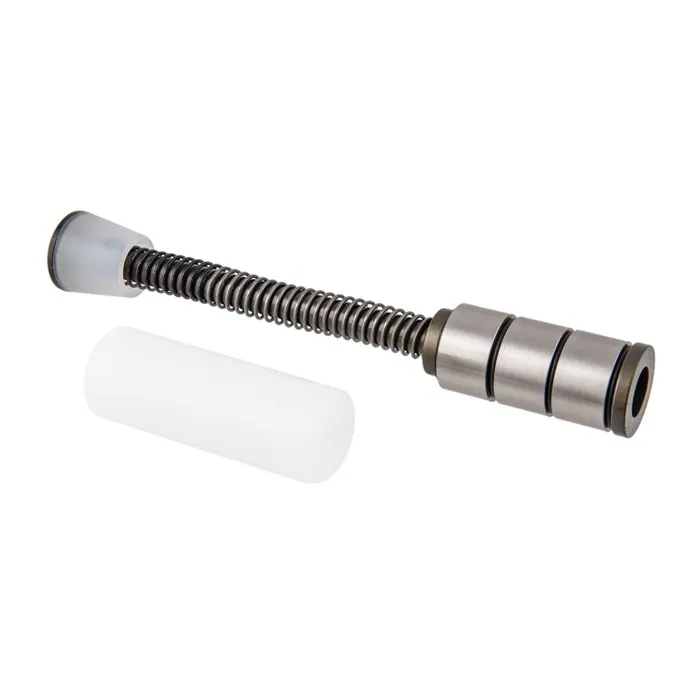 If you want to upgrade your springs from the traditional ones for a quieter operation we recommend this silent captured spring from JP Enterprises. It features a well-balanced buffer spring and a JP LMOS buffer. This recoil system guarantees reduced friction and vibration.
Pros
Quiet operation
Interchangeable buffers
Reduced recoil
What Customers Say
Sure beats the cheese grater spring. With the adjustable spring kit its super easy to tune for you application.

Dsand
You won't use a traditional buffer system ever again. This is a must have for the seasoned marksman looking to quell unwanted resonance. Very high quality construction JP Enterprise is well known for.

A.b
Sylvan Arms Folding Hinge Stock Adapter
If you're looking for a stock adapter, our pick from Sylvan Arms will keep your rifle in a smaller profile for easy transport or storage. It's designed, built, and assembled in the USA so expect premium quality. 
It lets you fold your stock and significantly reduce the length of your rifle for easy stowage and travel. It's specifically designed for gas piston and direct impingement 5.56 to 308 systems. It has standard 1-3/16-16 TPI thread and does not require any additional parts to be used with standard BC groups. 
It is CNC machined in the USA from 7075 billet aluminum, making it uniquely lightweight and corrosion resistant. This assembly weighs only 6 oz. No special tools are required for installation, only a standard armorer's wrench. The product does not need to be disassembled in order to install it onto your rifle/pistol. Simply screw on, fold, and carry.
Features:
Fits all platforms 223/5.56 to 308 and 9mm with Sylvan Arms 9mm bolt conversion with 5/8 inches ID (0.625) standard size bolt carrier
Pros
Limited lifetime warranty
Corrosion-resistant
Easy to install
Cheaper than rival brands
What Customers Say
Easy to install and works like a charm. Just wish the hinge was on the other side but not a big deal.

Robert H.
Product is as advertised, sturdy and easy to install with the proper tools.

Shon C.
FAQs
Will a mil-spec stock fit a commercial buffer tube?
Even though the difference between their size is small, it's not negligible. Using a Mil-Spec stock with a commercial buffer tube may cause damage to the parts so it's not advised.
Can Mil-Spec and Commercial Tubes Use The Same Inner Parts (BCG, Buffer, and Spring)?
Despite their outer dimensions being incompatible, the interior of a Mil-Spec and commercial tubes are similar, so you can use any bolt carrier group, buffer, and spring for both types.