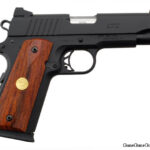 Editor's Rating: 7.5/10
Users' Rating (Click a star to rate this gun.)
Summary: Mike Boyle's review of and rating for the Para 1911 LTC pistols, including a range report, pricing, photos and user ratings. (Click here to see all of Boyle's gun reviews.)
Editor's Review
Para's 1911 LTC 9mm pistol incorporates many desirable features of the original Colt Commander, plus a few wrinkles of its own. A weight-saving alloy frame keeps weight down to a very manageable 28 oz. A ramp match-grade barrel measures out at 4.25″, long enough for the 9mm cartridge to reach its full potential. And, the LTC is also chambered in .45 ACP.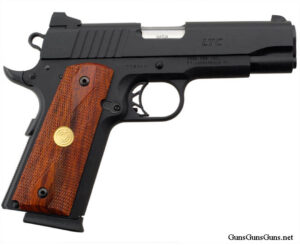 The 1911 LTC is also equipped with Para's revolutionary Power Extractor (PXT). Significantly larger than the original Browning design, the PXT improves both feeding and extraction functions.
Metal surfaces on the LTC are coated with Para's non-reflective Covent Black finish. This finish not only casts a very business-like appearance, but also stands up well against the elements. For positive manipulation, the slide features six deep diagonal grooves.
I'm not especially fond of the popular three-dot pattern sights, but I'll have to admit those on the LTC are better executed than most. The low-profile angled rear sight has a slanted face with fine horizontal serrations. This is mated to a dovetailed front sight with a prominent white dot. Left to my own designs, I would probably take a magic marker to the rear dots and get along just fine.
Other key features include a flat, checkered mainspring housing and a beavertail trip safety. A single-side, frame-mounted safety is standard, and operation was very positive. Instead of the usual plug guide, Para went with a full-length recoil spring guide rod on the LTC 9mm. Checkered, double diamond wood grips held in place by a pair of hex head screws further enhance the appearance of this pistol.
Two nine-shot magazines are provided with the pistol. As with all Para 1911's, the LTC 9mm came in a green, lockable plastic case along with a cable lock, instruction manual and bushing wrench.
Range Time
All of us perceive felt recoil a little bit differently. However, we all have a threshold where recoil begins to have an adverse effect on performance. This effect is actually two-fold. First, discomfort often causes the shooter to flinch in anticipation of the shot. Second, snappy recoil also means more muzzle flip, making it difficult to get back on target quickly for subsequent shots. Lightweight .45 ACP pistols can be a handful for infrequent or less-committed shooters.
In a steel frame 1911, the .45 ACP cartridge is not especially difficult to manage. I wouldn't categorize shooting a lightweight .45 ACP as punishing, but it does take a little more effort to keep it in check. Truth be told, I just can't keep the same pace with my LW Commander as with its steel-frame stablemate.
The first thing you notice when you trigger off a shot with the 1911 LTC 9mm is that it doesn't buck nearly as much as a .45 ACP. The front sight can be quickly brought back on target for fast follow-up shots, and felt recoil is practically zilch. Even hot +P and +P+ loads are easily managed.
The 4.25″ barrel of the 1911 LTC launches 9mm ammunition at some pretty decent velocities. I don't suppose we'll settle the 9mm vs. .45 ACP debate in this millennium, but with high-performance ammunition, the 9mm has narrowed the performance gap. Federal's hot 115 grain +P+ JHP averaged 1,280 fps from the Para pistol. That, team, is in the low end of .357 Magnum range.
Personally, I'm partial to ammunition loaded with premium quality bullets for self defense. LTC 9mm digested Federal HST and Speer Gold Dot loads without missing a beat, and they would be among the top choices for self defense.
I evaluated accuracy potential by firing five-shot groups from a stable rest at a target set 25 yards away. Best performance was achieved with Black Hills EXP 115 grain JHP and Federal American Eagle 124 grain FMJ, which averaged 2.125″ and 2.25″ respectively. In fact, all loads delivered a level of accuracy beyond what I expected from a 9mm 1911 pistol. Here's a table showing my results:
Ammo
Avg. Muzzle Velocity

Avg. Group Size
(from 25 yards)

Black Hills EXP
115 gr JHP
1,224 fps
2.125″
Federal American Eagle
124 gr FMJ
1,131 fps
2.25″
Federal BPLE
115 gr +P+ JHP
1,280 fps
3.25″
Federal HST
124 gr JHP
1,181 fps
2.625″
Speer Gold Dot
124 gr +P JHP
1,224 fps
2.875″
Winchester
147 gr JHP
996 fps
2.875″
Early in the evaluation, I experienced several instances in which the slide did not return fully to battery, preventing the pistol from firing. Prior to taking the LTC 9mm out on the next session, I field stripped the pistol and cleaned and thoroughly lubricated it, eliminating the problem.
Once again, team, that lesson about never carrying a pistol until you are absolutely sure it's totally reliable, is there for all to see. Before strapping any handgun on that might be used to protect your hide, I would recommend running several hundred rounds through it to make sure it works as intended. In the grand scheme of things, bullets are cheap, but life is expensive.
All things considered, the 1911 LTC 9mm has the potential to be a first rate handgun. After running it on a number of practical shooting drills, I came away favorably impressed. After a few false starts, this pistol ran like a top once properly lubricated, and it cycled both ball and hollowpoints without missing a beat. As indicated earlier, felt recoil is very mild and the pistol is easily managed. This is very important to shooters who are recoil sensitive.
Final Verdict
My first self-loading pistol was a 1911, and my comfort level with this design runs fairly high. Over the last 25 years, my horizons have broadened considerably, but I will concede a certain bias to the 1911. As much as I favor this timeless classic, I'll admit it's not for everybody. But it would be difficult to find another class of pistol that offers the hit probability of the tried and true 1911.
What of the Para 1911 LTC 9mm? This LTC 9mm stands as an excellent alternative to the identical pistol chambered for the .45 ACP. The 9mm is a real pussycat to shoot even with the lightweight frame. An extended session with the LW Commander pretty much wears me out, but with the LTC, I can keep at it indefinitely.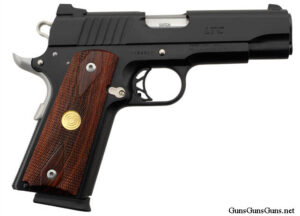 This user-friendly pistol might allow you to make hits with a greater degree of precision. As long as I can load up with a high-quality expanding bullet, it doesn't much matter to me if there is a 9mm or a .45 ACP in my holster. Many folks will find that a 9mm offers a tangible advantage, particularly when shooting at speed.
This single-stack 9mm will fit the most users' hand very well. The same cannot be said of many of the double-stack double-action pistols. This, of course, is old news, but I'm still amazed at the number of people who blow off the single stacks like the 1911 LTC, only to settle on a widebody double-action that will never fit their hand properly.  I wouldn't feel the least bit undergunned with a 10-shot pistol, particularly if I can shoot it to a high standard.
New pistols, particularly 1911s, often require a break-in period before they run properly. In a defensive pistol, reliability is everything. Pistols that don't instill confidence don't warrant further consideration. Once I got a few hundred rounds through the LTC 9mm, it did, in fact, move into the winner's circle in reliability.
The trigger on the sample Para 9mm was right on the money for a defensive pistol. Pull weight averaged a little more than 5 lbs. on my Lyman trigger scale and helped me reach my full potential. Heavy triggers degrade performance, and light triggers are best reserved for match guns. The combination of a comfortable grip, decent sights and an optimum-weight street trigger make this pistol a winner.

Mike Boyle served as a captain with the New Jersey Division of Fish & Wildlife Bureau of Law Enforcement and recently retired after 27 years of service. Mike remains active, teaching recruit, in-service and instructor level classes at the police academy. He's also on the board of directors of the International Association of Law Enforcement Firearms Instructors.
The Specs
| | | | | | |
| --- | --- | --- | --- | --- | --- |
| Caliber | Capacity | BBL | OAL | Height | Weight |
| 9mm | 9+1 | 4.25″ | 7.75″ | 5.75″ | 28 oz. |
| .45 ACP | 8+1 | 4.25″ | 7.75″ | 5.75″ | 28 oz. |
Pricing
MSRP: $959