Editor's Rating: 7.0/10
Users' Rating (Click a star to rate this gun.)
Summary: Dave Spaulding's review of and rating for Springfield Armory's XD(M) pistols, including a range report, pros and cons, Springfield's specs and photos, and user ratings. (Click here to see all Spaulding's gun reviews.)
Editor's Review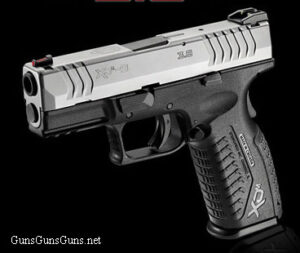 The Springfield Armory XD(M) is a striker-fired, recoil-operated, semi-automatic center-fire pistol made in Croatia. It comes in multiple frame sizes and calibers, including 9mm, .40 S&W and .45 ACP. The gun comes with two additional backstrap inserts that help size the gun for a wide variety of hands, a feature not lost on police agencies. The ability to make any defensive gun more "point-able" can't be ignored. The history of gunfighting has shown that the person who gets the first solid hit will usually win. Enhancing one's ability to get on target quickly is a worthwhile achievement.
Like all XD models, the XD(M) has a grip safety that locks the gun's action if it's not depressed. While this may concern some, it's very hard to get any type of reasonable shooting grip and not deactivate the safety. The trigger has a safety lever contained in the center of its face, similar to that on a Glock, though the XD trigger feels like it's a bit wider and flatter. Being a striker-fired weapon, the XD(M) has a consistent trigger action that's both short in travel and smooth in action. This test gun broke my trigger scale at 6.5 lbs. with a very short length of travel. The reset of the XD(M) feels different from other XD models I've shot, with a length of travel that's right at .3″ from striker reset to release with a weight of 4.5 lbs. This makes for a very fast trigger.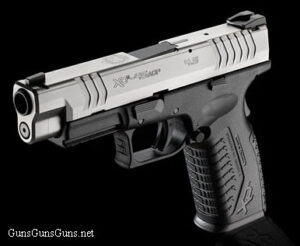 The sights are quite visible with three white dots supplemented by serrated sight faces. While some think this is a gimmick, I disagree: I've found sight face serrations help reduce unwanted glare. Springfield also offers tall sights with the threaded-barrel model.
The XD(M) barrel (either 3.8″ or 4.5″ long, with a threaded option for the 4.5″) is a hammer-forged, match-grade design that maximizes accuracy. The slide is forged steel and coated with melonite, which is the product of a salt bath nitriding process that leaves a thick, rust-resistant finish that resists wear and enhances lubrication. Deep serrations allow the shooter's fingers to maintain a firmer grip.
The frame is made from high-strength polymer (either black or flat dark earth), and the dust cover boasts a three-position picatinny rail that measures 1" long, which allows for the use of white lights and laser sights that users would ordinarily have to employ with their support hand. The grip frame offers a minimal amount of trigger reach while still containing a double-column magazine. This helps those with short thumbs reach the magazine release button, which has been modified on the XD(M) for smoother, quicker manipulation.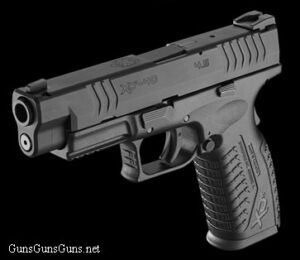 The grip has a checkered pattern that Springfield calls "all-terrain." The company says, "The angle and depth of each contour in the grip has been calculated for maximized control vertically, horizontally and torsionally." Impressive.
Like all XD models, the XD(M) is simple to field strip for cleaning. Merely lock the slide to the rear, rotate the takedown lever up and remove the slide assembly from the front of the frame. You have to depress the grip safety to push the slide to the rear and lock it.
Range Report
I started my test by shooting five-round groups from 25 yards. From a resting position on my shooting bag, I fired the test groups and measured them from center to center at their widest point. The results were as follows:
Speer 165-grain Gold Dot—2.75" group
Winchester 180-grain SXT—3" group
Hornady 180-grain XTP—3.75" group
Corbon 130-grain DPX—2.5" group
Federal 165-grain HST—1.5" group
The XD(M) displayed a strong liking for the new Federal 165-grain HST hollow point. While newer than other comparable hollow points, the HST is quickly becoming one of the most popular police loads in the country. This bonded bullet has been designed to expand to twice its original diameter, regardless of the barrier material it might encounter, while retaining weight for deep penetration. Street results are showing that this round is living up to its test reputation, regardless of caliber.
Conclusion
The Springfield XD(M) points well, is easy to shoot, easy to maintain and comes in a proven caliber. I liked the Springfield XD(M) a lot, and I think it has an excellent future. The best thing to do is try it out and see for yourself.

Dave Spaulding is a 28-year law-enforcement veteran, retiring at the rank of lieutenant. He's worked in all facets of law enforcement—corrections, communications, patrol, evidence collection, investigations, undercover operations, training and SWAT. He currently operates Handgun Combatives, a handgun-combat training program, and he's authored more than 800 articles for various firearm and law enforcement periodicals. In 2010 Spaulding received the Law Officer Trainer of the Year award, and he's also the author of the best-selling books Defensive Living and Handgun Combatives.
The Specs
| | | | | | |
| --- | --- | --- | --- | --- | --- |
| Caliber | Capacity | BBL | OAL | Height | Weight |
| .45 ACP | 13+1 | 4.5″ | 8″ | 5.75″ | 31 oz. w/empty mag |
| .40 SW | 16+1 | 4.5″ | 8″ | 5.6″ | 32 oz. w/empty mag |
| 9mm | 19+1 | 4.5″ | 8″ | 5.6″ | 32 oz. w/empty mag |
| .40 SW | 16+1 | 3.8″ | 7″ | 5.6″ | 28 oz. w/empty mag. |
| 9mm | 19+1 | 3.8″ | 7″ | 5.6″ | 27.5 oz. w/empty mag |
Note: High-capacity mags may not be available in some states.
Pricing & Shopping
MSRP: $709–$886
---
Retail: $549 (4.5″ barrel, 9mm, black) @ Brownells—


Retail: $569 (4.5″ barrel, .45 ACP, black) @ Brownells—


Retail: $479 (3.8″ barrel, 9mm, black) @ Brownells—


Retail: $549 (3.8″ barrel, .40 SW, black) @ Brownells—


Retail: $469 (4.5″ barrel, .40 SW, black) @ Brownells—

Pros & Cons
| | |
| --- | --- |
| Pros | Easy to shoot |
| | Easy to maintain |
| | Ergonomic and versatile |
| | Good for both the best shooters and rookies |
| Cons | None noted |
More Reading
Dave Spaulding has also reviewed the XD(M) Compact. Read it here.