Summary:
The description, specs, pricing, photos and user ratings of the Precision Small Arms PSA-25 pistols.
Manufacturer's Description
The PSA-25 is a subcompact semi-auto chambered in .25 ACP and built on either a steel or an aluminum frame. It is essentially a reproduction of the FN/Browning Baby pistol originally produced in 1931.
A large number of finishes are available, including blue, stainless, satin, mirror, gold plating and more.
The Specs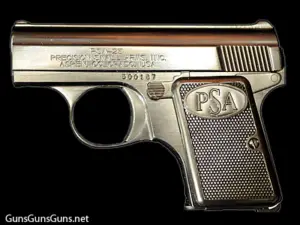 | | | | | | | | |
| --- | --- | --- | --- | --- | --- | --- | --- |
| Frame | Caliber | Capacity | OAL | BBL | Width | Height | Weight |
| steel | .25 ACP | 6+1 | 4.11″ | 2.13″ | .88″ | 2.88″ | 9.7 oz. |
| aluminum | .25 ACP | 6+1 | 4.11″ | 2.13″ | .88″ | 2.88″ | 7.25 oz. |
MSRP for the Traditional (hot blue finish): $649.99
MSRP for the Traditional HP (high polish hot blue finish): $749.99
MSRP for the Bone & Charcoal Color Case Hardening: $1,003.99
MSRP for the Traditional Color Case Hardening: $922.99
MSRP for the Nouveau-Satin (grit nickel finish): $649.99
MSRP for the Nouveau-Mirror (high polish nickel finish): $749.99
MSRP for the Stainless: $774.99
MSRP for the Black Stainless: $854.99
MSRP for the Beauxarts Stainless (high polish finish): $949.99
MSRP for the Featherweight (high polish chrome slide): $1030.99
MSRP for the Featherweight-S (high polish): $1,220.99
MSRP for the Featherweight-T (high polish, and titanium trigger/firing pin/grips): $1,727.99
MSRP for the Montreaux RG (polished 18K rose gold plated): $1,193.99
MSRP for the Montreaux YG (polished 24K gold plated): $1,085.99
MSRP for the Montruex SP (polished sterling silver plated): $1,085.99
MSRP for the Diplomat (high polished hot blue): $1,145.99
MSRP for the Renaissance HB (hot blued and engraved): $2,875.99
MSRP for the Renaissance FB (French blued and engraved): $2,875.99
MSRP for the Renaissance Coin (glass/zircon bead blasted nickel finish): $2,875.99
MSRP for the Renaissance YG (24K gold plated): $2,875.99
MSRP for the Imperiale (24K gold inlay filigree): $3,526
MSRP for the Grand Exhibition No. 1 (orange, green and yellow gold inlay filigree and resettes, and a solid 18K gold trigger: $5,280