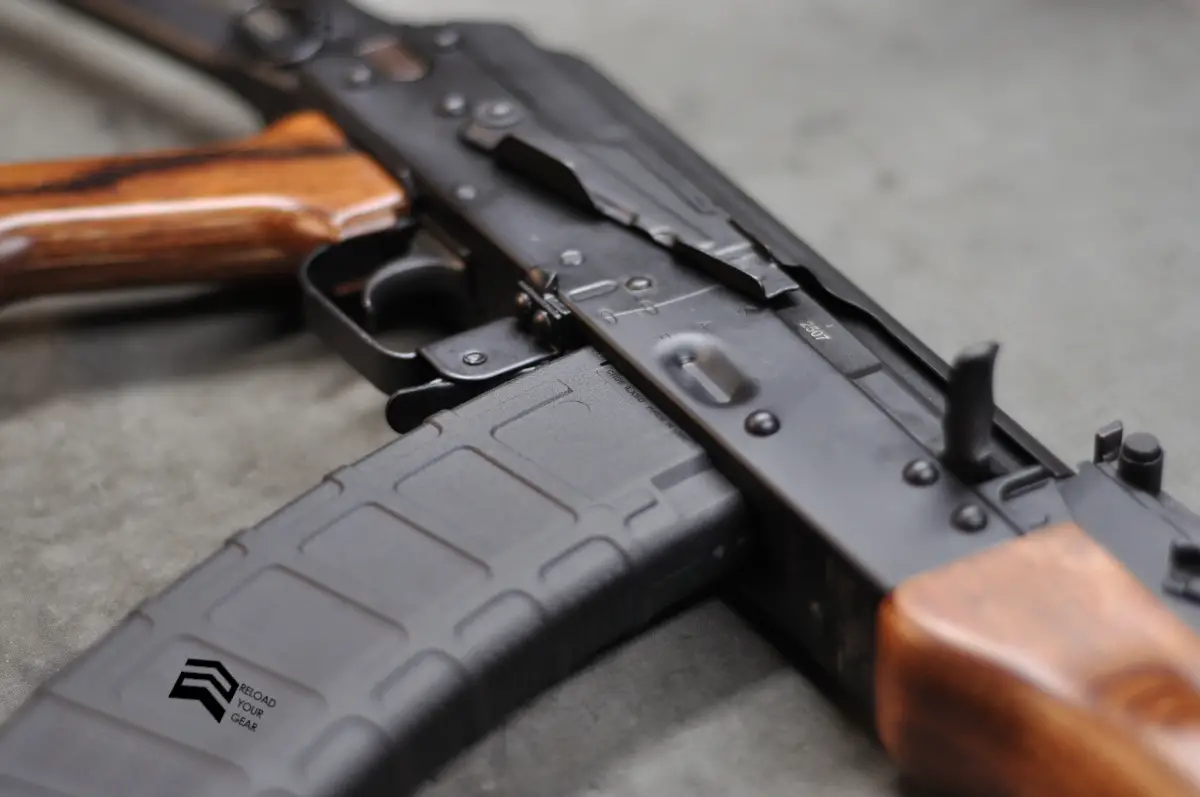 So, you're hunting for an AK that won't leave your wallet feeling like it went through a diet, but you still want something that kicks butt? Welcome to our little corner where we're diving into the PSA PSAK-47. This baby's been buzzed about as the 'best value AK' on the block. But what's the real scoop? In our no-nonsense, PSA PSAK-47 review, we're going to poke around every nook and cranny of this popular gun. We're talking nitty-gritty – from how it feels in your hands to how it shoots. 
Will it live up to the mighty AK legend, or will it just be another "meh" moment in rifle history? Buckle up, and let's find out if the PSA PSAK-47 is really the answer to your AK dreams without turning your pockets inside out. Let the AK adventure begin!
PSA PSAK-47 Review: Bottomline
Straight off the bat, the PSA PSAK-47 is a contender for the best-value AK on the market. It's an American-made gun that combines traditional AK reliability with some modern twists. But does it truly stand out in the crowded AK arena? Let's dissect this beast.
Pros
Very affordable
Solid construction
Great shooter, with a surprisingly smooth action
Modern enhancements improve ergonomics and functionality
Reliable performance
Lightweight (7.5 lbs)
Cons
The slide mount is a bit canted to the right
Average accuracy
What Customers Say
Can't be beat, really nice finish, solid construction, excellent wood. About 400rds in, and zero problems with everything from steel cased Tula to cast bullet handloads. I'm impressed!

James V.
Alternatives
Not convinced yet? Here are a couple of other AKs to consider:
Better Premium Option: Zastava Arms ZPAPM70
Built with the M70 in mind, the ZPAPM70 is a bit pricier. But it's a robust and classic choice with top-notch build quality. You'll surely love the light and crisp trigger. It also comes with a bolt locking system that's perfect for ranges that require an open bolt. 
Cons
Expensive
Heavier than PSAK-48 and WASR-10
What Customers Say
I can tell the hammer spring still needs a little bit of breaking in, but the sights were zeroed from the factory and it runs flawlessly. The wood furniture with the walnut finish looks great. I am very satisfied with this rifle. The best part is hands down the tigger, it is so light and crisp for a stock trigger it's not even funny. Rifle is overall 10/10. .

Luke B.
Better Foreign Option: WASR-10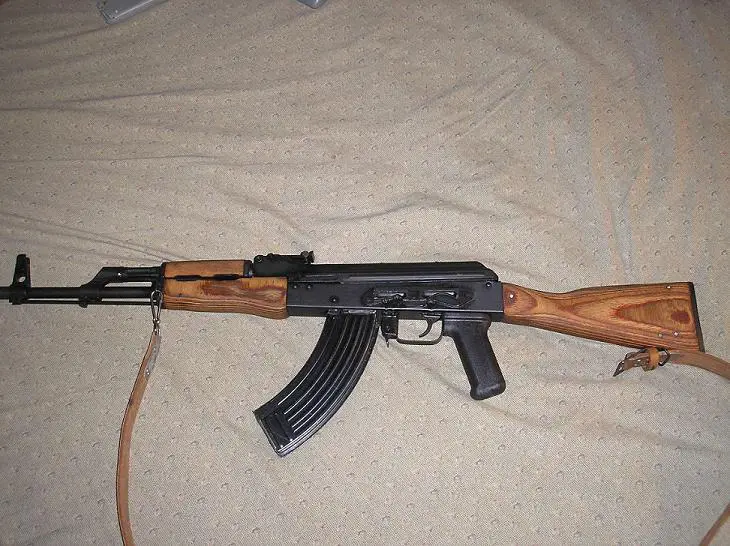 A staple in the AK world, the WASR-10 is known for its dependability. Rough and rugged, this Romanian AK is built like a tank. It features a hard chrome-lined hammer-forged barrel and a RAK-1 enhanced trigger group so you can depend on its accuracy.
Pros
Very accurate
Reasonably priced
Lightweight (7.5 lbs)
Cons
The magwell has limited compatibility
The selector is a bit stiff
What Customers Say
Fantastic AKM at an affordable price. I've had a few AK variants in my time including some in Iraq. This is one of my favorites, very durable and shoots great.

Chris M.
PSA PSAK-47 Specifications
Caliber: 7.62x39mm
Barrel: Gas Nitride 4150 steel treated barrel
Barrel Length: 16.2 inches
Weight: 7.5 pounds (unloaded)
Capacity: 30 rounds (standard)
Twist Rate: 1:95″
Sight leaf: Standard 800-yard rear sight leaf
Trigger: Mil-Spec style single hook trigger
Receiver: Stamped steel 1mm receiver
Build: Forged carrier, bolt, and front trunnion
First Impressions: PSA PSAK-47 GF3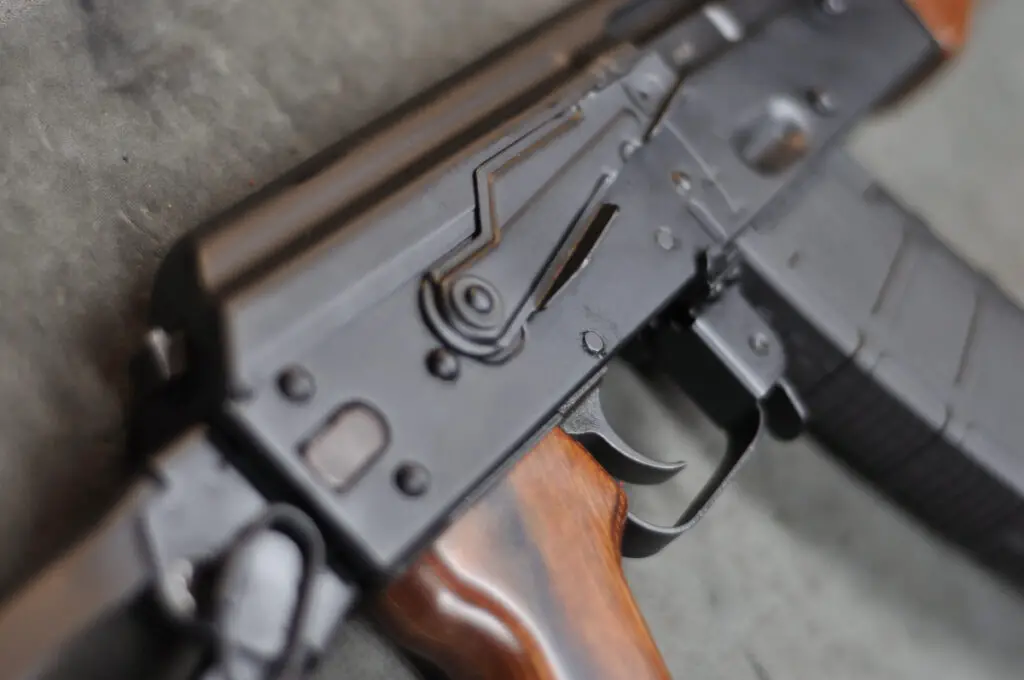 Out of the box, the PSA PSAK-47 looks great. Our unit's finish was in great shape with the exception of a touch of rust around the center rivet, probably from salt used in the heat treating process.
That isn't unusual on stamped receivers on even high end AK's from Romanian and Russia, but it may disappoint some. It was easily cleaned up with a cotton swab and oil, just as you would do with any gun you own and use.
Everything was put together well, with no noticeable misalignments or loose parts.
PSA PSAK-47 Features
This isn't your grandpa's AK. The PSAK-47 comes with some nice upgrades:
Forged Components for Higher Durability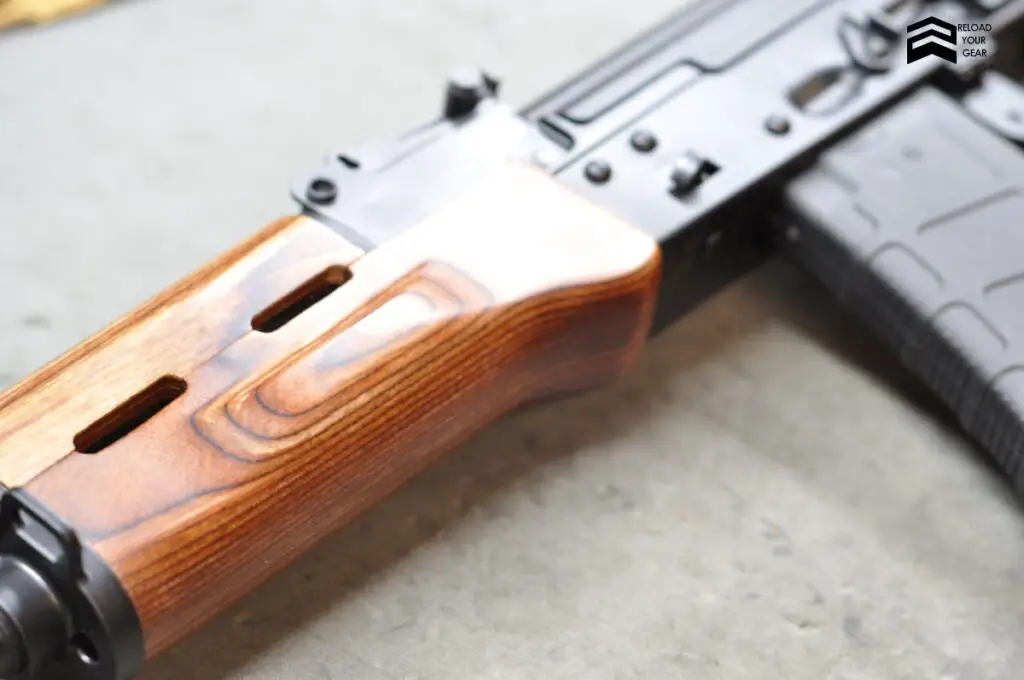 PSA forges the carrier, bolt, and front trunnion to guard against early failure. They tested to 10,000 during development, so yours should hold up well too.
Traditional Side Rail
The PSAK-47 GF3 is ready to rock with a side rail if you'd like to mount an optic on your rifle, with Midwest and RS Regulate being recommended by PSA for compatibility.
Folding Buttstock
While the metal triangle buttstock isn't known for its wide footprint and impact-absorbing qualities, when you fold it and stow the rifle in a small bag, you'll understand what you get in the compromise.
This is one of the big pluses of an AK style rifle over an AR pattern rifle, you can fold and fire the gun if you want. The closest you can get on an AR-15 is a folding buffer tube assembly and stock adapter for an extra $200 at least. And then, you still can't shoot it folded!
PSAK-47 Performance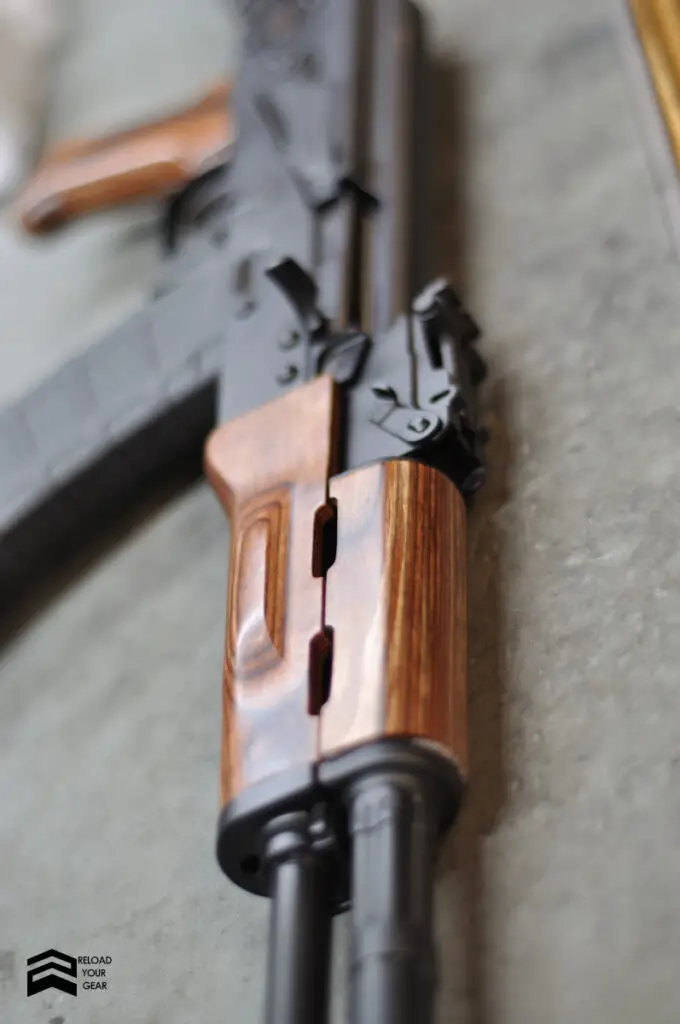 As I mentioned earlier, this is an easy and fun gun to shoot accurately. Follow up shots are easy considering the 7.62 caliber. And, it has chewed through anything it has been fed so far. 
The trigger is good, with a clean break and reset.
From the surveys that I've done, the PSA builds range between the reliability of most foreign guns and the tight tolerances and precision of some of the high-end builds. That's consistent with what we've seen with this gun, with groups of 1-2 MOA.
Most importantly for most, it goes bang when you need it to and should hold up to wear and tear given the forged components.
Final Thoughts: PSA PSAK-47 Review
So, is the PSA PSAK-47 the best value AK out there? For its price range, it's a standout. It marries classic AK reliability with modern features that the modern shooter will appreciate. Whether you're a first-time buyer or a seasoned shooter looking for an affordable addition to your collection, the PSAK-47 deserves a closer look.