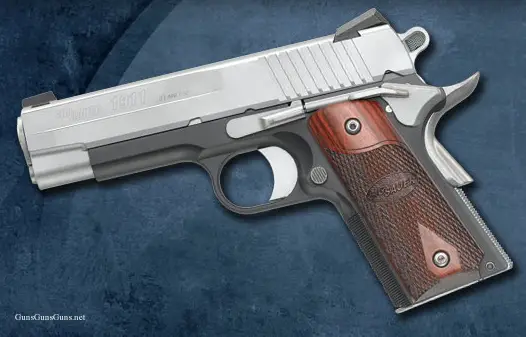 Editor's Rating: 9.0/10
Users' Rating (Click a star to rate this gun.)
Summary: Mike Boyle's review of and rating for the SIG Sauer 1911 C3 pistol, including a range report, pricing, specs, photo, user ratings and user comments. (Click here to see all of Boyle's gun reviews.)
Editor's Review
SIG Sauer's 1911 C3 suffers from none of the shortcomings that plague many small .45 ACP 1911s and offers performance very close to that of a full size pistol. Let's see what it has to offer.
The Details
The C3 I received for evaluation is an eye catcher. The natural stainless steel is mated to a black, aluminum alloy frame. By going with an alloy frame, weight is trimmed back to 29.5 oz. Stainless controls further enhance the appearance of this two-tone pistol.  (If basic black is your thing, a Nitron finish C3 is also available.)  Checkered rosewood grip panels make for a positive hold and also add another classy touch.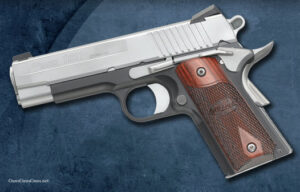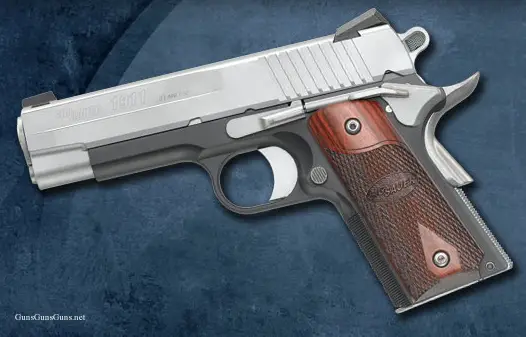 In keeping with its discreet carry theme, overall length of the C3 is 7.7″ with height reduced to 4.75″. Length of the match grade barrel is 4.25″. In essence, we have a Commander-length top, sitting on an Officer's frame.
The front strap is checkered 25 LPI while the flat mainspring housing is checkered 20 LPI. SIG uses only premium quality parts in the C3 and no MIM or plastic parts are used in the construction.
To ensure positive operation, SIG has outfitted the C3 with a palm swell, beavertail safety. A single-side, frame-mounted safety comes standard. This southpaw shooter would, of course, opt for an ambidextrous switch, but that's easily remedied. An oval slotted hammer is also part of the C3 package.
A set of Novak Night Sights helps get the C3 on target. Tritium inserts emit a soft, green glow which will help the user get a reliable index on a target when shooting in low light. The slide of the C3 sports grasping grooves milled into the rear for manual manipulation and the critical eye will also note an external extractor.
The short-grip frame does necessitate the use of a slightly abbreviated magazine. Two stainless steel magazines that hold six rounds are included in the C3 package.
One quality I really liked: The fact it used the standard recoil spring and plug guide instead of a full-length guide rod. I've never really seen the advantage of the full-length rod for a defensive pistol, and in my estimation, it only makes the gun harder to take apart and put together when performing routine maintenance. If there's a slight accuracy advantage to the full-length guide rod, it's lost on me.
Examination quickly revealed the fit of the C3 is significantly tighter than most competitive pistols. Combined with the match grade barrel, hammer, sear set, and trigger, the C3 should shoot like a house on fire. On my Lyman trigger gauge, pull weight came up a little over 5 lbs., just right for a defensive single-action pistol.
Shots Fired
In most respects, the C3 was just like meeting up with an old friend. Control placement and trigger didn't provide any nasty surprises, and the hits came with little effort.  There were, however, a few subtle differences worth discussing.
The short grip frame and the Commander-length slide give this pistol a distinctly nose heavy feel. This isn't necessary a bad thing, just a bit different from other 1911s I've shot in the past. I felt the longer sighting radius was a definite plus and a big improvement over most of the subcompacts with which I seldom perform my best work.
I assessed accuracy potential by firing five-shot groups at a target set 25 yards distant. I used a Hornady Delta Rest to help support the pistol when firing. Most groups ran from 2.5″–3.5″ with Federal's 230 grain +P HST hollowpoint posting the best performance with a 2.375″ average spread. I'm quite convinced the C3 can achieve slightly better accuracy with a sharper-eyed operator at the controls.
I also fired a representative sample of ammunition through an Oehler 35P chronograph to measure muzzle velocity. The 4.25″ barrel launches bullets at velocities that shouldn't retard expansion. I've enjoyed very good success with the better engineered .45 JHPs when shooting through barriers into gelatin, and the C3 would be an excellent delivery system.
My results:
Ammo
Avg. Muzzle Velocity

Avg. Group Size

Black Hills
185 gr JHP
939 fps
2.75″
Black Hills
230 gr FMJ
820 fps
3.25″
Federal HST
230 gr +P JHP
931 fps
2.375″
Winchester SXT
230 gr JHP
806 fps
2.625″
Recoil and its effect on performance will vary from one shooter to the next. Clearly, light guns will prove harder to control than a full-size steel gun. That said, I didn't have any trouble keeping the C3 in check, even when shooting at speed. Alright, you may have to back off on the gas pedal a little bit, but you can still put well-placed hits on target at a fairly good clip. Hot +P loads will definitely test you, but ball was easily controlled. For self defense, 185 grain hollowpoints (such as the excellent Black Hills load tested) are very easy to manage and would provide good results.
Once the C3 had digested a couple hundred rounds, reliability was perfect. I did experience a 2–3 failures to feed the last round of the magazine early in the evaluation, but that problem soon disappeared.
A Class Act
The SIG Sauer C3 is not only a handsome pistol, but it's especially well-suited to its intended mission. With the right holster, the C3 is just as easy to conceal as a subcompact 1911 with a short slide, but it has much more to offer.
Once we passed through the hundred round mark, reliability was absolutely perfect. As indicated earlier, your handgun must work each and every time. As much as I like 1911s, I'm a little more cautious before endorsing them as duty worthy and would run several hundred rounds through one before taking it afield. In the end, the C3 passed with flying colors.
This premium quality C3 occupies a niche somewhere between the standard workhorses and the true custom numbers, which command a price beyond that of a good used car. Performance, however, rivals that of the high-end pistols. This is about as good as it gets for a production gun.
The 4.25″ barrel mated to the short grip frame adds up to a gun that can be discreetly hidden in an IWB, yet packs substantial punch. SIG-Sauer's C3 goes to the top of a very short list of 1911s ideally suited for concealed carry.

Mike Boyle served as a captain with the New Jersey Division of Fish & Wildlife Bureau of Law Enforcement and recently retired after 27 years of service. Mike remains active, teaching recruit, in-service and instructor level classes at the police academy. He's also on the board of directors of the International Association of Law Enforcement Firearms Instructors.
The Specs
| | | | | | | |
| --- | --- | --- | --- | --- | --- | --- |
| Caliber | Capacity | BBL | OAL | Height | Width | Weight |
| .45 ACP | 6+1 | 4.25″ | 7.7″ | 4.75″ | 1.37″ | 29.5 oz. |
Pricing
MSRP: $1,042
More C3 Models
SIG offers a few variations on the C3 now, including:
The C3+, which features a stainless magwell;
the C3-CTC, which features a stainless magwell and black Crimson Trace Lasergrips; and
the C3-CTC-WD, which features a stainless magwell and wood grain Crimson Trace Lasergrips.
More Reading
 SIG's other 1911s:
SIG Sauer 1911 Platinum Elite
SIG Sauer 1911 RCS
SIG Sauer 1911 Carry
SIG Sauer 1911 STX
SIG Sauer 1911 XO
SIG Sauer 1911 Target
SIG Sauer 1911 Nitron Rail
SIG Sauer 1911 Stainless