Editor's Rating: 8.0/10
Users' Rating (Click a star to rate this gun.)
Summary: Walt Rauch's review and rating of the SIG Sauer P238 pistol, including a range report, photos, pricing, specs and user ratings and comments. (Click here to see all of Rauch's handgun reviews.)
Editor's Review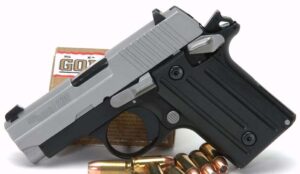 With SIG Sauer's introduction of the P238 semi-auto pistol chambered in .380 ACP, those who favor the 1911 handgun for personal defense can now obtain a 1911-based handgun of a size and caliber well-suited for concealed carry while still providing an effective defensive handgun caliber. Of course, others simply can't abide the concept of carrying a visibly-cocked handgun despite the ability to do so safely, and they will pass over the P238 for personal carry and self defense.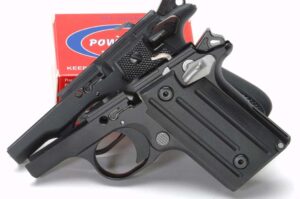 To be sure, carrying cocked-and-locked requires the attention and respect due any loaded firearm, particularly when carried on-body. Such weapons must be carried in a holster that prevents the gun from being dislodged. The holster should also shield the trigger and the manual thumb safety so that any external pressure or object can't activate or move them. (One would think these requirements would be considered obligatory for the carry of any handgun, but unfortunately they're often seen as an unnecessary inconvenience.)
The Lineage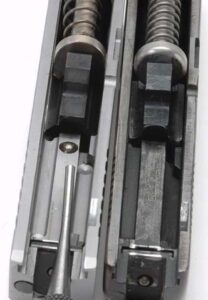 The P238 is, in appearance, a miniature 1911, and it does have some of the same controls. But it's not identical; for instance, it doesn't have a grip safety.
The P238 is also based on the now-discontinued series of Colt MK IV/Series 80-380 Auto pistols, which included the Government Model, Government Pocketlite, Mustang, Mustang Plus II and the Mustang Pocketlite. Indeed, the P238 follows, but does not copy, the Colt Mustang Pocketlite, with both having a similar outward appearance, including a shorter slide and grip, as well as a magazine capacity of six rounds.
I can't identify the first effort to copy the 1911 in a much smaller package (save for Colt's prototype efforts), but two firms that did sell such guns commercially were Spanish arms makers Llama and Star in calibers .32 ACP and .380 ACP. One model, the Star Starfire, chambered in .380 ACP, measured 6″ long, held six rounds and, thanks to an alloy frame, weighed only 14.5 oz. These and others were imported into the United States until the Gun Control Act of 1968 prohibited them.
Now, given Colt's use of the Star's design in its .380 ACP pistols, it's safe to view this SIG P238 as sharing some DNA with all of these guns.
The Details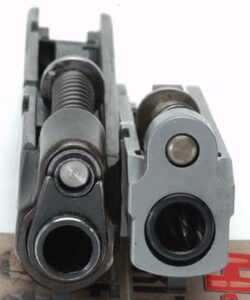 The P238 has an overall length of 5.5″, measures 3.96″ in height and weighs just short of 16 oz. with an anodized alloy frame. Its slide is stainless steel, with both front and rear sights dovetailed into it. SIGLITE Night Sights are optional, as is a red tactical laser that integrates with the pistol trigger guard. It features single push-button operation and is removable with an enclosed tool.
Seven diagonal grasping grooves are at the rear of its wide ejection port, and each side of the slide has been given the SIG look with a centered relief cut running from the muzzle to the rear of the ejection port. A passive firing pin safety of the Colt Series 80 design is used.
The frame has a decent-sized beavertail, relieved at its top to allow the exposed grooved and skeletonized hammer to move down into it when the gun cycles. Both front and backstrap as well as the supplied grip panels are longitudinally grooved, which combined provide very good gripping surfaces without any sharp edges. The grip panels are attached using two allen screws to a side.
The slide stop, thumb safety and magazine release are all in the 1911 positions—left side only (Update: You can now get an ambidextrous safety as well. —ed.). (Important safety note: The slide can be manipulated for loading, unloading or chamber inspection with the safety in the up or on position.) The pivoting polymer trigger is vertically grooved on its face. Trigger pull weight measured 6 lbs. (Factory specifications list a range of 6–8 lbs.) Measuring three other samples at my FFL dealer, two had pull weights of 7-plus lbs. and one came in at 9 lbs.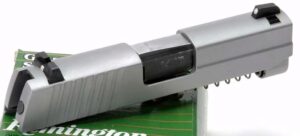 For a side-by-side comparison of the P238 and the Colt Mustang Pocketlite, I asked SIG if there might be some commonality of parts, but the SIG engineer to whom I spoke correctly pointed out that the pistol design is in the public realm. He also pointed out that he could not identify which parts, if any, would interchange between the two because he lacked the Colt specification drawings.
Having a Colt Government Pocketlite model, I did a limited side-by-side comparison. First, the Colt magazine works in the P238. The manual safeties appear to be identical, as is the slide stop and magazine catch. The slide assemblies don't interchange, though, and the P238 uses the SIG system of barrel and slide lock-up in the ejection port window. The extractor and ejector are similar.
To disassemble the P238, after ensuring the gun is unloaded and magazine removed, move the slide rearward until the slide disassembly notch is aligned with the slide stop tab. With slide stop removed, the slide comes off to the front of the frame, but take care not to lose control of the non-captive recoil spring on its full-length, stainless steel guide rod. (The Colt uses plastic here.)
Remove this assembly with forward pressure and a lift. Then drop the barrel down and out of the slide. (For those familiar with the Colt version, there was a problem of sear spring over-ride of its ejector, which Colt corrected with a user-installed metal clip. SIG addressed this by having the lower edge of the sear spring captured in a notch cut in the lower forward face of the mainspring housing.)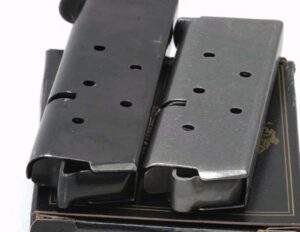 SIG has also addressed a problem I found with my Colt; that is, its thumb safety is too easily dislodged. To the contrary, the P238 thumb safety moves positively but with authority when moved to either on or off safe.
The engineers at SIG have added what is, for me, a hitherto-never-observed mechanical change to the cartridge pickup rail. The end of this centerline ridge pushes the cartridge out of the magazine so it can be chambered. The lower front edge is often beveled to assure better feeding. Here, a dome-shaped projection has been placed on the bottom forward portion of the rail. According to the SIG engineer, this was done to help ensure the last round's empty case fully clears the gun. As best I understand the concept, the dome presses against the magazine follower when the case is extracted and ejected.
A wide variety of finishes are available, including, two-tone, corrosion resistant Nitron, copper colored and rainbow titanium. Available grips include rosewood, blackwood, aluminum, black checkered aluminum, polymer and fluted.
The P238 ships in a lockable hard case with one six-round magazine.
Range Report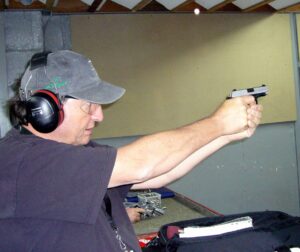 At the range, three of us shot this sample gun with a limited amount of ammunition, which included Black Hills 90-grain JHP, CCI Gold Dot 90-grain JHP, Cor-Bon 70-grain Pow'Rball, Hornady 90-grain Critical Defense FTX, Remington 102-grain JHP, Winchester 95-grain SXT and Winchester 85-grain Silvertip HP. Shooting at 55 feet, seated, over a gun bag rest, groups ran 2″–3″ for five rounds, and all the ammunition worked without any failures. (Note: SIG recommends changing the recoil spring every 1,500 rounds.)
The only limitations I found were that its accuracy depended on how well or not the shooter was able to manipulate the single-stage 7-lb. pivoting trigger, along with how well or not the shooter was able to maintain a consistent hold on the gun while firing. Also, with its short sight radius, sighting errors are magnified (as is the case with all such short-barreled guns).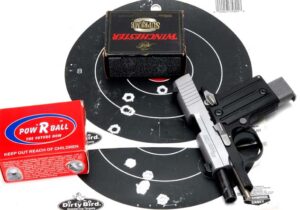 We also obtained some chronograph results with the P238 using a Chrony chronograph. We shot at 300 feet above sea level, in an ambient temperature of 43 degrees F. Here are the five-shot average numbers for three types of ammo:
Cor-Bon 70-gr. Pow-R-Ball: 1,055 fps
Winchester 95-gr. Ranger SXT JHP: 844 fps
Final Thoughts
A short-barrel, lightweight pistol is not the best tool with which to consistently shoot very small groups. However, at more realistic defensive distances, the P238 has the mechanical ability to dot someone's I.
SIG Sauer has not re-invented anything with the P238, but it certainly has improved on an existing design and has provided those devotees of the 1911 with a choice of caliber and operation well suited for personal defense in a highly-concealable package.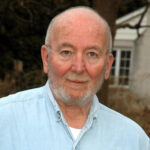 Walt Rauch received a BS degree from Carnegie Tech and completed service as a Special Agent in U.S. Army Intelligence. Rauch was a U.S. Secret Service Special Agent and a Philadelphia, Pa., Warrant Unit Investigator. He now operates a consulting company for defense-weapon and tactical training. Rauch & Company services include expert witness testimony on firearms use and tactics.
Rauch is also a writer and lecturer in the firearms field. He's published in national and international publications including InterMedia's Handguns, several Harris Publications specialty magazines, Police and Security News and Cibles (France). He is the author of a book on self-defense, Real-World Survival! What Has Worked For Me, as well as Practically Speaking, a comprehensive guide to IDPA defensive pistol shooting.
The Specs
| | | | | | | |
| --- | --- | --- | --- | --- | --- | --- |
| Caliber | Capacity | BBL | OAL | Width | Height | Weight |
| .380 ACP | 6+1 | 2.7″ | 5.5″ | 1.1″ | 3.9″ | 15.2 oz. |
Pricing & Shopping
MSRP: $543 (base model w/Nitron finish)
MSRP: $558–$650 (other models)
Retail: $649 (Black Pearl model) @ Brownells—

Retail: $629 (Equinox model) @ Brownells—


Retail: $599 (Nitron, w/night sights) @ Brownells—

More SIG P238 Photos (click each to enlarge)