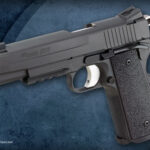 Editor's Rating: 9.0/10
Users' Rating (Click a star to rate this gun.)
Summary: Mike Boyle's review and rating of SIG Sauer's 1911 Tactical Operations pistol, plus SIG's MSRP and photo, and user ratings and comments. (Click here to see all Boyle's gun reviews.)
Editor's Review
Over the past 100 years, the timeless 1911 has been chopped and channeled, stretched, manufactured with frames of various materials, and chambered for a wide range of cartridges. These variants all fill a niche, but when it's all said and done, there is nothing like a steel frame, full-size 1911 just as John Browning intended.
Last year SIG Sauer introduced the 1911 Tactical Operations (TACOPS) pistol, an all-business service size variant ideally suited for the defensive mission. After running a .45 ACP TACOPS for a few weeks (it also comes in .357 SIG), I've come to the conclusion that this is one of the better production 1911s you can wrap your hand around.
The Details
The TACOPS is a heavy duty pistol optimized for self defense. Crafted from stainless steel, it's coated in SIG's black Nitron finish. When paired off with the ERGO XT grips, the TACOPS pistol casts a very ominous appearance. Consumers looking for a little bling on their pet carry pistol might want to shop around for something else, but for serious business, the hard-wearing Nitron finish and synthetic ERGO XT grips are just the ticket.
I've owned and shot 1911 pistols of every configuration, but for SWAT or uniformed patrol, the full size, all-street pistol is the way to go. The TACOPS is just that, and the longer sighting plane and 5″ barrel certainly helps the cause. At 41.6 oz. unloaded, the TACOPS is no flyweight, but all that beef helps tame even the hottest .45 ACP loads. In any event, weight is very manageable in a duty rig or SWAT-type thigh holster.
When SIG-Sauer introduced its line of 1911s, they set out to build grips with the same tight tolerances as its double-action (DA) pistols. Fit of the slide to the frame is very precise with no superfluous side-to-side movement. By incorporating a number of refinements into their 1911s, SIG has created a line of production pistols that rival the best custom jobs.
A solid, aluminum, match trigger comes standard. SIG specs call for a 5-lb. single action trigger pull, which is just about right for a fighting pistol. In any event, the hammer on my sample pistol tripped when a shade over 5-lbs. of pressure was applied to the trigger. Gamesmen may prefer something a tad lighter, but the factory trigger does the trick. Trigger break is very crisp with very little slack.Classic qualities include a solid barrel bushing and a standard-length recoil spring guide. On a self-defense pistol, I would rather avoid guns with full-length guide rods that require tools for takedown. The original Browning-style unit plug makes field stripping and reassembly that much easier.
An ambidextrous safety makes the TACOPS equally accessible to right and left hand shooters. The shelves on the safety are shorter and narrower than most ambi units, but operation remains very positive.
Other enhanced features include a beavertail raised grip safety and a slotted speed hammer. A magwell is affixed to the bottom of the grip frame to facilitate quick reloads. Both the front strap and flat mainspring housing are nicely checked for a no-slip hold. Unlike some guns that feel like you're holding a rasp, the TACOPS will not chew up your hand or tender digits during an extended shooting session.
The frame of the TACOPS pistol has an integral accessory rail to mount lasers and white lights. During my evaluation, I utilized the TACOPS with illuminators and lasers from LaserMax, Insight Tech and SureFire with no issues whatsoever. My favorite device: The X400 from SureFire, which combines a visible red laser with an intense white light. For SWAT or even patrol, the X400 has much to offer.
Sighting equipment consists of Novak night sights with three-dot tritium inserts. The Lo-Mount rear sight is extremely snag-resistant, and the front is dovetailed to the slide. I would have preferred a little more contrast on the front sight to get a faster index on target, but I suspect most consumers would be satisfied with the issue sights.
The critical eye will pick up a couple of deviations from the original 1911 slide. Most obvious is the fact that the SIG 1911 uses an external extractor. The shape of the slide is also slightly different, and to my eye, it looks a little sleeker. It is a tad wider, however, which precludes dropping the TACOPS in holsters that fit other 1911s with rails.
My sample came in a lockable plastic case containing an instruction manual, cable lock, and four magazines. For whatever reason, many 1911s come with only a single magazine. Four mags in the box is truly a nice touch.
Range Report
In my experience, many 1911s require a break-in before they will run reliably. The TACOPS, however, ran like a top right out of the box. This pistol cycled everything I fed it. That said, as with any pistol used for self defense, I like to get several hundred rounds through any gun before taking it afield.
My test protocol typically involves shooting a cross-section of different rounds to assess reliability and accuracy potential. Chronographing those same rounds also provides some useful feedback. The full 5″ tube exploits the full potential of the .45 ACP with significantly higher muzzle velocity than the Commander- and Officer- size guns. Highest muzzle velocity was posted with Remington Golden Saber 185-grain JHPs, which averaged 1,062 feet per second (fps).
From an informal rest, accuracy potential was very good for an off-the-shelf 1911. My best effort was posted with Black Hills 230-grain JHP with one five-shot knot measuring only 1.5″ inches across. Most of my other 25 yard groups ran between 2″–3″, more than adequate for the task at hand.
Here are my results from a Hornady Delta Rest at 25 yards:
In fast-paced combat drills, the TACOPS really shined. I burned up quite a bit of ammo hammering away at steel head plates, and the TACOPS never let me down. As much as I fancy the 1911, I can typically reload one of the double-stack polymer frame pistols faster. However, the flared magwell of the TACOPS levels the playing field and my elapsed times of shot-reload-shot, ran in the neighborhood of 2 seconds.
To spice things up a bit, I also tried my hand on Birchwood Casey's Dirty Bird Silhouette III targets. This target features a red silhouette in the center, flanked by two black partial head targets that represent bad guys. When a bullet impacts the red silhouette, a white splatter pattern is readily apparent. Hits on the black silhouettes will yield a green splatter pattern. These targets proved a nice deviation from the usual cardboard and paper and were a hoot when working out with the TACOPS.
Unfortunately, none of my leather or kydex 1911 holsters would accommodate the TACOPS. Undaunted, I turned to my old BlackHawk Omega light-bearing thigh holster, which was the perfect match when the TACOPS was set up with the SureFire X400. I also utilized a BlackHawk Universal SpecOps Pistol Harness, which is reminiscent of a World War II tanker holster. Both of these BlackHawk rigs are crafted from nylon, which provided plenty of wiggle room for a proper fit.
Final Thoughts
The 1911 pistol has long had a small, but intensely loyal following among responsible citizens. On the other hand, save for in the Southwest, it wasn't an especially popular ticket with law enforcement. Sure, the SWAT cops sometimes used 1911s, but by and large, it was revolvers and DA pistols. But, fair reader, that has all changed.
I'm not quite convinced that the 1911 will ever become the law enforcement weapon of choice, but it is creeping back into the mainstream. This trend is hardly limited to tactical teams or small agencies—a number of larger agencies have embraced the 1911. Recently, LAPD authorized the 1911 for officers who complete a training program. Progressive agencies such as LAPD have a lot of influence in the law enforcement community, and I would bet that even more agencies will follow suit. Just a few years ago, it was rare to encounter a 1911 in my law enforcement classes. Now I have a few in most every session.
Legend has it a 1911 has to be loose as a goose in order to be reliable. The TACOPS pretty much blows that old range myth out of the water. With reasonable care, this pistol should run just as well as SIG's world class DAs. In addition to rock solid reliability, the TACOPS is capable of better than average accuracy with superior first shot hit potential. Typical of the 1911 breed, the TACOPS is adaptable to a wide range of hand sizes.
Left to my own designs, I would definitely opt for a high-contrast front sight. I'm not quite in the Mr. Magoo category, but my middle-age eyes prefer something that really grabs my attention. Other than that, the SIG-Sauer TACOPS stacks up as the complete package.
The SIG-Sauer 1911 Tactical Operations pistol will certainly find favor with users who prefer the Browning classic to modern DA and striker-fired semiautos. For the SWAT cop, patrol officer or responsible citizen who favors a full size all-steel fighting pistol, it doesn't get any better than the SIG Sauer TACOPS.

Mike Boyle served as a captain with the New Jersey Division of Fish & Wildlife Bureau of Law Enforcement and recently retired after 27 years of service. Mike remains active, teaching recruit, in-service and instructor level classes at the police academy. He's also on the board of directors of the International Association of Law Enforcement Firearms Instructors.
The Specs
| | | | | | | |
| --- | --- | --- | --- | --- | --- | --- |
| Caliber | Capacity | BBL | OAL | Height | Width | Weight |
| .357 SIG | 8+1 | 5″ | 8.7″ | 5.5″ | 1.4″ | 41.6 oz. |
| .45 ACP | 8+1 | 5″ | 8.7″ | 5.5″ | 1.4″ | 41.6 oz. |
Pricing & Shopping
MSRP: $1,290
Links to Pages for SIG's other 1911s
SIG Sauer 1911 Carry Tactical Operations
SIG Sauer 1911 Platinum Elite
SIG Sauer 1911 RCS
SIG Sauer 1911 Carry
SIG Sauer 1911 STX
SIG Sauer 1911 XO
SIG Sauer 1911 Target
SIG Sauer 1911 Nitron Rail
SIG Sauer 1911 Stainless