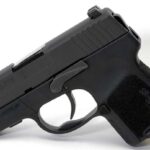 Editor's Rating: 9.0/10
Users' Rating (Click a star to rate this gun.)
Summary: Walt Rauch's review of and rating for the SIG Sauer P290 pistol, including a range report, photos, pricing, specs, user ratings and user comments. (Click here to see all of Rauch's pistol reviews.)

Editor's Review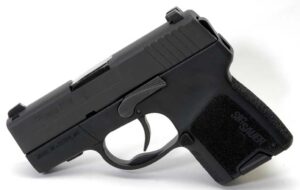 A gun maker faces many challenges when asked to create a 9mm pocket pistol. It must remain small and light enough for carry—i.e., it must go almost unnoticed by its wearer while using minimal concealment over long periods of time and, of course, be masked from everyone else. Naturally, such a pistol must be reliable. It must also be intuitive in operation and provide handling characteristics that aid in accurate shot placement. And firing the gun should not evoke an "ouch!" for every shot fired.
Of course, the final product should remain affordable and, if possible, allow for adding a gun light or laser. The gun should also be robust enough to sustain ongoing live-fire practice.
A tall order, but based on the sample pistol I tested, the SIG Sauer P290 it hits all these benchmarks. SIG did a good job here with some subtle touches that don't leap out at first (or even second) glance but greatly contribute to its shooting and handling characteristics.
The Details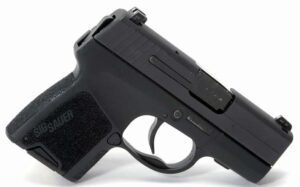 The P290 is double-action-only with a listed trigger pull weight of 9 lbs. My sample's measures 9.25 lbs. A spurless external hammer is used, and it doesn't lay flush into the slide when a round is chambered or the action cycled. The hammer rests in the hammer safety intercept notch, which prevents it from contacting the firing pin. If the trigger is pulled through its full movement and the slide isn't retracted, as with a misfire or an empty chamber, only then will the hammer be fully forward against the firing pin.
SIG offers four variations of the P290 using two core versions: one with a Nitron finish over either a blackened stainless steel slide, or a natural stainless steel (grey). You can easily add SIG's Integrated Laser Module (290-ILM) to either; it mounts on the frame's dust cover. Without laser, the P290 weighs 20.5 oz.; adding the laser gains 1 oz.
The P290's slide moves on four steel rails that, along with other operating parts and controls, are in the polymer frame. Dual recoil springs encircle a polymer guide rod. A modified Browning lock-up system is employed, and a slide-mounted passive firing pin safety supports the spring-loaded firing pin. A large external extractor is at the right rear of the also-large ejection port. Five diagonal grasping grooves are rearward of the ejection port.
The front and rear sights are dovetail-secured and drift-adjustable for windage. You can get the pistol with SIGLITE sights or standard SIG sights. The latter feature a white dot in the front sight and a white bar beneath the rear sight notch. My sample has the SIGLITE sights, which feature tritium inserts encircled with white-colored rings in the sight faces.
With either, you can accomplish elevation adjustment with the front or rear sight because differing sight height combinations are available from SIG. Each rear sight change moves point-of-impact (POI) approximately 2″ at 25 yards, and each front sight switch moves POI roughly 1″ at the same distance. If a change is necessary, SIG says "… it's easier if you change the rear sight first." On my sample, the front sight is numbered 6, while the rear sight is numbered 8.
The P290's six-round magazine (SIG says an eight-round magazine is in the works) has a metal body and follower. The polymer base plate is removable. The magazine body has cartridge witness holes numbered 2–6 on each side. The base plate fits flush and is surrounded by the frame except at the bottom-center of the grip, where the plate is enlarged to fill a now-relieved portion of the frame. These grooved areas provide a finger hold on the otherwise fully surrounded magazine body. To release the magazine, press the magazine catch located at the left rear of the trigger guard. With this sample, the empty magazine ejects. Also, despite the instruction book stating the catch is reversible, it's not, as is stated on the supplied correction sheet.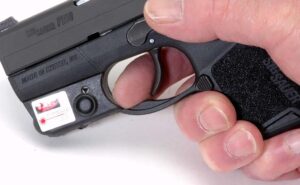 Back to the trigger guard. On its lower inner shelf, there's an upward bulge beneath, forward of and rear of the trigger's lower tip. Its purpose: to guide your trigger finger onto the trigger face, while not allowing the finger to catch on the trigger's lower tip.
This sort of attention to detail—call it human engineering—is also reflected in dual-sided, shallow-relief scoops on either side of the frame behind the trigger. The scoop is wide at the front and narrows to the rear of the frame. It also aids in guiding your trigger finger to center placement on the trigger face and does the same for the opposing grasping thumb. Other plusses: Although the P290's backstrap is wider than some pocket pistols, this narrowing of the grip makes for a less bulky feel and should be appreciated by someone with smaller hands because it makes it easier for them to reach the trigger and the magazine catch.
More attention to detail: SIG included a concavity surrounding the right side of the slide-stop pin that permits the head of the pin to be recessed to so shooters don't inadvertently dislodge it (you can still easily push the pin inward for removal). The operating side of the long slide catch is raised front to rear in a longitudinal and grooved sweep.
Up front, the dust cover has provision for attaching the SIG's proprietary 290-ILM laser. A rectangular opening in the dust cover is filled with a soft plug. The 290-ILM has what is termed a "laser key" matching this opening. You insert the slotted metal key and turn it in a figure-8 relief to lock the laser to the dust cover. The laser has momentary operating buttons on either side.
The 290-ILM is shaped to blend into the dust cover and forward trigger guard face and weighs just .8 oz. To adjust it for windage and elevation, you turn two small allen screws with the supplied 1.5mm allen wrench. Also included: a 3VCR1/3N lithium battery, which is inserted within the bottom center of the laser body beneath a hinged cover. Shooters activate the laser to constant on by pressing one of the well-protected, rubber-faced buttons located on either side of the laser body.
The frame's gripping areas feature finely molded stippling, including the frontstrap, backstrap and the removable side panels that lie flat into the frame. You can remove these panels from their grooved tracks by taking out a cross pin at the lower rear of the frame.
The purpose of the panels, according to SIG's Web site, is to "… allow for customization with aluminum, wood and polymer and [they] can be engraved with your initials for a true customized pistol (coming soon)." I can also see them being replaced with thicker, rounded inserts that would provide an even better grip for someone with large hands.
Range Report
Speaking of the grip area, at first I didn't think it was adequate because when I picked it up at my FFL dealer, King Shooters Supply in King of Prussia, Pa., I found that with my habitual high grip, the web of my hand was almost in line with the bottom of the slide. I foresaw the slide cutting me when shooting or my hand stopping the slide from cycling. Fortunately, I was wrong—neither happened to me or three others who also shot the gun. I now think this very high grip is a design feature, not a flaw, particularly because it's encouraged by an equally higher relief area beneath the trigger guard that assists in acquiring such a grip.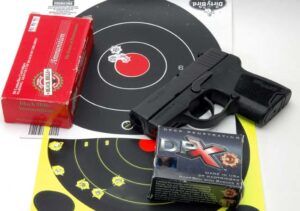 I appreciated the high grip when firing the P290 because the combination of a small gun and 9mm ammunition can make for some serious muzzle flip. The gun still delivers some serious upward movement—when we fired it indoors with the laser on, an observer noted the laser beam moved upward almost vertically with every shot. But thanks to the high grip I hadn't noticed it; the gun snapped right back down and on target for all six rounds.
Next, while the grip appears thicker than some, the frame has a depressed area on both sides running from near the backstrap to almost the rear of the trigger guard. These depressions form the grip into a slightly-narrowing wedge shape, which provides a good, firm and comfortable grip and, as just noted, promotes quick sight recovery.
My efforts at shooting for group at 17 yards were frustrating because I simply couldn't shoot up to what I thought to be the gun's potential. The best I could do were 3″–5″ five-shot groups despite the nice, smooth 9 lb.-plus double-action trigger pull, which felt lighter. I shot Black Hills 115grain FMJ, CCI Gold Dot 124-grain +P (Short Barrel) GDHP, Cor-Bon 115-grain +P DPX and Winchester 147-grain SXT Personal Protection JHP ammunition and had no malfunctions, but also no outstanding groups.
On my second range trip, I lucked out as one of my shooting buddies, Ted Murphy, came with me. I still wasn't getting what I wanted in group size, but when I took a break and turned the gun over to Murphy, I said, "How about you shooting a nice group?" A few minutes later Murphy came out with a Shoot-N-See target in hand while grinning and asked if the results were satisfactory. He'd place five rounds of the115-grain FMJ Black Hills ammo into 1″, and there were witnesses. I then remembered his skill with a revolver—he's classified Master in Standard Service Revolver Class for International Defensive Pistol Association (IDPA) competition. (I'd managed to get Expert classification in the same game, but that was more than a few years ago.) The point: The gun has an intrinsic accuracy—this one anyway—and with good ammo, this group can be duplicated. With lots of practice!
Here are the results obtained using a ProChrono Crony chronograph shooting five-shot groups through the P290 at 300 feet above sea level with ambient temperature of 60 degrees at 17 yards using a gun-bag rest:
Black Hills 115grain FMJ: 1,030 fps, 1″ group
CCI Gold Dot 124-grain +P (Short barrel) GDHP: 1,103 fps, 5″ group
Cor-Bon 115-grain +P DPX: 1,251 fps, 3.5″ group
Winchester 147-grain SXT Personal Protection JHP: 935 fps, 3″ group
Final Thoughts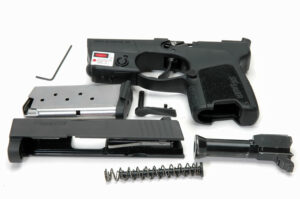 The P290 is the first pistol of the new crop of pocket 9mms that I and my shooting partners found to be actually pleasant to shoot a reasonable amount, not painful (with standard-pressure loads, that is). This big plus comes at the cost of slightly increased size and weight compared to the other pocket nines, however. The P290 pushes right up against the limits of what constitutes a pocket pistol in the weight category, and with its weight and grip girth, the P290 will sag in lightweight pants or coat pockets. Bottom line: For serious users, this should be an acceptable trade-off.
Truth be told, I can see the P290 also being pressed into service as an off-duty or regular belt-mounted carry pistol, particularly when used with the forthcoming eight-round extended magazine.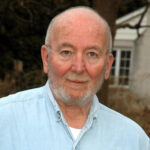 Walt Rauch received a BS degree from Carnegie Tech and completed service as a Special Agent in U.S. Army Intelligence. Rauch was a U.S. Secret Service Special Agent and a Philadelphia, Pa., Warrant Unit Investigator. He now operates a consulting company for defense-weapon and tactical training. Rauch & Company services include expert witness testimony on firearms use and tactics.
Rauch is also a writer and lecturer in the firearms field. He's published in national and international publications including InterMedia's Handguns, several Harris Publications specialty magazines, Police and Security News and Cibles (France). He is the author of a book on self-defense, Real-World Survival! What Has Worked For Me, as well as Practically Speaking, a comprehensive guide to IDPA defensive pistol shooting.
UPDATES
In May 2012, SIG announced a new P290 model, the P290 RS, which features:
DAO re-strike capability;
a reshaped beavertail frame;
a recontoured magazine release;
a reduced and reshaped slide release; and
finger-grip magazine floorplates.
You can get the P290 RS in three flavors:
The P290RS Nitron, which features a Nitron finish on the slide;
The P290RS Laser Two-Tone, which features a natural stainless steel finish on the slide and a removable, frame-mount laser sight; and
the P290RS Rainbow, which features a rainbow titanium coated slide and controls.
The Specs
Caliber
Capacity
BBL
OAL
Width
Height
Weight
9mm
6+1, 8+1
2.9″
5.5″
1.1″
3.9″
20 oz. with
magazine
Note: This pistol is not California- or Massachusetts-compliant.
Pricing
MSRP: $758 (Nitron finish)
MSRP: $786 (two-tone finish)
MSRP: $828 (Nitron finish w/laser)
MSRP: $856 (two-tone finish w/laser)
MSRP: $613 (P290 Rainbow Titanium)
More Photos