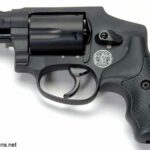 Editor's Rating: 6.0/10
Users' Rating (Click a star to rate this gun.)
Summary: Walt Rauch's review, photos and rating of the Smith & Wesson M&P340 revolver, plus user ratings, user comments, specs and a range report. (Click here to see all of Rauch's handgun reviews.)
Editor's Review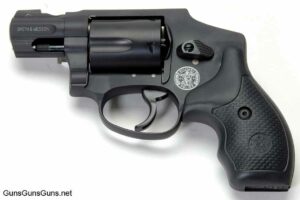 There's a strong demand for a defensive handgun that conceals very well, is lightweight and chambered for a powerful cartridge. Well, the old saying, "Be careful what you wish for, you might get it," applies particularly well to Smith & Wesson's (S&W) M&P340 revolver, which is indeed small, lightweight and chambered in .357 Magnum.
Check current prices here!
I obtained an M&P340 from S&W, and my review follows.
The Details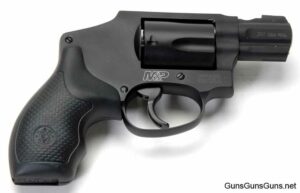 The M&P340 weighs 13.3 oz. and holds five rounds of .357 Magnum ammo. Of course, you can fire .38 Special standard and +P ammunition through it as well. It's double-action-only and features a matte-black finish. The M&P340 is built on a scandium alloy frame with a stainless steel cylinder. (Note: S&W also offers this gun with a titanium alloy cylinder, the Model 340PD.)
The M&P340 measures 6.31″ long, with a 1.875″ steel barrel inserted within the encircling scandium barrel shell. This shell includes an underlug to protect the extractor rod. The rod moves only .625″ rearward to extract your 1.625″ empty .357 Magnum cartridge cases.
The front sight is a 24/7 XS Big Dot with a tritium insert, which is surrounded by a rounded white outline. The sight is pinned on a raised portion of the barrel. A round-cut groove runs the length of the top strap and at its rear terminates into a U-shaped notch sight.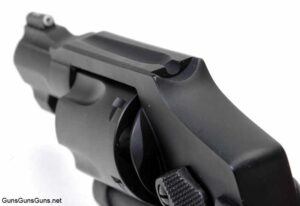 The trigger is curved and smooth faced. Using a Chatillon trigger pull gauge, the trigger pull measured 12 lbs. The long trigger action is excellent compared to others of this genre I've handled, and you can trigger-cock it easily (see "Trigger Cocking" below). Also, despite extensive dry fire and some live fire, the cylinder incurred no cylinder stop drag marks.
The lower portion of the close-checkered and dished-out cylinder release has been removed, starting just below its retaining screw. S&W did so to minimize injury potential from the lower edge of the release cutting a shooter's thumb or hand under heavy recoil. (More on this and recoil later.)
Synthetic, black-colored grip panels with very light cross- hatching join together to form a front strap with two finger grooves. The panels are dished out at their lower ends to allow access to a lanyard-loop pin, which is stabilized by holes in the panels. Because the grips don't cover the frame's base, S&W placed the gun's serial number here. Note: Crimson Trace offers Lasergrips that fit this revolver, and S&W sells a version that includes those Lasergrips (the M&P340 CT).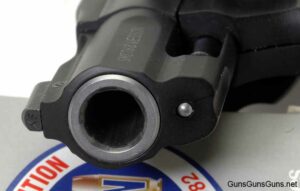 For this review, I requested an M&P340 without an internal/safety key lock, but S&W does now offer safety locks across its revolver line, including in the M&P340. The lock features a keyhole located just above the cylinder release. Turning the specially-configured key 90 degrees counterclockwise (there's a line and the letter "L" for "locked" on the frame's side) locks the gun so that neither the hammer nor trigger can move (you can still open and close the cylinder). When not in use, no part of the lock touches any of the gun's working parts. I chose the non-lock model because I'm a traditionalist, and also not a fan of internal gun locks in general.
I also wanted to see how the M&P340 stacked up against its ancestor, the Model 42 Airweight, which is chambered in .38 Special and built on aluminum frame with a steel cylinder. This and its sister, the all-steel Model 40, have been my constant companions for more than three decades.
Range Report
The only problem I foresaw as far as shooting was in getting magnum rounds downrange. Having shot other iterations of small, lightweight, magnum-powered revolvers, I knew the felt recoil would wear on me quickly. And, my friends are experienced enough to not want to shoot anything that hurts if they can help it.
The M&P340's double-action (DA) trigger pull lends itself to trigger cocking, which is a two-stage method of DA trigger manipulation that results in an almost single-action trigger pull. To the best of my knowledge, it was developed by revolver target shooters to save the time spent cocking the hammer and eliminate the re-gripping necessitated by shifting your grip to cock the hammer. With a well-timed and smooth DA trigger, you can do some very accurate shooting.

To do so, pull the trigger back quickly, but only enough that the cylinder fully turns but doesn't fire. At this point, you've taken up most of the poundage of the DA trigger pull, in effect trigger-cocking the hammer. Now re-verify your sights, and complete the trigger pull.

To help myself stop the initial trigger movement, I make sure my trigger finger is far enough into the trigger guard (to the first joint) so that it wraps around the trigger, slightly trapping the pad of my finger between the trigger and the frame. When I resume the pull, I make sure my finger pad squeezes out from between the two.

Be very careful and dry fire a lot before going to live fire. It's all too easy to have your finger trigger not stop and receive an unexpected "bang!"
I tried anyway and met with Ted Murphy and Irv Gill at my local range. My faint hope was they would do more of the shooting, but this faded quickly. While they were examining the gun, they both commented that the M&P340 would make for a good personal defense carry gun, but, "It should be painful to shoot with magnum rounds." This wasn't their first rodeo!
I started the shooting with five rounds of .357 Magnum 130-grain Federal Personal Protection Hydra-Shok JHP; I basically shot to ensure the sights were on and the gun worked. I obtained an open-hand-sized group at 10 yards on a Warren IDPA training target.
I'd figured shooting a 13.3-oz. revolver with .357 Magnum ammo would prove unpleasant, but it wasn't with this ammo, probably due to the lightweight bullet. Wearing an Uncle Mike's shooting glove also helped.
I then passed the gun over to Murphy because Gill, having already hefted and dry-fired the gun, said he had no interest in shooting it. In defense of his avoidance, he shoots and hunts with big-bore revolvers and reloads for them. He makes loads medium to medium-strong, but not hurtful.
Murphy said nothing. He simply grabbed the first box he saw marked .357 Magnum from my ammo bag, which turned out to be Remington UMC 158-grain Lead Round Nose loads. He had a few flyers, but did keep them all in the black of a Shoot-N-See bulls-eye target at 10 yards. Then he fired Remington Golden Saber 125-grain JHP two-handed, standing, and he obtained a decent 2.5″, five-shot group at the same distance and target.
At this point, he declared he was done for the day and showed us a bleeding thumb cut caused by the cylinder release. I mentioned that S&W had reconfigured this part by trimming off its bottom half, but perhaps not enough. Murphy said he's had this happen with other S&W revolvers, and that he takes a Dremel tool and grinds the latch almost flat on his Smiths to cure the problem. Coincidentally, his cure mimics the original cylinder release of S&W's first Chiefs Special J-frame. It was flat, rectangular, had rounded edges and vertical grooving.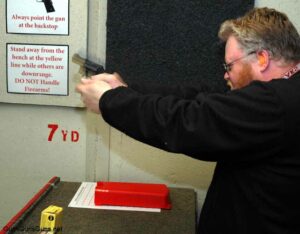 Anyway, I finished up by shooting 10 rounds of 158-grain LSWC Winchester .38 Special ammo. I shot five and fast, just because, and I managed a 2.75″ group. We didn't do any chronographing because I'd run out of volunteers.
Regarding painful recoil in shooting such handguns, I recall a discussion I once had with a S&W spokesman in which I pointed out it seemed to me some folks notice recoil more than others. He told me this is influenced by the construct of each shooter's hand. A larger, more-fleshy hand will feel more recoil because the gun is in effect getting a running start before it hits something solid, which deals more felt-recoil than that experienced by a wiry-handed shooter. Not coincidentally, my hand is much thinner than Murphy's hand.
One solution: Don't shoot a lot of magnum ammo. Instead, shoot .38 Special standard velocity, or shoot .38 Special +P loads but sparingly, because some of the +P stuff comes close to some .357 Magnum loads.
Back home I tried the pistol in its intended role of a concealed-carry arm in belt and pocket holsters. It was an easy fit in a DeSantis and Galco pocket holster, but didn't fit in their belt holsters. (The extractor shroud kept the gun from fully inserting.) Of course, depending on the material used, you could re-mold the holsters to fit.
Final Thoughts
S&W has been in the handgun business since 1852 and knows a thing or two about building a quality handgun. That's certainly reflected here with the M&P340, which is a great "carry a lot, but shoot little" revolver.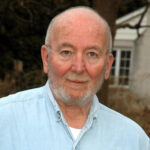 Walt Rauch received a BS degree from Carnegie Tech and completed service as a Special Agent in U.S. Army Intelligence. Rauch was a U.S. Secret Service Special Agent and a Philadelphia, Pa., Warrant Unit Investigator. He now operates a consulting company for defense-weapon and tactical training. Rauch & Company services include expert witness testimony on firearms use and tactics.
Rauch is also a writer and lecturer in the firearms field. He's published in national and international publications including InterMedia's Handguns, several Harris Publications specialty magazines, Police and Security News and Cibles (France). He is the author of a book on self-defense, Real-World Survival! What Has Worked For Me, as well as Practically Speaking, a comprehensive guide to IDPA defensive pistol shooting.
The Specs
| | | | | | | |
| --- | --- | --- | --- | --- | --- | --- |
| Caliber | Capacity | BBL | OAL | Width | Height | Weight |
| .357 Magnum, .38 Special +P, .38 Special | 5 | 1.875″ | 6.31″ | 1.14″ | 5.17″ | 13.3 oz. |
Pricing & Shopping
MSRP: $869 (without a safety lock)
Check current prices here!
More Photos