Editor's Rating: 8.0/10
Users' Rating (Click a star to rate this gun.)
Summary: Walt Rauch's review, photos and rating of the Glock 42 pistol, plus user ratings, user comments, specs, pricing and a range report. (Click here to see all of Rauch's handgun reviews.)
Editor's Review
When Glock introduced its model 42 pistol at this year's Sporting Hunting and Outdoor Trade (SHOT) Show (the industry's annual firearms and outdoor trade show), the general reaction to the .380 ACP pistol was positive, and quickly followed with, "What took them so long?" Of course, there were also the almost obligatory criticisms from the internet world: "It's too big for pocket carry," along with "Why didn't they chamber it in 9mm?"
Those specious criticisms aside, it appeared Glock had built a fine compact pistol that's chambered for a very practical caliber. I obtained one from Glock to see for myself.
The Details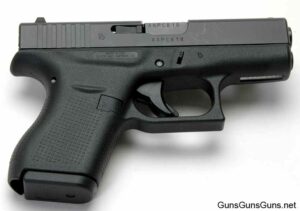 The 42 remains true to the Glock design, from its Safe-Action Trigger, slide, frame and magazine, to the disassembly method. The 42 holds six rounds of .380 ACP ammo in the traditional Glock polymer magazine. Its large, horizontally-grooved magazine catch is reversible, following Glock's current Gen4 design.
The slide features a blackened nitration finish and slides on four metal rails embedded into the polymer frame. The barrel, with a blackened and also polished nitration finish, features hexagonal rifling. The 42 is striker-fired and operates on a short recoil system, with the barrel hood locking into the large ejection port window.
The barrel hood (facing the right) is marked at the lower right by Glock's logo. Next is "US" and then an outline of the state of Geogia. The top left side of the hood is marked ".380 AUTO," followed by a punch mark within a pentagon that indicates the grade of steel. The gun's serial number is stamped on the barrel's top right vertical side. In a matching location on the left side you'll find an ISO Coding number.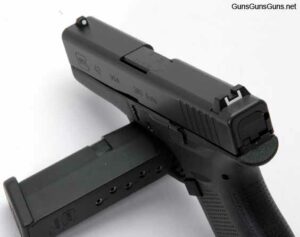 The 42 employs a captive dual-recoil spring system. The white-dot front sight is pinned in the slide, and the square-notch, outlined-in-white rear sight is in a dovetail cut, allowing windage adjustments.
An external spring-loaded extractor is in the port's center right. The extractor also serves as a loaded-chamber indicator because a chambered cartridge forces the extractor to cam outward at its front, where you can see and/or feel it. There are six vertical grasping grooves at the slide's rear.
Markings on the slide's left include Glock's logo, then "42" followed by "USA" and ".380 Auto." On the slide's right, the serial number is stamped just beneath the ejection port. Between the extractor and the grasping grooves Glock stamped a capital letter "P" (for Proof) encircled by the Georgia outline.
The firing pin safety plunger is larger than that found in other Glock models. It's beveled on its contact area and is rectangular in shape. Also, inside the slide you'll find another ISO coding number. The back retaining plate is faintly horizontally grooved.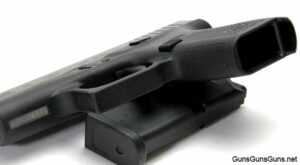 All frame gripping areas are pebbled in Glock's Gen4 style, but the pebbling pyramids here are more subdued—i.e., less pointed—than those found on the larger Gen4 pistols. This makes sense for a pistol people will most likely carry close to their body in a pocket, holster or handbag.
The front strap is pebbled, too. The trigger guard is squared, with a slight hook on its lower forward face, which offers faint horizontal grooving as an aid to those who hook a support-hand finger(s) around the trigger guard in a two-handed shooting grip. Two cross pins hold the trigger assembly to the frame.
Speaking of shooting grip, I found I could take a two-and-a-half finger grip on the gun if I made sure to cram the web of my hand high up beneath the backstrap while at the same time shoving my middle finger up into the dished-out undercut of the trigger guard. (My glove size is XL.)
Also worth noting: The 42's frame molding seams are almost fully flush to the frame. I often find this seam to be more prominent on other Glock models, and in the grip area they can quickly grow annoying if I'm doing lots of drawing and/or shooting because my off-hand index finger rubs on the seam. Glock did good work here!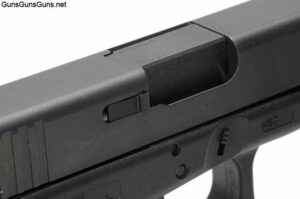 The frame bulges slightly out on both sides at the top of the grip area, and the right-side swell is marked "Made in USA, Glock Inc. Smyrna GA." Another Georgia outline is stamped further forward above the trigger guard.
There's a plus to the bulges. Beneath them, Glock left the frame smooth and then added a horizontal ridge. This creates a slight finger and thumb guide. Also, the left-side bulge protrudes enough to deter an inadvertent activation of the frame-mounted, horizontally-grooved slide stop. The slide stop, magazine release and take-down lever are in the same locations and are the same sizes and shapes as those found on the Gen4 pistols.
The backstrap has a sightly curved lip to its beavertail. The backstrap's lower end extends down below the magazine well's mouth so that when you insert a magazine, this end covers the rear of the thick, flat base pad. The frame is also shortened on its other three sides so that the magazine base plate doesn't extend past the frame's sides, but you can still grip the base pad if necessary.
The base pad is removable and held in place by matching grooving and an interlocking plate. The magazine is fully metal-lined within a polymer shell and holds six rounds. Four staggered cartridge witness holes, numbered 4–6, are on the magazine's rear. The magazine follower is polymer. Both supplied magazines were not at all difficult to load, which is good because no magazine loader comes with the gun. Glock does include a nylon brush, polymer cleaning rod, trigger lock and owner's manual, all in a lockable, hard-sided Glock case.
The 42 features a smooth-faced trigger. Its striker let-off abrupt and its reset short. Using a Chatillon trigger pull gauge, I obtained readings between 7–7.3 lbs. Factory specifications claim a pull weight of +/- 5.5 lbs., but the results I got were more like what I've found with most standard Glock triggers. I think that here the increased weight is a good thing for a pistol people may carry loose in a pocket or purse. (Non-holstered carry is still not recommended, by the way.)
Disassembly is classic Glock. Once you've verified the pistol is empty, close the slide and pull the trigger, which releases the partially-cocked striker. Next, slightly retract the slide, pull down on the frame-mounted slide lock against the spring pressure and, while holding it down, pull the slide forward and off the frame. (The slide lock is serrated on both ends to aid disassembly.) Next, slightly compress the captive dual recoil spring to remove it. You can then lift or drop the barrel out of the slide and remove it rearward.
Range Report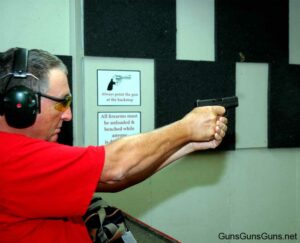 The first time out to the range with the Glock 42, my friend Irv Gill joined me. He choreographed the ammo, and he also shot for group while he was chonographing. Doing both, he was not pleased with his accuracy results. I thought they were good given that he shot at targets at 15 yards while also running the chronograph. He managed to get 3″–5″ five-shot groups with only a few flyers. These are good results even if you're not distracted by running the chrono!
Gill fired the 42 over an Oehler 35P chronograph at 300 feet above sea level with an ambient temperature of 80 degrees F. Here are the best five-shot averages:
Winchester (White Box) 95-grain FMJ: 881 fps, 2.25″ group
Federal Hydra-Shok 90-grain JHP: 973 fps, 3.5″ group
Later, Gill and I met again—he wanted another run at the gun. This time we shot just for accuracy, but at 7 yards with Shoot-N-See bulls-eye targets. We shot standing, two-hand supported. Results were much better. Here are our best five-shot groups:
Federal Hydra-Shok 90-grain JHP: 1.75″ group
The 42 is one of the few pocket pistols I've actually liked shooting because every shot wasn't an uncomfortable chore or a test of pain tolerance. I second Gill's observations that he liked the pistol; it was comfortable in his hand and easy to shoot, too. He and I both took note of the lack of felt recoil. In Gill's case, he said he'd spent the previous day cutting rocks with an 18-lb. sledge hammer, so his hands were quite sensitive to felt recoil but the 42 was still OK. He also thought that if he owned an 42, he'd work up some very soft handloads for it just to see how much accuracy the gun could deliver. (Important: Keep in mind the factory warranty is void if you shoot handloads!)
Another friend of ours bought a 42 recently. After he took his wife to the range to shoot it, she carried home what has now become her pistol; he did the smart thing and bought another one.
Concealed Carry
Finding a concealed-carry holster for the 42 shouldn't prove difficult. Given its newness, you might not yet be able to find one specifically made for it. However, I found that a DeSantis Nemesis pocket holster and a DeSantis inside-the-pants, soft-leather rig made for the Ruger LC9/LC380 fit the 42. Both allowed me to take a full two-finger grip on the gun.
Important: If you're doing such a match up, make sure the 42's squared and hooked trigger guard doesn't keep the pistol slightly away from fully inserting into the holster.
Final Thoughts
I see the 42 as quite suitable for most concealed-carry needs. Also, due in part to its short recoil system, the slide doesn't require much strength to manipulate, making it quite attractive to anyone with lesser hand strength and/or physical ability. It's also competitively priced, and of course Glock customer service is second to none.
I will leave the size and caliber debates to others. Bottom line: This is a welcome addition to the Glock product catalog.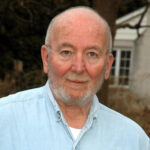 Walt Rauch received a BS degree from Carnegie Tech and completed service as a Special Agent in U.S. Army Intelligence. Rauch was a U.S. Secret Service Special Agent and a Philadelphia, Pa., Warrant Unit Investigator. He now operates a consulting company for defense-weapon and tactical training. Rauch & Company services include expert witness testimony on firearms use and tactics.
Rauch is also a writer and lecturer in the firearms field. He's published in national and international publications including InterMedia's Handguns, several Harris Publications specialty magazines, Police and Security News and Cibles (France). He is the author of a book on self-defense, Real-World Survival! What Has Worked For Me, as well as Practically Speaking, a comprehensive guide to IDPA defensive pistol shooting.
The Specs
| | | | | | | |
| --- | --- | --- | --- | --- | --- | --- |
| Caliber | Capacity | OAL | BBL | Width | Height | Weight |
| .380 ACP | 6+1 | 5.94″ | 3.25″ | .94″ | 4.13″ | 12.35 oz. without magazine |
Pricing
MSRP: $475