Editor's Rating: 7.0/10
Users' Rating (Click a star to rate this gun.)
Summary: Paul Markel's review of and rating for the Taurus PT-25 pistol, including a description, range report, photos, pricing, specs, user ratings and user comments. (Click here to see all of Markel's handgun reviews.)
Editor's Review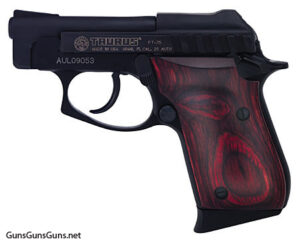 When we talk about compact pistols chambered in .25 ACP, terms such as "backup," "hide out" and "mouse gun" tend to work their way into the conversation. There's no doubt the little .25 auto round is pushing it as a defensive round despite that fact the diminutive cartridge has been around for more than 100 years.
During this century dozens of other pistol cartridges have fallen into obscurity, however. I suppose the true reason the .25 ACP is still in production has not so much to do with the round itself, but with the pistols designed for it. One of the first .25 ACP pistols, the Browning Baby, was introduced as a vest pocket gun for the well-dressed and armed gentleman. Since that first micro-compact pistol was introduced, numerous gun makers have come up with versions of their own.
Taurus is in this market with its PT-25 subcompact semi auto. I obtained one and worked it out; my review follows.
The Details
The Taurus PT-25 is a semi-auto, double-action-only (DAO) pistol built on a steel frame and chambered in .25 ACP cartridge. (Note: Taurus also offers this gun on a polymer frame, and in .22 LR.) A true subcompact, the PT-25 weighs only 12.3 oz. empty and has an overall length of 5.25″. The barrel measures 2.75″ with a 1:15 rate of twist.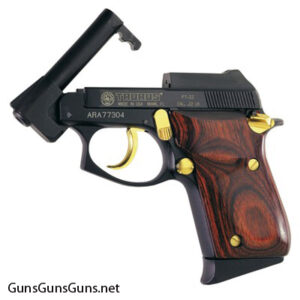 The PT-25 operates via a blowback action. It sports fixed, low-profile sights. A nine-round, single-stack magazine feeds the little pistol.
While the pistol has a reciprocating slide, racking said slide is not the preferred method for loading. The PT-25 has a tip-up barrel, and for good reason. You see, the slide is rather small and difficult to get a good purchase on. Couple that with the fact that the DAO hammer rests against the rear of the slide, and loading the gun in a traditional manner proves all the more complicated.
It's much simpler to press forward on the lever on the left side of the frame to release the barrel, place a round of ammunition into the chamber manually and snap the barrel shut. With this step complete, you need only to load a magazine and press the trigger to fire the pistol.
The PT-25 does have a magazine disconnect safety. In addition to the disconnect mechanism, the pistol also features a small, albeit redundant safety switch on the left side of the frame. And as they have for a decade, the folks from Miami have installed the Taurus Security System: Using one of two included keys, you can lock out the pistol to prevent unauthorized persons from using it.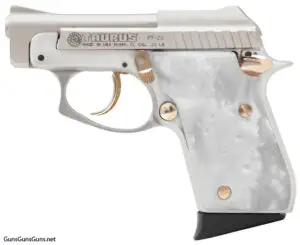 My sample pistol featured a deep blue metal finish and attractive rosewood grips. These wooden grips not only look good, they serve a valuable purpose in the filling the hand. Too many compact pistols have slim grips that give the shooter nothing to hold on to. The rosewood grips on the PT-25 allow you to take a solid hold on the pistol. A poor or weak grip is reliability poison for compact pistols.
Note: Taurus offers this gun with a number of finishes (blue, nickel, twotone) and grips (checkered wood, rosewood, pearl, black pearl, etc.).
Range Report
Thirty minutes after picking the PT-25 up from Cook's Gun Shop in Biloxi, Miss., I was out at the range. I took along several boxes of Hornady .25 ACP ammunition and a Bullet Test Tube.
With larger, more powerful handguns available, why would someone carry the .25 ACP? A couple of reasons come to mind. First, not everyone has the physical stature and ability to tolerate handgun recoil even from what many would consider mild rounds. I once knew a gentleman with arthritis so bad that he couldn't stand the recoil from .38 Special or 9mm handguns. Does someone such as this not deserve to defend themselves?

Second, the .25 is a small, easily concealable pistol. Sometimes our mode of dress dictates an ultra-compact pistol. I would rather have a small pistol on me when I needed one than a large pistol in the safe at home.

Probably the most important piece of advice I could give is to understand what you can reasonably expect from your handgun. As Clint Eastwood once said, "A man's got to know his limitations."

A compact pistol such as the PT25 is not one that you will use to locate, close with, and destroy the enemy. Think of the pocket pistol as an E&E (i.e., escape and evade) gun. The pocket pistol is a weapon to buy you time to get out of the line of danger.

Whatever firearm you choose to carry to defend yourself, keep in mind that your determination to win, your winning mindset, is most important.
This is a defensive gun, so I didn't bother to sit down at a bench. Shooting from a standing, two-hand hold, I was able to achieve some decent shot clusters while firing slowly and deliberately.
I experienced a case of new-gun break in. During my first two magazines I experienced a couple of failure-to-seat stoppages. Both times I bumped the rear of the slide with the heel of my left hand. This fixed the stoppage. (You won't be able to perform the typical tap-rack-reassess clearing on this little gun.) Fifty rounds later the issue had disappeared.
Recoil was very slight. When holding the pistol is a strong two-hand grip, it barely moved off the mark during the cycle of operation. For my testing, I engaged a silhouette target from 3, 5, 7 and 10 yards. The results from 10 yards:
Hornady 35-grain XTP: 855 fps, 1.85″ group
During this review, I wanted to see just what I could reasonably expect from a controlled-expansion round in .25 ACP. The Hornady defensive load featured a 35-grain XTP bullet.
From a distance of 5′, I fired a round into the Bullet Test Tube material. Upon returning home from the range, I cut the tube in half and retrieved the projectile. It had traveled just a hair past 4" in the material and expanded as advertised. Keep in mind that Bullet Test Tube material is denser than Ballistic Gelatin.
I used a digital scale and caliper to check the fired bullet. The XTP projectile weighed in at exactly 35 grains. You can't ask for more than 100-percent weight retention. As for expansion, the caliper showed 0.345″ across. This isn't monumental, but the bullet ended up larger than it started, and that's what controlled expansion rounds are supposed to do.
Final Thoughts
Although the PT-25 might be small, I found that after it was broken in, it was indeed reliable and easy to control. Though it might not be my first choice for a defensive sidearm, I wouldn't begrudge someone from carrying this little Taurus pistol if it was the primary option.
Until next time, keep shooting straight and shooting safe.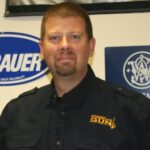 Paul G. Markel became a United States Marine in 1987 and served his nation honorably during peace time and at war. Among the many hats he has worn in his career, Markel has been a police officer, professional bodyguard, firearms instructor and gun writer. Markel is the creative director and host of "Student of the Gun," a weekly television show airing on the Sportsman Channel (www.studentofthegun.com). Visit his Web site at www.paulmarkel.com.
The Specs
| | | | | | | |
| --- | --- | --- | --- | --- | --- | --- |
| Caliber | Capacity | BBL | OAL | Width | Height | Weight |
| .25 ACP | 9+1 | 2.75″ | 5.25″ | 1.125″ | 4.25″ | 12.3 oz., empty |
Pricing
MSRP: $273–$311