Editor's Rating: 7.0/10
Users' Rating (Click a star to rate this gun.)
Summary: Walt Rauch's review of and rating for the Walther PPX pistol, including a range report, photos, pricing, specs, user ratings and user comments. (Click here to see all of Rauch's handgun reviews.)
Editor's Review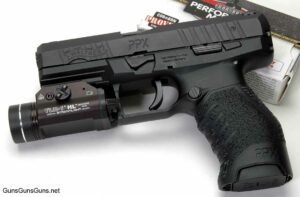 Walther now offers its PPX pistol, first introduced in Germany, to the U.S. handgun market. I obtained a 9mm model from Walther Arms (it's also available chambered in .40 SW), and my review follows.
The Details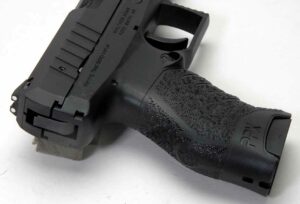 The PPX features a steel slide (blackened or stainless), a polymer frame and three passive firing safeties, but no manual safety. The slide and barrel are Tenifer coated. The gun's all-steel magazine holds 16 rounds of 9mm and 14 or .40 SW, and it includes a removable polymer base pad. Cartridge witness holes numbered 5–16 are on either side of the magazine body. One magazine comes with the gun. The PPX weighs 26.5 oz. unloaded.
The angular slide contains the barrel and captive recoil spring on a polymer guide rod. It also features wide diagonal grasping grooves front and rear, and fixed but optionally-adjustable three-dot sights. To make elevation adjustments, you must replace the front sight with an optionally-purchased steel sight of needed height (these are numbered). Replacing the sight requires removing a slotted, front-sight screw, which you access from within the slide. For windage changes, drift the rear sight as needed in its dovetail cut.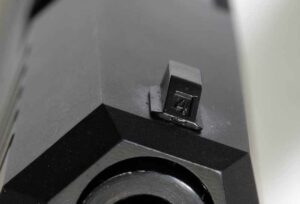 The large internal extractor is at the lower right side of a large ejection port. A passive firing pin drop safety is present. The barrel's chamber hood is notched at its center-rear to serve as a loaded-chamber indicator such that when a round is chambered, you can see a small portion of the cartridge case when looking directly down on the notch.
The cartridge pick-up rail is stepped, with a narrow rail on its larger body. Why? To help prevent the rail tip from striking a live primer when unloading or clearing malfunctions. (This can and does happen.)
The polymer receiver contains a metal insert that holds the firing system, including the spurless, pre-tensioned hammer. The metal insert is pinned in using two cross pins, one front and one rear.
The polymer frame, which is serial numbered on a metal plate inserted into its dust cover, holds the reversible magazine catch and left-side, frame-mounted, take-down lever. The dust cover includes a picatinny M1913 rail for accessories such as a light or laser. The rail worked as it should when I easily installed and removed a Streamlight TLR-1 HL light.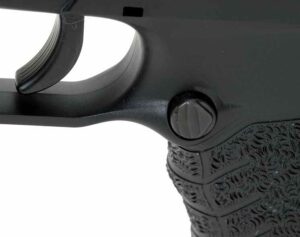 The horizontally-grooved slide stop is left-side mounted and thumb reachable by all but small-handed users. The disassembly lever has stepped curves in its face and is also on the left, just forward of the ample and squared trigger guard, which is horizontally grooved on its face.
The reversible magazine catch (detailed instructions for reversing it are in the owners manual) offers a vertically-serrated head and is at the left rear of the trigger guard. It's partially protected from accidental depression by a molded ridge, which can serve as a thumb rest, extending rearward on either side of the frame. The frame also includes finger grooves on its front strap and the lower portion of the sides.
The gripping surfaces feature a rather unique combination of half-circle ridges and raised dots that provide a solid but not grabby surface treatment. Two wide and shallow depressions in the top sides of the grip serve as thumb rests or as a guide to your firing-hand finger to help you get the proper grip on the gun and on the trigger. This is particularly useful when lighting is dim or nonexistent.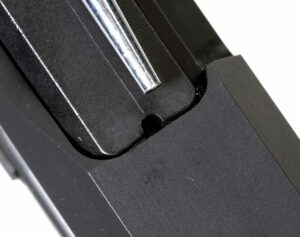 The bottom rear of the backstrap is lower than the magazine well opening, but the resulting space created between the front and backstrap is filled by the base pad of an inserted magazine. The end result: More gripping surface for your hand.
The wide-faced, curved and grooved trigger is positioned roughly 40% of the way forward inside its squared trigger guard. It features what Walther calls a constant action trigger system, which is similar to a double-action-only trigger. The trigger pull measured out at 6.5 lbs. on my gun, and it was smooth except for what turned out to be only some initial creep. We thought might just be an instance of this sample PPX being shot right out of the box without any additional lubrication. The problem went away after lubricating the system, along with repeated dry and live firing.
Disassembly & Re-assembly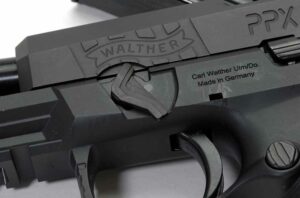 Disassembly of the PPX is quick and easy. First clear the pistol and, with magazine removed, lock the slide to the rear. With the slide locked back, rotate the take-down lever from 3 o'clock to 7 o'clock. (It can't do so if the slide isn't locked back because an extending tab at 11 o'clock must fit into a semi-circular relief cut in the slide, which can only occur when the slide is fully open.) Then remove the slide, which allows removing the captive flat-wire recoil spring. Finally, lift the barrel out.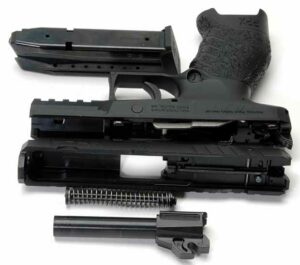 Perform re-assembly in reverse order, while taking care to ensure the slide rails fully engage the rear two metal rail tabs. I found the slide tends to tilt up while installing it such that the rails move over and not through the two rear tabs. Apply light pressure, or better yet aim with the slide, to avoid this.
Range Report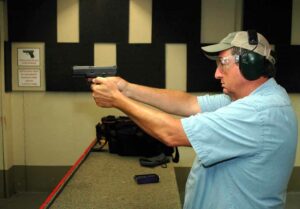 The proof (or not) of the value of all the PPX features is ultimately in the shooting. I enlisted the aid of Irv Gill and Ted
Murphy, and we used the range facilities of the Lower Providence Rod and Gun Club in Oaks, Pa. Our initial shots at 15 yards were encouraging: The gun shot to point-of-aim with no malfunctions. We all shot it well using Winchester Personal Protection 147-grain JHP, CorBon Performance Match147-grain FPMC and Remington UMC 115-grain FMJ, beginning with deliberate, five-shot groups at 15 yards.
Murphy shot one-handed, standing, and delivered an excellent group of 2″! My seated and supported two-handed effort was only good enough for a 2.5″ group. Gill opted for some faster, two-handed shooting and place all his shots within the 6″ center ring of a Warren IDPA training target.
I also fired the PPX over a chronograph with three types of ammo at 55 degree F, 300′ above sea level. The results:
CorBon Performance Match 147-grain FPMC: 891 fps
Winchester Personal Protection 147‑grain JHP: 972 fps
After, my associates and I agreed the pistol lacked any annoying sharp edges, and the grip is quite comfortable in hand. Also, we thought the PPX' faux double-action trigger pull was much better than the actions on some costlier pistols from other manufacturers.
The PPX is simple to operate and has a good-feeling, natural grip design. The backstrap's outward curve is just right for my hand. Gill and Murphy also commented that the PPX had a good, first-impression feel.
Final Thoughts
The PPX delivers just what many handgun buyers, including lawmen, military and the non-sworn citizen, want in a defensive handgun. That is, a gun that's reliable, easy to operate, lightweight yet durable and chambered in either 9mm or .40 SW, and one that holds lots of rounds. The PPX certainly fits the bill.
With the PPX new to the American scene, I know of no history from others who have this pistol to help determine if my sample is a one-off or common. I suspect the latter, however, based on Walther's reputation of making quality arms.
I do know the PPX is capable of great accuracy, only limited by a shooter's skill and quality of ammunition, as noted above with Murphy's excellent shooting. And last but not least, the PPX offers an MSRP ranging from $449–$499—a good price for a good self-defense handgun!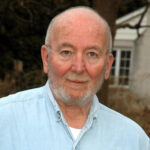 Walt Rauch received a BS degree from Carnegie Tech and completed service as a Special Agent in U.S. Army Intelligence. Rauch was a U.S. Secret Service Special Agent and a Philadelphia, Pa., Warrant Unit Investigator. He now operates a consulting company for defense-weapon and tactical training. Rauch & Company services include expert witness testimony on firearms use and tactics.
Rauch is also a writer and lecturer in the firearms field. He's published in national and international publications including InterMedia's Handguns, several Harris Publications specialty magazines, Police and Security News and Cibles (France). He is the author of a book on self-defense, Real-World Survival! What Has Worked For Me, as well as Practically Speaking, a comprehensive guide to IDPA defensive pistol shooting.
The Specs
| | | | | | | |
| --- | --- | --- | --- | --- | --- | --- |
| Caliber | Capacity | BBL | OAL | Width | Height | Weight |
| 9mm | 16+1 | 4″ | 7.3″ | 1.3″ | 5.6″ | 27.2 oz. |
| .40 SW | 14+1 | 4″ | 7.3″ | 1.3″ | 5.6″ | 27.2 oz. |
Pricing
MSRP: $499 (black finish)
MSRP: $549 (stainless finish)