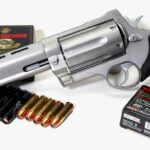 Editor's Rating: 6.0/10
Users' Rating (Click a star to rate this gun.)
Summary: Walt Rauch's review of and rating for the Taurus Raging Judge pistol, including a range report, photos, pricing, specs, user ratings and user comments. (Click here to see all of Rauch's handgun reviews.)
Editor's Review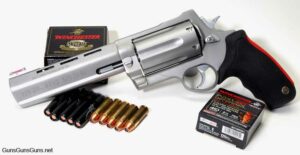 Taurus' first cartridge and shotshell revolver, named "the Judge," was introduced in 2006 and chambered in .45 LC and 2.5″ .410 shotshell. Why the Judge label? The story goes it was due to an interest by judges who wanted to be armed while on the bench in a crowded courtroom. However, they were concerned with a handgun round over-penetrating and hitting a bystander, so they needed a defensive handgun firing a lethal round that offered minimal penetration. Thus, the Judge offers both cartridge and shotshell, exactly what the judges wanted and needed.
Check the current prices here!
Whether hyperbole or fact, defensive handgun buyers also saw the combination as desirable and bought the Judge in large numbers. How successful was the concept? Well, several companies now produce .410-chambered revolvers (check out our .410 shotshell revolver roundup), and ammunition companies now offer 2.5″ and 3″ .410 shotshells loaded specifically for self defense.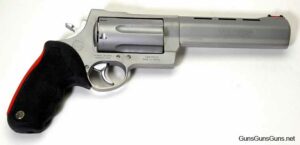 Taurus has expanded its .410 revolver line to include the Judge Public Defender models and the Raging Judge models. Raging Judges are chambered in .454 Casull, .45 LC, 2.5″ .410 and 3″ .410.
I obtained a Raging Judge Magnum (RJM) model, which, as an amalgam of other large-frame Taurus revolvers, is chambered in .454 Casull, .45 LC and 3″ .410 shotshell. My review follows.
The Details
To me, the RJM most closely resembles the Taurus 454 Raging Bull, also chambered in .454 Casull. As noted, the RJM is chambered in 3″ .410 shotshell, which is a step up in power from the 2.5″ Raging Judges. However, you can also fire 2.5″ .410 in the gun.
The RJM is an all-stainless steel revolver with a brush finish. It holds six rounds, is double- and single-action, and weighs 4.5 lbs. It features a 6.5″ barrel with a full-length underlug and a faux rib in the barrel (there are three longitudinal cuts in its upper portion), which makes for an attractive appearance. The barrel has a full-length underlug, which is relieved to serve as a shroud for the extractor rod.
The massive fluted cylinder features two cylinder locks, with one in front of the cylinder crane and one in the gun's recoil shield. To release the cylinder, move the front machine-checkered crane lock down while simultaneously pushing the rear (also machine-checkered) thumb piece forward.
A red fiber-optic front sight is pinned into a sight base that appears to be part of the barrel. It's not adjustable. Nor is the square-notch rear sight, which is part of the frame's top strap.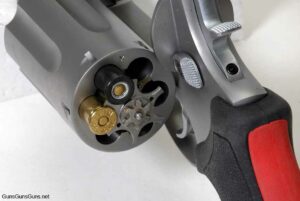 The RJM's smooth-faced trigger is curved, with 13.5 lb. double-action pull weight and a single-action pull weight of 5.5 lbs. The machine-checkered hammer spur is slightly wider than the hammer's body. When the hammer is forward, you can access the Taurus Safety System because its keyhole is below the hammer spur and in the frame. Two keys come with the gun, and Taurus includes instructions on its use owner's manual.
An allen screw in the grip's base holds a black rubber grip with Taurus' Raging Bull red cushion insert to the frame. Taurus provies one allen wrench so you can remove the grip if desired.
Range Report
To determine what you can expect when handling and shooting the RJM, I enlisted the help of my friends AJ Stuart, Irv Gill and Joe Mulligan. We used our gun club's outdoor range (Lower Providence Rod and Gun Club in Oaks, Pa.). As we set up and familiarized ourselves with the RJM, one question was asked: "What is it good for?" There was also one conjecture: "I'll bet it kicks!"
This cartridge was developed in 1957 by Dick Casull and Jack Fullmer, but nothing of note happened to it until Ruger chambered its Red Hawk for it in 1997. In 1998, Taurus followed by chambering its Raging Bull for .454 as well. Because the .454 Casull cartridge is based on the shorter .45 LC, the .45 LC works in a .454 Casull-chambered gun. So does the S&W .460 Magnum round.
We set up Shoot-N-See LE B27 target centers placed at 3, 5 and 7 yards on which Stuart and Mulligan shot pairs of Winchester 250-grain Partition Gold .454 Casull ammo. They kept the pairs within 2″ of each other while firing at a measured and steady pace. The anticipated recoil? It was only after firing roughly 20 rounds that Stuart commented that his hand was now stinging with every shot. Mulligan then fired roughly the same amount of ammo, but his only comment was the gun dealt less felt-recoil than he experiences shooting full-powered .44 Magnum loads in his 6″ barrel Smith & Wesson Model 629.
I shot less (15 rounds) and wore Uncle Mike's padded shooting gloves. I found the gun a bit too heavy to hold extended for any length of time. Still, to the good, the combination of a heavy barrel, heavy gun and rubber grip effectively minimized muzzle flip and felt recoil. We all did some unstructured shooting and used the normally hard-hitting (at both ends…) CorBon 300-grain JHP and Magtech 225-grain JHP and had a lot of fun!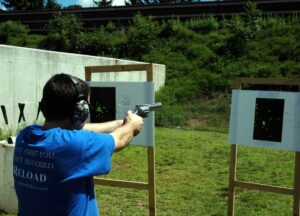 Then with fresh targets hung, we all shot Winchester PD X1 Defender .410 shotshells. These are Winchester's new defensive 2.5″ .410 shells and are loaded with three plated Defense Disk projectiles and 12 plated BBs.
The results proved quite similar to the results I obtained earlier while shooting a 2″-barrel Judge. At 3 yards, the RJM tightly clustered the entire payload in a 6.5″ high by 5.25″ wide pattern, with the three discs centered. At 5 yards, the pattern opened to 14″ high by 10″ wide, with the discs remaining centered. At 7 yards, we lost 3-5 pellets off target and the pattern opened up a little further to 14″ high by 12″ wide, but yet again, the discs remained center hits.
We experienced no mechanical problems with the gun or ammo. However, a few of us had to acclimate to having to simultaneously move both cylinder lock releases to free the cylinder. Then we found the extractor rod a bit short—removing fired cases required using our fingernails or shaking the gun.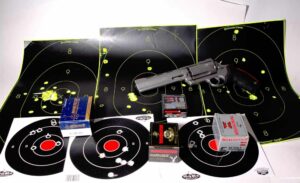 On another range visit, I chronographed the CorBon, Magtech and Winchester .454 Casull ammo. I shot over a Shooting Chrony chronograph at 80 degrees F and 300 feet above sea level. My results:
CorBon 300-grain JHP: 1,590 fps
MAGTECH 225-grain JHP: 1,661 fps
Winchester 250-grain Partition Gold: 1,624 fps
I also shot five-shot groups at 25 yards using 5.5″ Shoot-N-See Dirty Bird targets. Groups were adequate, measuring 3″, 3.25″ and 3.5″, but I found the bright red of the front sight made it just too fuzzy for me, with this view overfilling the rear sight notch. Optics would solve this, I'm sure.
Final Thoughts
To answer the question, "What is the Raging Judge Magnum is good for?", I'll really bastardize a popular saying: "Purpose is in the eye of the holder." The RJM is good for hunting and pest control, as well as limited windows of self defense. I see the RJM as mainly a hunting handgun, with the pellets and bullets options greatly expanding hunting and predator applications. The RJM can also be a defensive tool, of course, but considering its size and weight, it's probably best to store in a vehicle or in a residence to have it just in case.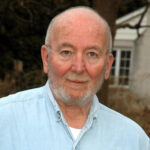 Walt Rauch received a BS degree from Carnegie Tech and completed service as a Special Agent in U.S. Army Intelligence. Rauch was a U.S. Secret Service Special Agent and a Philadelphia, Pa., Warrant Unit Investigator. He now operates a consulting company for defense-weapon and tactical training. Rauch & Company services include expert witness testimony on firearms use and tactics.
Rauch is also a writer and lecturer in the firearms field. He's published in national and international publications including InterMedia's Handguns, several Harris Publications specialty magazines, Police and Security News and Cibles (France). He is the author of a book on self-defense, Real-World Survival! What Has Worked For Me, as well as Practically Speaking, a comprehensive guide to IDPA defensive pistol shooting.
The Specs
| | | | | | |
| --- | --- | --- | --- | --- | --- |
| Frame | Caliber | Capacity | OAL | BBL | Weight |
| steel | .45 LC, .454 Casull, .410 | 6 | n/a | 6″ | 72.7 oz. |
| steel | .45 LC, .454 Casull, .410 | 6 | n/a | 3″ | 60.6 oz. |
| alloy | .45 LC, .410 | 7 | n/a | 3″ | 41.4 oz. |
Pricing
MSRP: $936–$1,061
Check the current prices here!
More Photos