Users' Rating (Click a star to rate this gun.)
Summary:
The description, specs, photos and user ratings for the Wildey pistols,
plus new availability info
.
Manufacturer's Description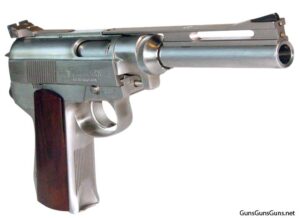 The Wildey is a semiauto pistol built on a stainless steel frame and chambered for a variety of magnum-level rounds, including 9mm Winchester Magnum, .41 Wildey Magnum, .44 AMP, .44 Wildey Magnum, .45 Wildey Magnum, .45 Winchester Magnum or .475 Wildey Magnum. The Wildey employs a short-stroke gas-operated system. The system includes a piston powered by the firing gases through six small holes in the barrel, a fixed barrel and a three-lug, rotating bolt. The piston forces the slide rearward, which catches an extended bolt lug that causes the bolt to rotate open. The bolt ejects the spent cartridge through the slide's ejection port.
The Wildey is a selective-fire pistol and can be used as either a single shot or an auto-loading pistol. The gas system must be tuned for each load; you do so by opening or closing the gas-regulating collet.
A variety of barrel lengths are available, including 5″, 6″, 7″, 8″, 10″, 12″, 14″ and 18″. Caliber and barrel conversions are possible, and the barrels can be fitted with a muzzle brake to reduce felt recoil.
Features include:
a ventilated, ribbed barrel;
a single-stack magazine;
a magazine release located at the pistol's base behind the magazine well;
a frame-mounted decocking lever;
a firing pin block;
a trigger block;
a rebounding firing pin;
a stainless steel barrel;
checkered walnut grips;
a removable front sight blade; and
an adjustable rear sight.
Five models are available: the Survivor, the Survivor Guardsman, the Hunter, the Hunter Guardsman and the Silhouette. The Survivor models come in a bright stainless steel, high-luster finish; the Hunter models are available in a matte finish. The Guardsman models have squared off trigger guards instead of the rounded trigger guards found on the non-Guardsman models. The Silhouette is a long-barreled model.
At press time, it appears Wildey Guns is no longer in business. However, another company, USA Firearms, has announced it's now taking pre-orders for a production run of Wildey Survivor pistols.
More Reading
Click here to read an article on the Wildey in the January/February 2008 issue of American Handgunner.
The Specs
| | | | | | | |
| --- | --- | --- | --- | --- | --- | --- |
| Caliber | Capacity | BBL | OAL | Width | Height | Weight |
| .41 Wildey Magnum, .44 AMP, .44 Wildey Magnum, .45 Wildey Magnum, .45 Winchester Magnum, .475 Wildey Magnum | 6+1, 8+1 | 5″ | n/a | n/a | n/a | n/a |
| .41 Wildey Magnum, .44 AMP, .44 Wildey Magnum, .45 Wildey Magnum, .45 Winchester Magnum, .475 Wildey Magnum | 6+1, 8+1 | 6″ | 11″ | n/a | n/a | 51 oz. unloaded |
| .41 Wildey Magnum, .44 AMP, .44 Wildey Magnum, .45 Wildey Magnum, .45 Winchester Magnum, .475 Wildey Magnum | 6+1, 8+1 | 7″ | n/a | n/a | n/a | n/a |
| .41 Wildey Magnum, .44 AMP, .44 Wildey Magnum, .45 Wildey Magnum, .45 Winchester Magnum, .475 Wildey Magnum | 6+1, 8+1 | 8″ | n/a | n/a | n/a | n/a |
| .41 Wildey Magnum, .44 AMP, .44 Wildey Magnum, .45 Wildey Magnum, .45 Winchester Magnum, .475 Wildey Magnum | 6+1, 8+1 | 10″ | 14″ | n/a | n/a | 72 oz. |
| .41 Wildey Magnum, .44 AMP, .44 Wildey Magnum, .45 Wildey Magnum, .45 Winchester Magnum, .475 Wildey Magnum | 6+1, 8+1 | 12″ | n/a | n/a | n/a | n/a |
| .41 Wildey Magnum, .44 AMP, .44 Wildey Magnum, .45 Wildey Magnum, .45 Winchester Magnum, .475 Wildey Magnum | 6+1, 8+1 | 14″ | n/a | n/a | n/a | n/a |
| .41 Wildey Magnum, .44 AMP, .44 Wildey Magnum, .45 Wildey Magnum, .45 Winchester Magnum, .475 Wildey Magnum | 6+1, 8+1 | 18″ | n/a | n/a | n/a | n/a |
Pricing & Shopping
MSRP: $2,750–$3,000
More Photos