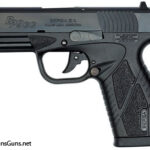 Editor's Rating: 9.0/10
Users' Rating (Click a star to rate this gun.)
Summary:
 Mike Boyle's review and rating of the Bersa BP Concealed Carry pistol, including a range report, photos, MSRP, specs, user comments and user ratings. (Click 
here
 to see all Boyle's gun reviews.)
Editor's Review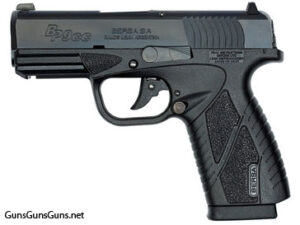 At the 2012 SHOT Show, I got my first look at the Bersa BP9 Concealed Carry (BP9CC). Bersa of Ramos Meija, Argentina, has been turning out quality pistols for years, and I was curious to see what this new blaster was all about. The BP9CC is light and thin and no larger than my Beretta 85, which is chambered in .380 ACP. The new Bersa, however, packs a 9mm punch.
After patiently waiting a few months, I was finally able to check one out and write up this review.
The Details
The Bersa BP9CC is a striker-fired 9mm pistol built on a polymer frame. The trigger action is short and light with external dimensions optimized for concealed carry. A number of other manufacturers are now turning out similar pistols, but the comfort, trigger action, reliability and exceptional value put the BP9CC right at the top.
In creating the BP9CC, Bersa engineers mated a high-impact polymer frame with a steel barrel and slide. Over the past 30 years, this combination has proven light enough for all day carry, yet is extremely durable. Despite the fact the BP9CC weighs only 21.5 oz. unloaded, the polymer frame dissipates much of the felt recoil, and shooting qualities remain very pleasant.
The metal surfaces on my sample pistol were finished in matte black. (A duo-tone variant with a brushed nickel finish is also available.) Bersa milled slightly curved serrations into the rear of the slide to facilitate manipulation.
The BP9CC represents Bersa's initial effort in building a pistol with a polymer receiver. It features a positive gripping surface and an undercut trigger guard so you can obtain the highest position on the backstrap. Serrations are present on both the frontstrap and backstrap, and the side of the grip sports a raised, pebbled surface. As an added bonus, the receiver features a molded-in rail so you can affix a laser aimer or tactical illuminator.
At 6.38″ long by 4.8″ tall, the BP9CC is best utilized in a belt holster or inside-the-waistband rig. Its extremely thin 0.94″ width makes it perfect for concealed carry. While its barrel measures only 3.3″ long, polygonal rifling creates a better gas seal, and recorded muzzle velocities approach that of full-size service pistols.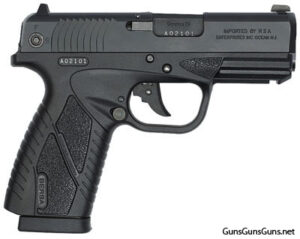 External controls consist of a slide release and reversible magazine catch. Personally, this lefty has been fine with a mag release designed for the right-handed majority because I feel it gives me an advantage. For those who would rather switch the button to the starboard side, the BP9CC gives you that option.
Although there's no manual safety, the BP9CC is equipped with multiple passive systems. They include a firing pin safety that holds the striker captive until you depress the trigger, a trigger safety and a magazine disconnect safety.
To determine if the pistol is "hot," simply run your finger on top of the slide to contact a loaded chamber indicator. If there's a round in the chamber, the indicator will protrude slightly above the slide, giving you instant tactile verification.
Like many contemporary handguns, the BP9CC is equipped with an internal locking device. Simply insert a special key into the right rear of the slide to disable the BP9CC and prevent firing by an unauthorized person. I would categorize this as a storage option rather than a safety, and if it doesn't fit into your lifestyle, simply ignore it.
In hand, the trigger action of the BP9CC is much like that of a certain popular Austrian pistol. Bersa describes the trigger as a short reset double-action-only, and it proved easy to master. The trigger itself is serrated, fairly wide and equipped with a safety lever that disengages as you apply pressure and bring it to the rear. In the event you drop the pistol, the trigger safety prevents a discharge-by-inertia.
As you apply pressure to the trigger, you will first encounter a bit of slack, then resistance and, ultimately, shot break. I would estimate trigger weight on my sample pistol as somewhere between 4–5 lbs., and it certainly contributed to good hit potential.
For sighting equipment, Bersa went with the popular three-dot system. Bersa fits a SIG Sauer-type front and a Glock-type rear to the slide, so aftermarket options abound. At this stage of my life, I find the three-dot pattern a little busy, so I would probably opt for a wide rear notch with some sort of high visibility front. It's nice to have choices.
The BP9CC comes in a plastic storage case with a pair of eight-round single-stack metal magazines. Considering its intended role, a total capacity of nine rounds represents a big improvement over other small guns often used for discreet carry.
Shots Fired
My opportunity to try out the BP9CC came on a mild spring evening. To break the ice, I fired a series of singles and pairs on a steel silhouette set 12 yards away. In the past, I've tested out a few other lightweight 9mm pistols that were a little snotty, but the BP9CC was pleasant to shoot. Once I got acclimated to the sights and trigger, the hits came very easy.
As time and light were at a premium, I decided to forgo the usual 25-yard accuracy evaluation and do a more relevant combat assessment. I rounded up four types of 9mm ammunition with different performance characteristics and proceeded to trigger off five-shot groups at a target positioned 10 yards away. I launched bullets at a cadence of one shot per second, leaving me just about enough time for the muzzle to settle and to take a hard focus on the front sight. I performed all shooting from an unsupported, standing position. My results:
Federal 115-grain +P+ JHP: 1,249 fps, 2.625″ average group
Speer Lawman 124-grain TMJ: 1,048 fps, 3″ average group
Speer Gold Dot 124-grain +P JHP: 1,172 fps, 3.125″ average group
Winchester Ranger 147-grain JHP: 940 fps, 3″ average group
None of the groups fired measured over 4″, and, in fact, most were well within 3″. My best effort was posted with Federal 115 grain +P+ JHPs with an average spread of just 2.625″. This load provided a bit more pop than the other offerings tested, which may have caused me to bear down and focus a little harder. Sniping away at my steel silhouette from 25 yards away yielded equally gratifying results.
As indicated earlier, this downsize pistol has a micro-polished bore with polygonal rifling, which helps deliver higher muzzle velocities. The aforementioned Federal 115-grain +P+ load raced through the screen (an Oehler 35P Chronograph placed 10 feet from the muzzle) at 1,249 fps, while Speer's 124-grain +P Gold Dot load hit 1,172 fps. As a point of reference, this is only 25–30 fps slower than my service size Glock 17. Quite simply, you can carry a like-size .380 ACP with marginal stopping power, or the Bersa P9CC in 9mm with twice the muzzle energy.
Did I mention reliability? I ran about 300 rounds of mixed ball, hollow points and lightweight frangibles through the BP9CC in very short order, and it never missed a beat. We have come to expect that sort of level of performance from modern service pistols, but it's often an elusive quality in many hideouts.
Final Thoughts
There's much to like with the Bersa BP9CC. Human engineering is a cut above, and the user-friendly trigger helped me shoot my best. I can describe my experience as very positive. All too often in the shooting world, the next best thing since indoor plumbing comes up a little bit short. If anything, however, the BP9CC exceeded my expectations.
Old loves die hard. For more than 30 years, I've utilized a snub revolver of some sort or another for low-profile carry. Even though I utilized a semi-auto as a primary piece, I wasn't exactly enthralled with that same technology in a hideout. New concealable pistols such as the BP9CC have altered my thinking. Snubs still set the call for pocket or ankle carry, but a small, flat semi-auto makes more sense on the belt.
There is little I would change on the BP9CC. I could do without the magazine disconnect safety, but this feature is included to meet important criteria. In any event, the Sitting Duck Syndrome—i.e., reloading under fire—is considerably briefer with the BP9CC than with my J-frame revolver, and I don't consider the disconnect safety a deal breaker. Factory sights are far superior to pocket pistols and snubs, but the three-dot pattern simply isn't my cup of tea, and I would probably swap them out. Conveniently, Bersa's engineers have made retrofitting alternate sights very easy.
This pistol could give like-size pistols from any manufacturer a run for the money. In terms of ergonomics, reliability and accuracy, it doesn't take a back seat to anything else out there. In fact, it's clearly superior to some small semi-autos with wider name recognition. Best of all, its actual street price is considerably less.
If a trim, lightweight auto-pistol is on your shopping list, check out the Bersa BP9CC. It represents a best buy in pistols optimized for concealed carry. Expect to see the .40 SW variant very soon, and I wouldn't be surprised to see Bersa develop an entire line of pistols around this theme.

Mike Boyle served as a captain with the New Jersey Division of Fish & Wildlife Bureau of Law Enforcement and recently retired after 27 years of service. Mike remains active, teaching recruit, in-service and instructor level classes at the police academy. He's also on the board of directors of the International Association of Law Enforcement Firearms Instructors.
The Specs
| | | | | | | |
| --- | --- | --- | --- | --- | --- | --- |
| Caliber | Capacity | BBL | OAL | Width | Height | Weight |
| 9mm | 8+1 | 3.3″ | 6.35″ | .94″ | 4.8″ | 21.5 oz. |
| .40 SW | 6+1 | 3.3″ | 6.35″ | .94″ | 4.8″ | 21.5 oz. |
Pricing
MSRP: $427–$440
Note: Eagle Imports imports this pistol into the United States.