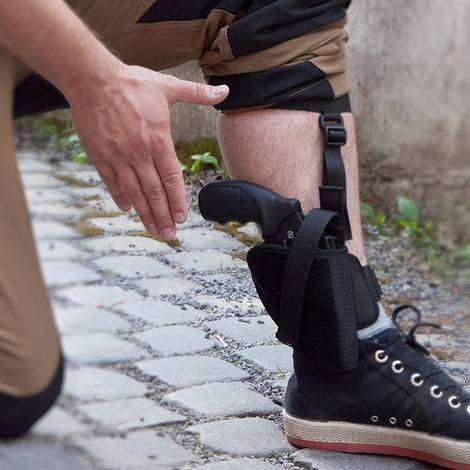 Our Top Picks
Best Overall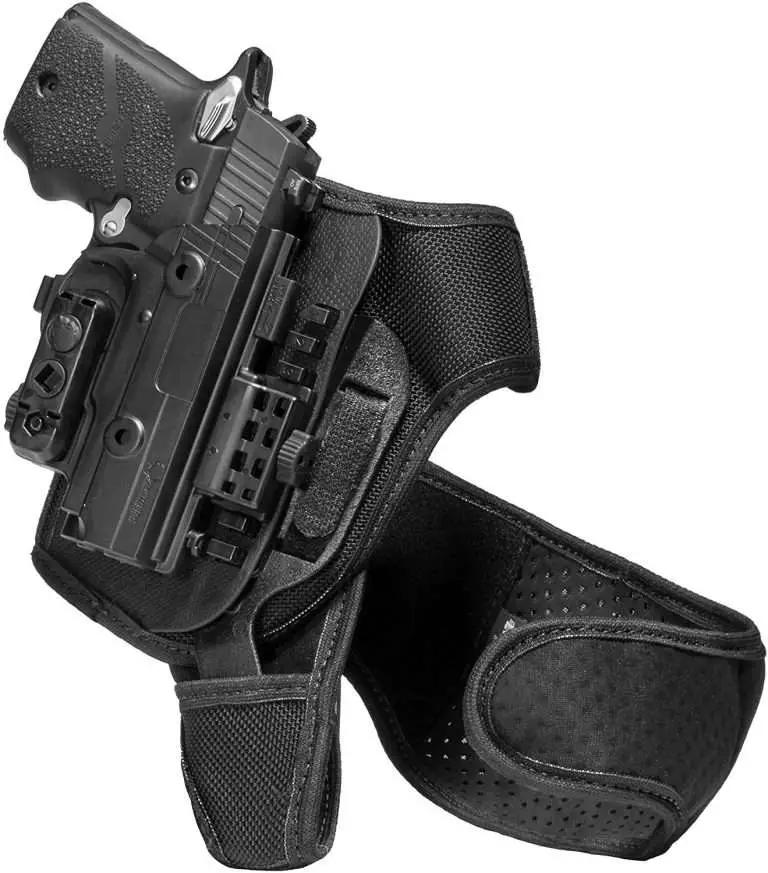 Alien Gear ShapeShift Ankle Holster
The perfect holster for all gun sizes.
Check Price
Best Leather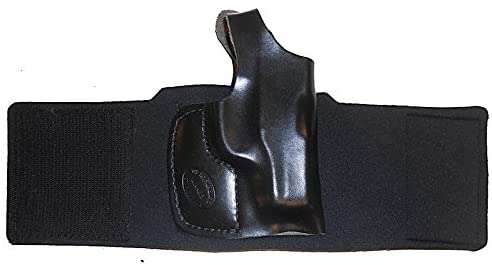 Beretta Nano Pro Carry Ankle Holster
Made of durable and stylish leather.
Check Price
Best Budget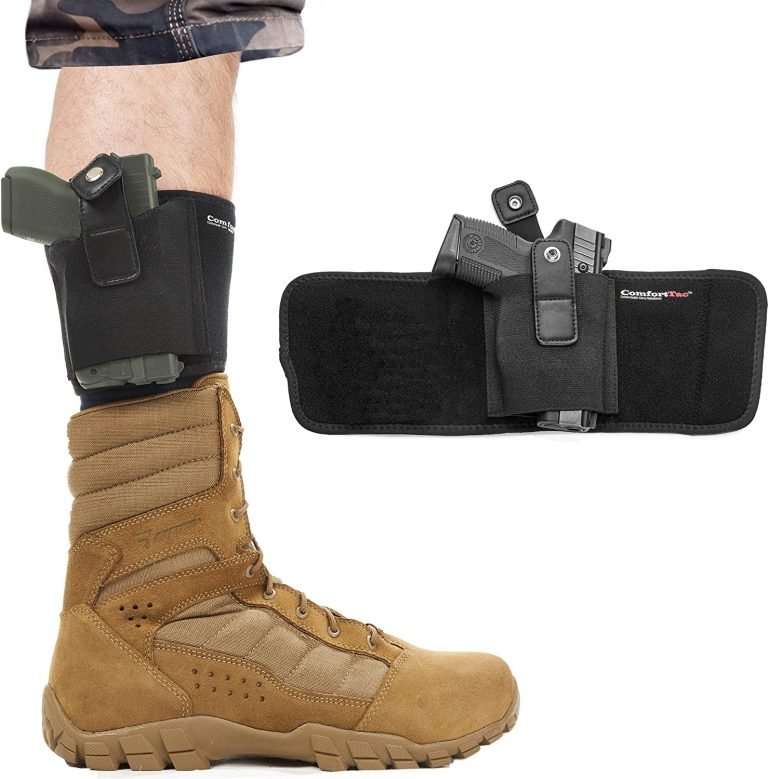 ComfortTac Ultimate Ankle Holster
Reliable and great for every budget.
Check Price
Best for Revolvers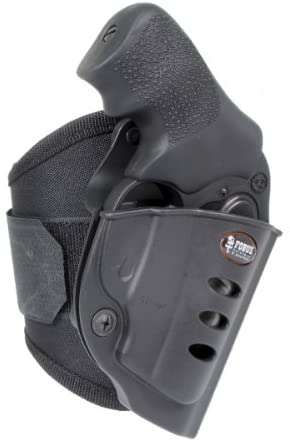 Fobus Concealed Carry Ankle Holster
Great for tactical use.
Check Price
Using an ankle holster is one of the most practical ways to conceal carry (in most situations at least). And it's mostly because people who do ankle carry are rarely detected and it can be worn with almost any outfit. We've got the best ankle holsters right here, so read on and find out which brands made it to our list!
Table of Contents
A Quick Comparison of the Best Ankle Holsters
Model
Alien Gear Holsters ShapeShift Ankle Carry Holster Springfield XDs 3.3...
Beretta Nano Pro Carry Ankle Holster Right Hand Black Leather &...
Ultimate Ankle Holster for Concealed Carry by ComfortTac | Fits Glock...
Fobus Concealed Carry Ankle Holster Ruger LCR 38 357 Judge Conceal...
DeSantis Die Hard Ankle Rig, Concealed Ankle Holster, Leather Lined...
Material
Suede lined Cordura, Polymer
Model
Alien Gear Holsters ShapeShift Ankle Carry Holster Springfield XDs 3.3...
Model
Beretta Nano Pro Carry Ankle Holster Right Hand Black Leather &...
Model
Ultimate Ankle Holster for Concealed Carry by ComfortTac | Fits Glock...
Model
Fobus Concealed Carry Ankle Holster Ruger LCR 38 357 Judge Conceal...
Material
Suede lined Cordura, Polymer
Model
DeSantis Die Hard Ankle Rig, Concealed Ankle Holster, Leather Lined...
How We Choose + Our Must-Have Features
Gun Compatibility
Not all ankle holsters are created universally. If you have a backup gun aside from your CCW, make sure it's also compatible with the holster. If not, you'd have to buy a backup holster.
Size
Size goes hand in hand with gun compatibility. Ankle holsters (or holsters in general) are designed for specific gun sizes. Holsters made for sub-compact pistols can't accommodate full-sized pistols and vice versa.
Material Quality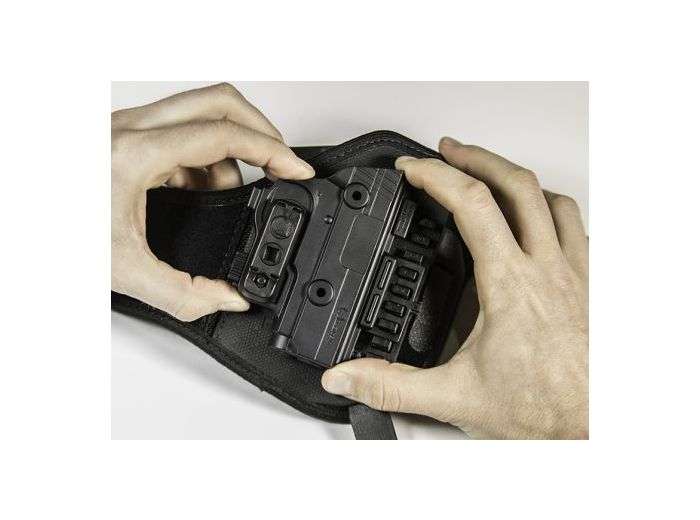 Ankle carry is usually snug and tight, so it's important to choose an ankle holster that's made from breathable and moisture-wicking fabric for all-day comfort. We also suggest getting a holster that's padded and has elastic straps so you can draw smoothly.
Price
Most ankle holsters don't cost more than $100, but you'd still want to consider the price especially if you're saving up for more ammo and shooting equipment!
5 Best Ankle Holsters
Best Overall: Alien Gear ShapeShift Ankle Holster
We picked the Alien Gear ShapeShift as our best overall ankle holster because it offers extreme comfort and retention. The ShapeShift Modular system lets you switch between holster platforms without worrying about security.
It's made from neoprene material that provides maximum airflow so you won't have irritation or sweaty legs even after carrying the whole day. It also features elastic straps padded with soft CoolVent Neoprene that allows you to draw tight without any discomfort. It comes with a steel core base and woven ballistic nylon that functions as a stable platform for drawing and reholstering.
The Alien Gear ShapeShift ankle holster guarantees all-day comfort. It's also designed so that no tools are needed to adjust holster retention.
Pros
Lightweight
Full trigger guard protection
Comes with a firm and flexible spine
Cons
It costs a little more than most brands
Compatible with most guns
What Customers Say
"I've been wearing this for a week and a half and I love it. I work in an environment wearing a gun is not permitted so I cannot take a chance at getting caught. This conceals a P365 perfectly, and I am sorry I didn't find this sooner."
"I've tried many ankle holsters over the years for concealed carry and none of them are this comfortable or concealable. This one actually carries my Sig Sauer P938 with an extended 7 round magazine perfectly, even under blue jeans. I would even consider ankle carry with this holster as a primary carry method under some circumstances. This is the best ankle holster I've purchased so far."
Best Leather: Beretta Nano Pro Carry Ankle Holster
Our next pick is Beretta Nano's modern version of classic Italian holsters. It features two leather straps that are enclosed with a hook and a loop. The first leather band wraps around your calf while the second one wraps around your ankle. These straps are stretchable and can accommodate most calf and ankle sizes.
The Beretta Nano Pro Carry ankle holster also comes with a square leather pad that serves as a cushion for comfortable everyday carry.
Pros
Constructed from premium leather
Comfortable for everyday carry
Made to last
Cons
Not compatible with most guns
What Customers Say
"I think it works really well"
Best Budget: ComfortTac Ultimate Ankle Holster
The ComfortTac Ultimate ankle holster is compatible with all types of footwear. The right holster model and size can stretch so you can wear it above hiking boots, and you can still wear it with low-cut shoes. You can also get a calf strap model that's most suitable for dress shoes or tennis shoes.
This ankle holster is only designed for smaller pistols such as Glock 42 or 43, it can't accommodate full-size 9mms like a Glock 17 or Glock 34. You can feel your gun's weight when holding heavier handguns. But ComfortTac designed this holster so that it doesn't scratch your skin and you will still be comfortable.
The ComfortTac Ultimate features a velcro strap that wraps around the ankle and a snap button strap that secures your gun.
Pros
Fits most compact and sub-compact 9mm pistols
Cons
Holding heavy handguns pushes the weight limit for comfort
Can't hold full-size 9mms
What Customers Say
"This holster is quite comfortable. I do believe having it stay in place will be an issue. I wore it for a full, not very active Day and it had to be readjusted several times while carrying a Sig 365. I did expect this given just the single strap design. For short-term carry it will be just fine and that is the reason I chose this item. For the price and quality, I don't see how it can be beat."
"Great product made with high-quality materials works great for a small auto handgun I'm using it with a Smith & Wesson m&p 9mm and works very well downside is that it will get hot but nothing you can't deal with. However I also used it with a smith and Wesson revolver and it fits but the cylinder would press alongside my leg too hard that it would get sore so would recommend a leg holster with more padding for revolvers but with 9mm auto works really good. also conceals amazing."
Best for Revolvers: Fobus Concealed Carry Ankle Holster
The Fobus Concealed Carry ankle holster features retention adjustment screws that let you choose the retention level. It also comes with a Cordura pad that's lined with suede for all-day stability and comfort.
It offers a secure fit and features an adjustable strap. It takes a few days to get used to but once you do, you'll forget you're wearing it! It's also a perfect holster if you're carrying a Ruger LCR.
Like most low-priced holsters, this one from Fobus can easily print in tight jeans, so wear something loose like cargo pants. There are other ankle holster brands with better retention especially if you'll be running a lot. But for its price point, it's a pretty decent ankle holster and it gets the job done.
Pros
Lightweight
Affordable
Comes with an adjustable Velcro strap
Cons
Average retention
Not compatible with semi-automatic pistols
What Customers Say
"First two retention on this holster is amazing. Second, the nylon strap grips your ankle quite well and does not allow the holster to jiggle or move around once you place it the only reason I did not give it 5 stars is you must wear extremely baggy pants to access the holster other than that it is one of the best ankle holsters I have ever owned"
"Fits my Ruger LCR nicely. Very comfortable wear and unless you're doing some serious running you shouldn't have to worry about the pistol bouncing out of the holster. It does print a bit depending on what you're wearing..tighter pants will not work with this…it sticks out farther than one would think unless you've used similar holsters before. Good cushion against your ankle, I'm happy with this purchase for sure."
Desantis Die Hard Ankle Rig for Glock 43
Our last pick is a little bulky as it's designed particularly for the Glock 43. It can accommodate smaller pistols like the Glock 42 but you might have a problem with the fit.
The Desantis Die Hard Ankle Rig is incredibly adjustable and it's suitable from small to big calf sizes. It's made from top-grain saddle leather and coated with a durable PU finish. It features a smooth leather lining that prevents your gun from getting scratched and provides a smooth draw. The snap is initially kind of stiff but becomes smoother after some time. Here's a little background of their holster from Chad DeSantis of DeSantis:
The Die Hard™ Ankle Rig was first introduced by Gene DeSantis in the early 1980's in order to help his customers conceal a backup gun for the most necessary moments. The holster features a molded leather-lined thumb break holster mounted to a neoprene ankle band and sheepskin lining for maximum comfort. The sheepskin pad was designed with extended use periods in mind so that everyone from law enforcement to average joes can carry in comfort with their mind at ease.
We don't recommend wearing this holster while running or jogging as it needs an additional strap to hold your gun in place when running.
Pros
Padded leg foam
Easy to install
Quick draw
Affordable
Cons
The strap is a little too thick and sometimes causes printing
Not compatible with smaller pistols
What Customers Say
"This holster is very comfortable. I wear it at the top of my work boots without a calf strap, it stays right where I put it the whole day. There had been times that I've had to run and the holster didn't move or wobble around. My only complaint is right away I wasn't able to undo the strap to remove the pistol from the holster because my leg was in the way, but I just rotated it towards the front of my leg a little, and it's not an issue anymore. If you want to wear this with just regular shoes you'll probably want the calf strap for it."
"I really like the fit and compactness, it however starts to slip down the ankle after several hours. I still love it though."
FAQs
What is the most comfortable ankle holster?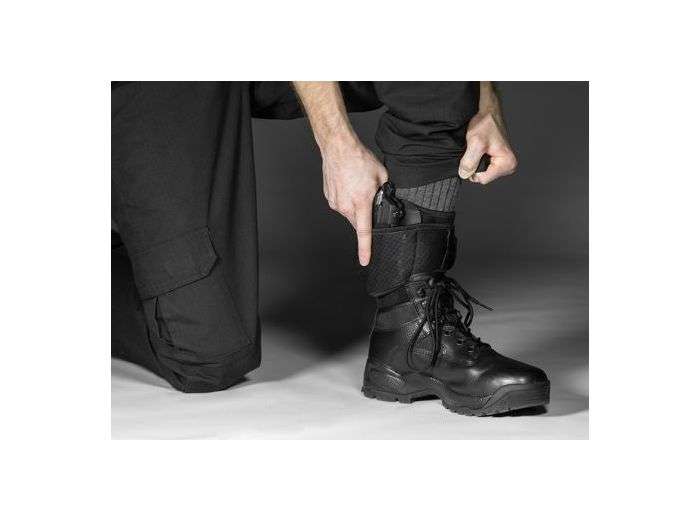 All of our picks above are comfortable and we love all of them. But if you'd ask us to pick a favorite, we'd choose the Alien Gear ShapeShift. It's got everything you're looking for in an ankle holster. You may have to splurge a little with this brand, but it's totally worth it. Read our full review above.
What is the best pistol for ankle carry?
The best pistol for ankle carry (and for all-around carry) is the Sig P365. First, it has incredible mag capacity (10+1 rounds). Plus, it's particularly made as a CCW so it's easy to hide no matter how you want to carry it.
What is the most comfortable concealed carry holster?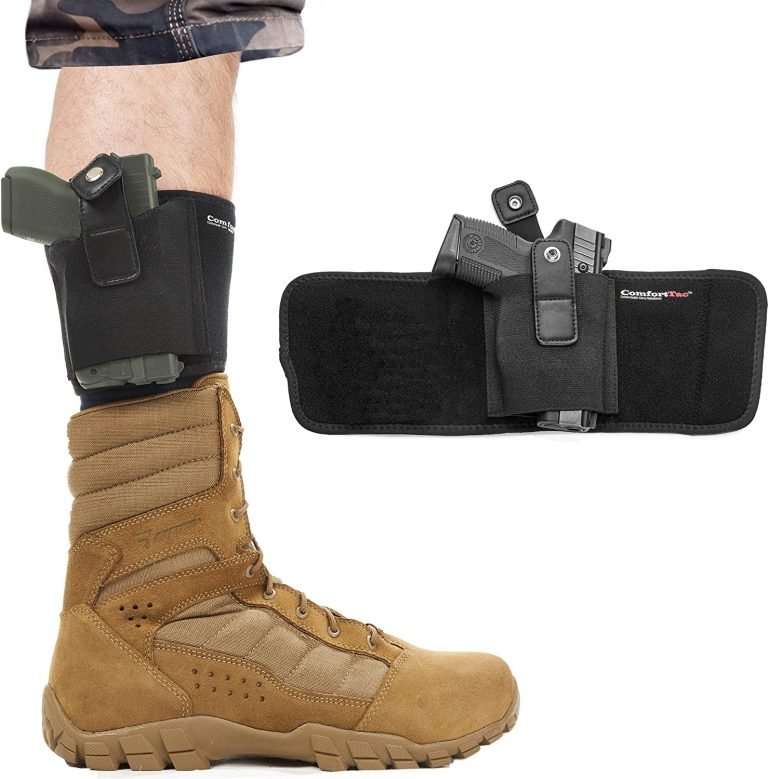 Since there are different types of concealed carry holsters, we'd pick one for each category.
The most comfortable ankle holster for us would be the Alien Gear ShapeShift which we reviewed above. When it comes to belly band holsters, we love the ComfortTac Ultimate Belly Band Gun Holster. We've put together an article about the best belly band holsters, so take a look!
Why do people ankle carry?
Ankle carry is mostly done by most people as their backup and for those who want to do deep concealment. But for ankle carrying to work, you'd have to pick holsters constructed from high-quality materials like our picks above.
Bottomline
While most ankle holsters are beneficial for most people, they're not everyone's favorite. So if you're not sure which holster is right for you, check out the article that we put together.
If you're still new to the world of concealed carry, our guide to self-defense should help.
Last update on 2023-09-05 / Images from Amazon Product API