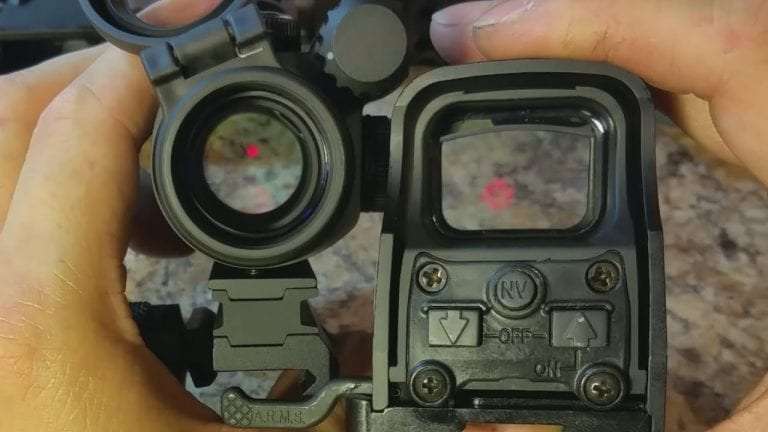 A red dot or a holographic sight? That is the question. Which is better for astigmatism, which is more cost-effective, which is better for long distances, or for nighttime use? In this article, we'll answer all of those questions and compare every single detail between EOTech vs. Aimpoint. And put an end to the never-ending debates on which is the more superior brand (if there's one).
Table of Contents
Comparing EOTech vs Aimpoint
For comparison purposes, we've picked the most premium optics (one from each brand) – the EOTech 512 holographic weapon sight and the Aimpoint Patrol Rifle Optic (PRO) red dot sight. Let's get right to it!
Durability (Winner: Aimpoint)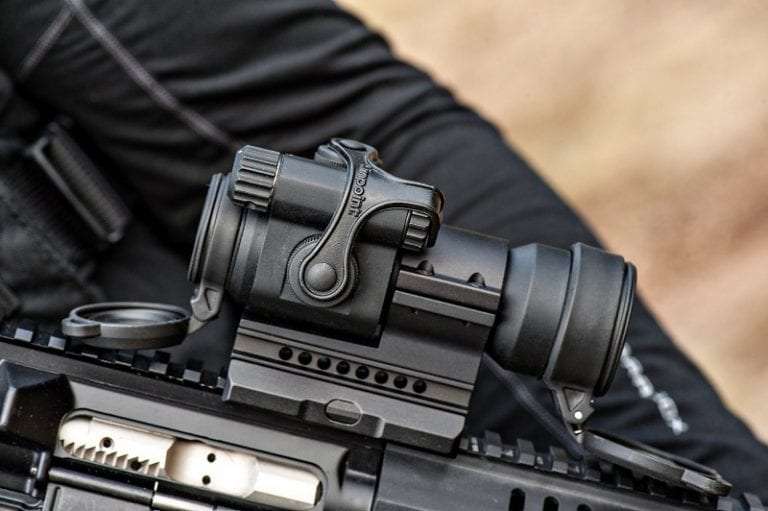 There's no doubt that EOTech and Aimpoint are engineered to survive daily use and abuse. Not to mention they're being used by the military, so they're definitely designed for combat.
Both brands are shockproof. But the Aimpoint PRO has been tested to withstand more levels of vibrations and shocks compared to the EOTech 512.
The Aimpoint PRO is also designed for harsh temperatures, plus it's chemical-resistant. A few years back, some EOTech users experienced issues while using the optic in extremely low temperatures, but those seem to have been resolved at this point..
Not that you'll be using your optic while diving, but when it comes to being waterproof, Aimpoint PRO is submersible up to 150 feet, while EOTech is submersible to 10 feet.
Eye Relief and Parallax (Winner: Aimpoint)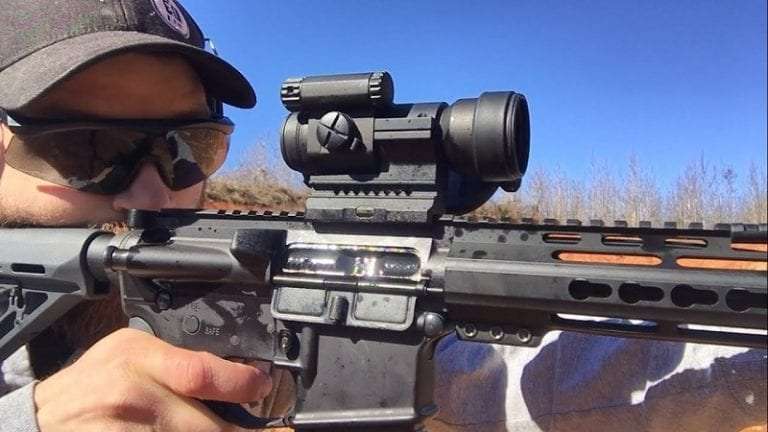 EOTech and Aimpoint optics both have generous eye relief and parallax settings.
EOTech features a very accurate heads-up display (HUD) that offers incredible situational awareness. It can be mounted on bolt guns, small-caliber guns, even crossbows. The HUD is equipped with a laser that illuminates the red dot pattern on the sight. This gives the shooter flexibility and more accuracy no matter how the eyes are positioned in relation to the display. The benefit of the holographic display is the reticle seems to be projected out onto the target, which many find easier to focus downrange.
The Aimpoint PRO, on the other hand, is great for rapid-fire scenarios if you can get accustomed to looking "past" the reticle or dot. It has unlimited eye relief and no parallax. It allows the user to shoot with both eyes open and acquire targets quickly. The Aimpoint PRO's display also activates even when the front lens cap is on, so you can sight a target even in emergency situations.
Reticles (Winner: Tie)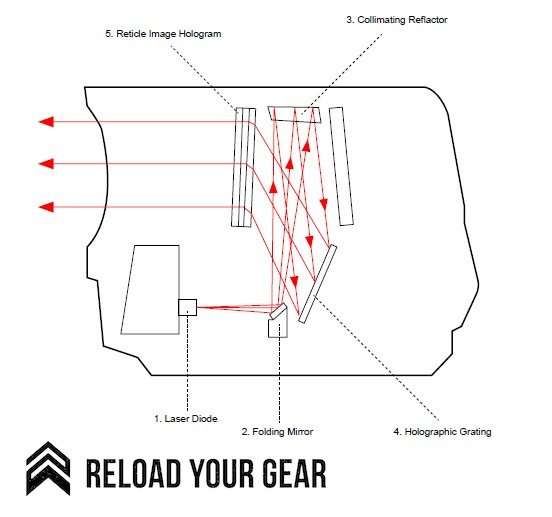 The EOTECH 512 projects a hologram created by the reflection of the laser diode's beam on multiple mirrors. People with astigmatism prefer holographic sights because they don't distort or become blurry like red dots. Holographic reticles are also more useful in long-range shooting.
Like all red dot sights, the Aimpoint PRO features an LED source and a coated spherical mirror that reflects the beam into the shooter's eyes. Red dots are also easier to use and are simpler since there's not much obstructing the shooter's field of view.
Both of these optics have highly functional reticles, all you need to do is choose what's more appropriate for your intended shooting applications.
Battery Life (Winner: Aimpoint)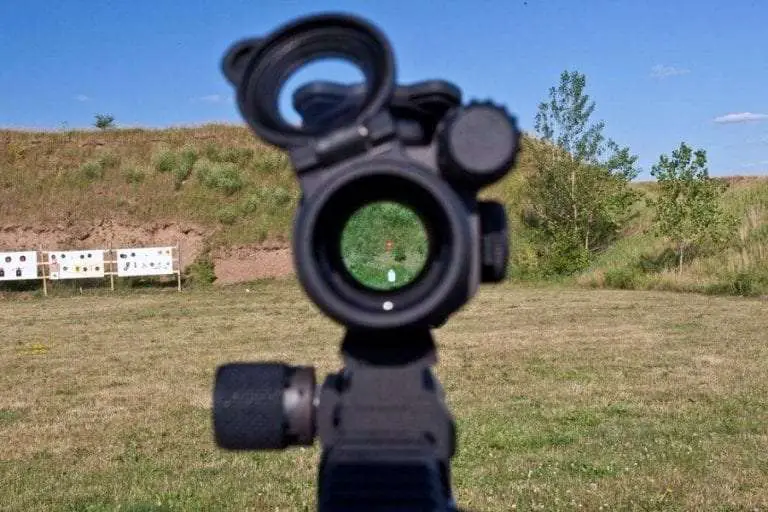 Since Aimpoint PRO has a simpler reticle, this makes their battery last longer. Its battery can last up to 30,000 hours without turning it off. Even if it uses 3V Lithium batteries that are difficult to find, you won't have to replace your batteries until after a few years.
The EOTech 512 has a more complicated reticle and a laser so its batteries get drained faster. What's great about EOTech sights is that they're compatible with Lithium or Alkaline batteries, so replacing them is easy. The EOTech 512 can last 600 hours with Alkaline batteries and 1,000 hours with Lithium.
Ease of Use (Winner: Tie)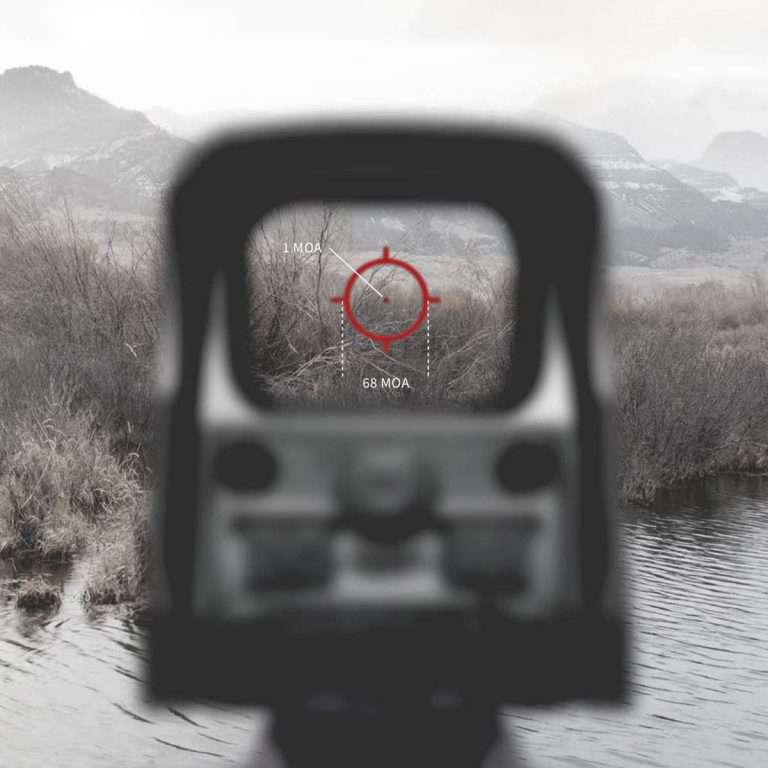 We admire how both EOTech and Aimpoint design their optics to be simple and easy to use.
The EOTech 512 features two buttons for powering the optic on and off. It also comes with an automatic shutdown feature that is handy for saving batteries.
The Aimpoint PRO, on the other hand, is equipped with a rotary dial to adjust brightness as well as to power it on and off (not that you'd need to turn it off!).
Versatility (Winner: Aimpoint)
When it comes to versatility, Aimpoint brings home the bacon. Its simple reticle is functional across all kinds of platforms, from handguns, shotguns, submachine guns, to rifles. On the other hand, the EOTech 512 is best for shotguns and rifles.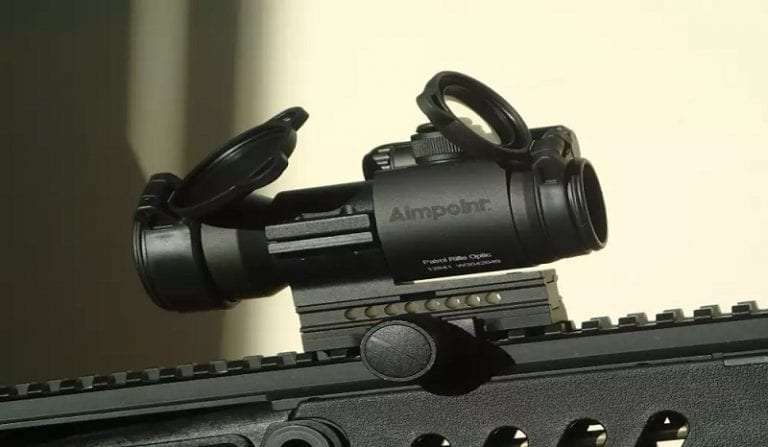 Night Vision Compatibility (Winner: Aimpoint)
The Aimpoint PRO is compatible with night vision devices and features 4-night vision settings, while the EOTech 512 is not night-vision compatible.
Optical Clarity (Winner: EOTech)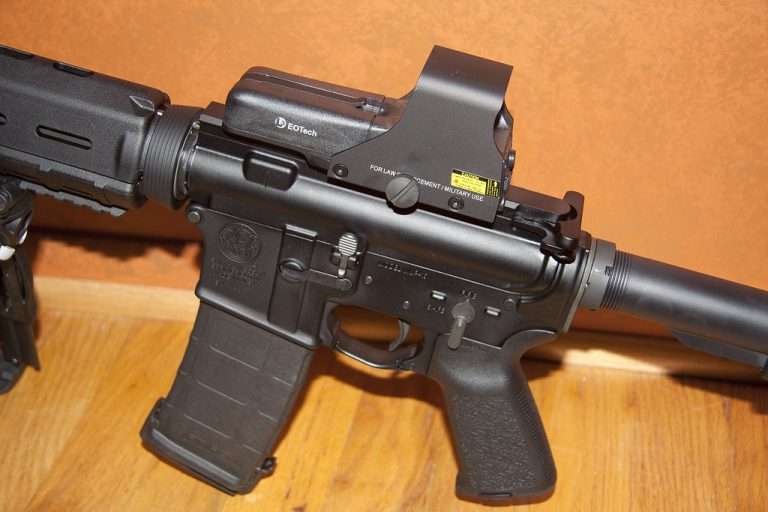 Optical clarity isn't often a major factor to consider when it comes to red dots since the use of glass is simpler than in scopes. But for the sake of comparison, we'll consider the sight picture too.
Both EOTech and Aimpoint allow the user to aim and shoot with both eyes open with nearly edge-to-edge clarity. This gives you a wider field of view and more awareness for tactical shooting scenarios.
Let's take the Aimpoint PRO and EOTech 512 for example. The Aimpoint PRO is round-shaped, requiring less amount of time to get used to the scope. However, it's not very comfortable to look into as the borders tend to stick out and obscure your vision. In contrast, the EOTech 512 provides a more natural and wider field of view. Its lenses also deliver a sharper and clearer picture.
Size (Winner: EOTech)
Even if they have almost the same weight and their overall sizes are almost similar, EOTech 512 has a slimmer display housing profile compared with the bulkier Aimpoint PRO. It's like a thin box that you'll almost never notice when using it. The size also makes it better for overall function.
Price (Winner: EOTech)
EOTech and Aimpoint optics are equally cost-effective. But EOTech is more budget-friendly considering its incredible quality and optical clarity.
Accessories (Winner: EOTech)
Aimpoint has a few available magnifiers as well as mounts, spacers, and eye caps. EOTech, on the other hand, has an edge because of its wide range of accessory options, including magnifiers, laser battery covers, shotgun mounts, as well as pressure switches for the laser battery cap. EOTech's magnifiers offer unparalleled quality despite their affordability.
FAQs
Do Navy Seals use EOTech or Aimpoint?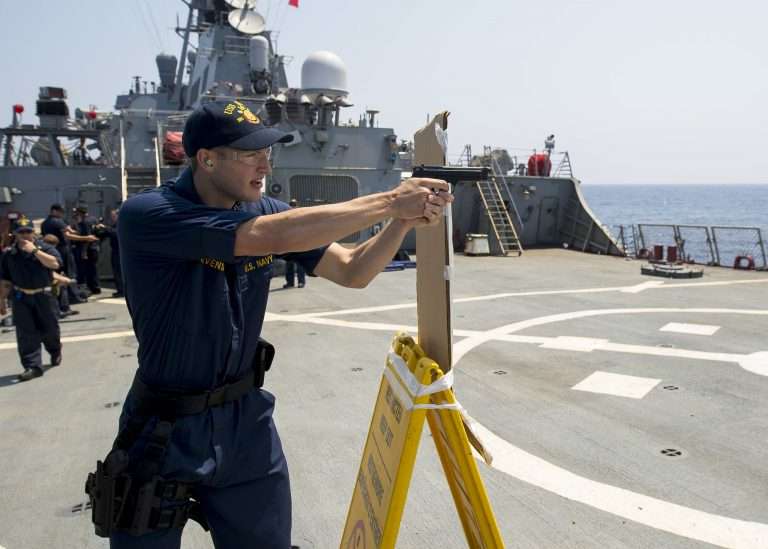 Many military units like the Special Forces, including Navy SEALs, have been using EOTech and Aimpoint optics for many years. That's because of these brands' rugged durability and their ability to survive combat.
Is EOTech better than red dot?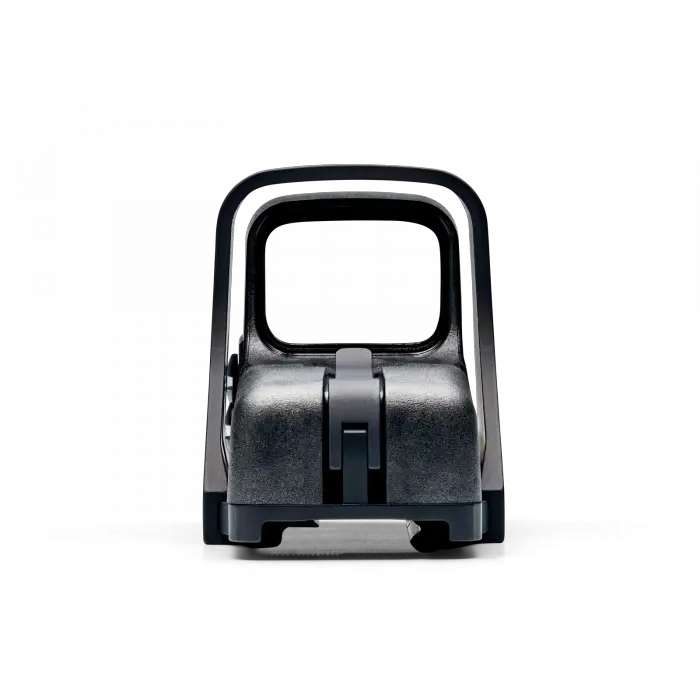 Like what we mentioned earlier, user preference will play a big role when it comes to this topic. EOTech's holographic sights deliver faster target acquisition because they don't become blurry when looking downfield like red dot sights. While red dots' reticles don't have a lot of visual obstructions so they're easier to look at.
What is so special about EOTech?
EOTech manufactures optics that are equipped with advanced holographic technology, giving the shooter the edge needed for fast and intuitive sighting in and shooting.
What's wrong with EOTech?
EOTech sights are known to respond poorly when exposed to extremely high and extremely low temperatures.
EOTech or Aimpoint: Which is Better?
There's no doubt that Aimpoint earned more points in our ranking above, especially in the major features. Still, you've got the final say in this. Now that you know which is better in every category, list down the features that matter most to you and decide from there. That's it!
If you want a more detailed review of the Aimpoint Pro, we've got just what you need!