Best Adjustable AR Stock
Magpul MOE AR15 Stock
Tried and proven AR stock, just ask any gun enthusiast.
Value: 9/10
Performance: 9.5/10
Cost: 9/10
Best Folding Stock Adapter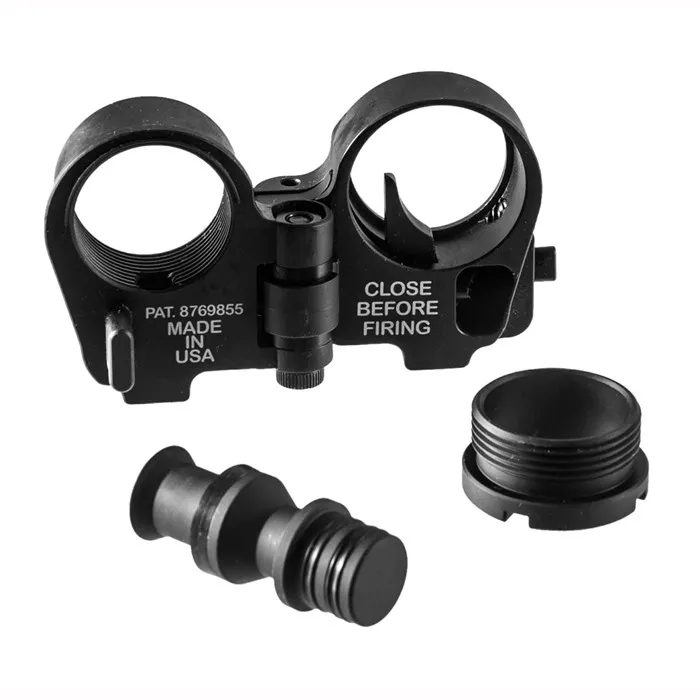 Law Tactical Folding Stock Adapter
Transporting and storing your AR15 will never be the same.
Value: 8/10
Performance: 9/10
Cost: 8/10
Best Precision AR Stock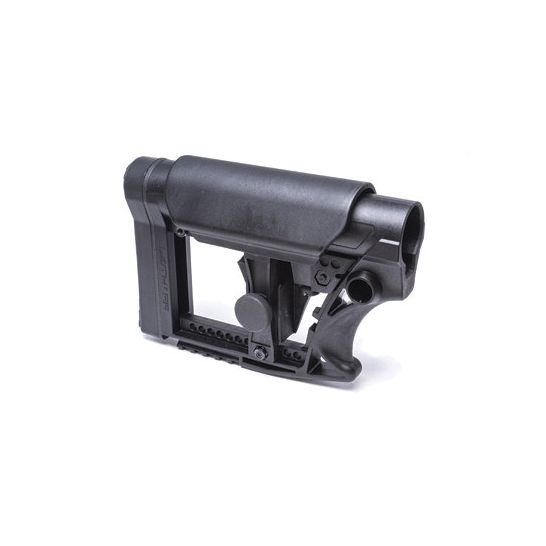 Luth AR Modular Stock
The most versatile AR stock out there.
Value: 8.5/10
Performance: 9.5/10
Cost: 8.5/10
Don't settle for a wiggly buttstock and put up with the discomfort just to complete your build. No matter what type of shooter you are, you'll surely find one from our list of the best AR stocks below. 
How to Choose the Best AR Stock
Adjustable or Fixed
The first thing to decide on is if you want your stock fixed or adjustable. Most fixed stocks are more durable, have a more solid build, and have better ergonomics than collapsible ones. However, if you want shooting flexibility, go with an adjustable stock. Before buying one, though, confirm if adjustable stocks are legal where you live.
Fit and Finish
You can't always get the perfect fit on your first try. But who's got the time and money to do the trial-and-error stuff?
That's what we're here for!
We've already filtered the best of the best for every shooting application so you only need to choose from them. 
If you're concerned about cheek weld, we only picked ergonomic ones with ample cheek weld surface area, not too skinny and not too needy either.
Weight and Material Construction
Get a stock that will keep your gun well-balanced. Remember, a big barrel needs a big buttstock. But if you're putting together a lightweight build, you'll need an ultra-light stock like the Extreme Duty minimalist stock from Mission First Tactical.
Of course an adjustable length of pull will be useful if you want the most comfortable shooting position.
Attachment Points
Finally, it will be a great advantage if your stock has multiple sling mount slots including a quick-detach one as it will give you several choices on where to attach the sling.
5 Best AR Stocks
Best Adjustable AR Stock: Magpul MOE AR15 Stock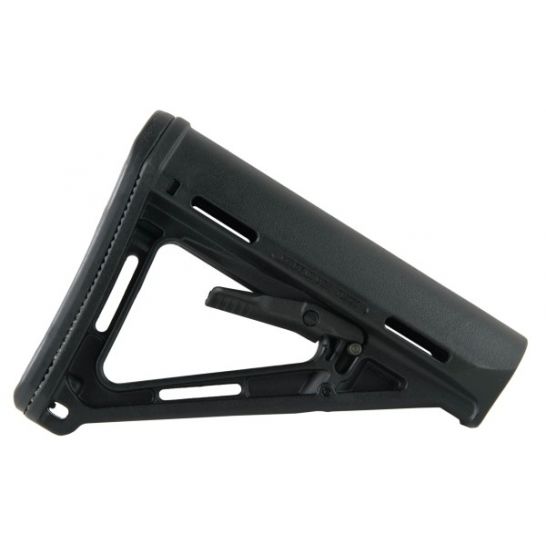 The Magpul MOE mounts on any Mil-Spec carbine receiver extension tube from everyone's favorite manufacturers – Colt, LMT, Ruger, S&W, and SIG, to name a few. 
It sports a detachable 0.30 inches-thick rubber butt-pad for a firmer shoulder purchase even when wearing body armor or thick clothing. Its snag-free A-frame profile protects the release latch from an accidental operation and offers light and fast action.
Pros
Sloping cheek weld
Shielded release latch 
Affordable
Anti-slip
Compatible with Magpul ASAP®, ASAP® QD, and other receiver-mount sling attachments
Cons
The rubber buttpad can be a little uncomfortable to the skin
What Customers Say
Good fit and gets the job done positive lock, quick adjustment, will order again.

Robert H.
Bought this Magpul stock, to install on a budget AR I put together for my wife. She loves it and its simple operation. I would recommend it.

Robbie F.
Best Folding Stock Adapter: Law Tactical Folding Stock Adapter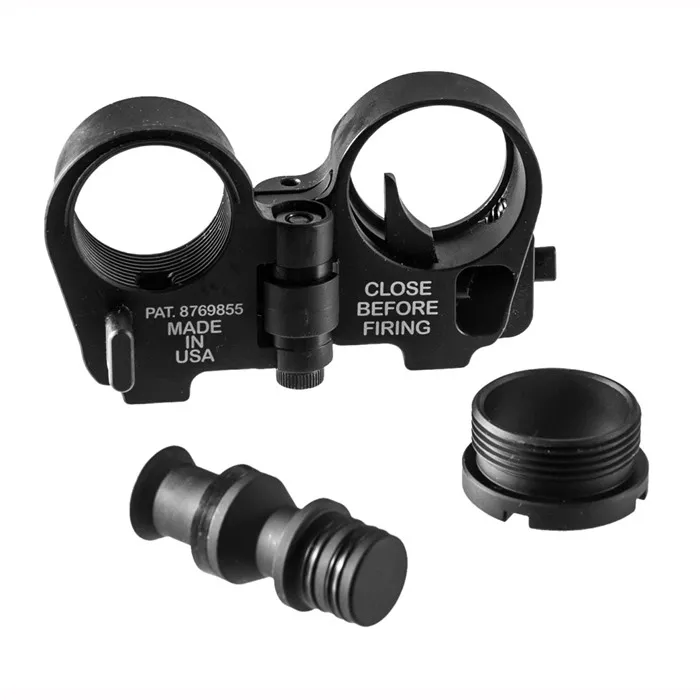 If you're just looking to install your favorite folding stock on your new small-profile build (and have extra cash to spend), this folding stock adapter by Law Tactical is the way to go. This allows easy transport and storage. It's compatible with A2, Mil-Spec M4-style, and commercial carbine receiver extension tubes as well as any stock that fits them. This stock adapter is made from durable 4140 hardened steel and comes with a steel locking latch that folds/unfolds easily and keeps the stock secured when extended. It also features an easily adjustable hinge tension that allows you to adjust the folding mechanism's stiffness. 
Pros
Single-button operation
Easy installation
Works with standard gas impingement OR gas piston system
Compatible with all standard bolt carrier groups
What Customers Say
Amazing quality and craftsmanship! works flawlessly miles above any competitor even though they're really are none the law tactical is the OG and is the best period don't waste your time or money on anything else because you will be sorely disappointed! It functions and works flawlessly installed in minutes! Every attention to detail was executed flawlessly!

Chad Ford
Flawless machining very high quality well everything, very well though out placement of hinge I absolutely love mine, and the law gen 3 is bombproof by far the strongest part on the rifle, get one you won't be disappointed.

Mike Richmond
Best Precision AR Stock: Luth AR Modular Stock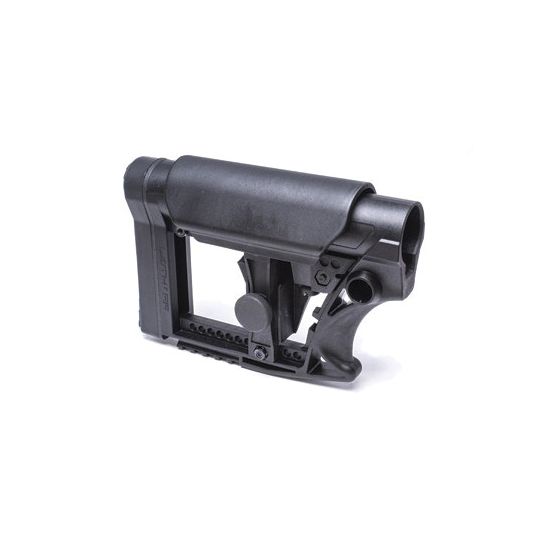 The Luth AR modular stock is an epitome of versatility and precision. It's compatible with most .308 and all .223 AR carbine-style rifles. It features a glass-filled nylon construction that offers superior durability and easy replacement and installation; plus 2 quick-detach sling sockets for quick mounting/dismounting.
Pros
Easy to install
Comes with textured rubber recoil pad
Adjustable cheek weld
Adjustable length of pull
What Customers Say
Adjusts to any shooter. Good aesthetics and rugged.

Raf1
Very solid stock for the money. Perfect for scope use.

Don
Best Stock for AR10: Mission First Tactical Battlelink Extreme Duty Minimalist Stock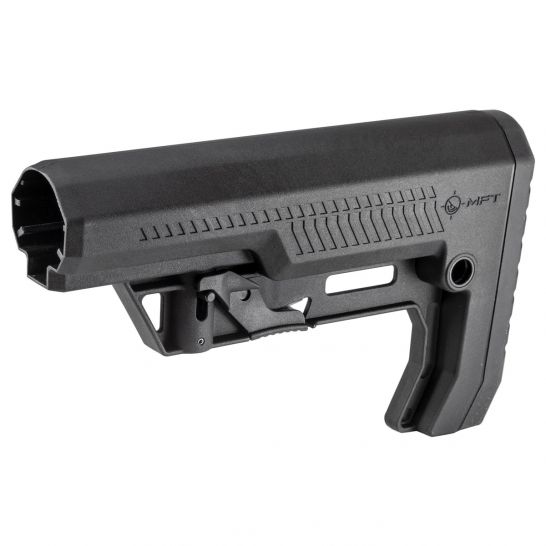 The Battlelink Extreme Duty Stock is designed to deliver reliability and durability against powerful cartridges despite its minimalist footprint. Mission First Tactical offers both Mil-Spec and commercial options, the Mil-Spec stock a bit heavier and more expensive among the two. It also features several sling slots with single point mount points and a quick-detach sling mounting point at the rear, giving you plenty of sling placement choices.
Pros
Affordable
Lightweight
Comfortable cheek weld
Comes with a lifetime warranty
What Customers Say
I have owned the stock for a few months and performed multiple functions including; range practice and PCC competition. It has both with stood environmental conditions and rigorous use with outstanding results.

David M.
No issues, solid feel, would buy again.

Mbmbmb23 M.
Strike Industries Viper Fixed Stock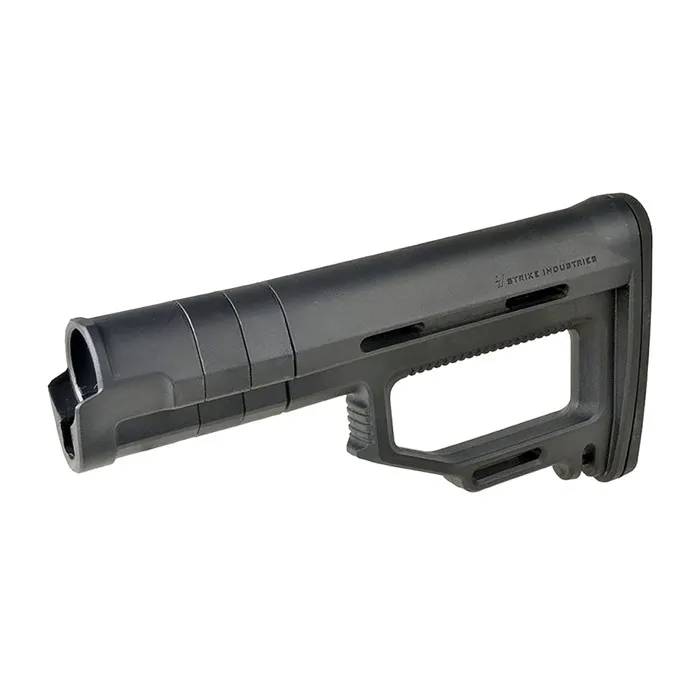 This fixed stock from Strike Industries is as adjustable and versatile as a collapsible stock. It's very easy to install. You can also easily add or remove spacers so you can easily adjust the length of pull if you're planning on shooting with someone taller or shorter. However, it's only compatible with Mil-Spec carbine-length buffer tubes.
Pros
Affordable
Adjustable length of pull
Cons
No QD sling attachment point
Heavy
What Customers Say
The fitment on the buffer tube is very tight. No rattles after tightening the retaining screw. Looks good.

Asten McClanahan
Nice and snug fit don't be afraid to use a little muscle but once in place it's nice and snug no rattle or wiggle haven't shot it yet but I'm excited and sure it'll be awesome!

E
B5 Systems Bravo Mil-Spec Stock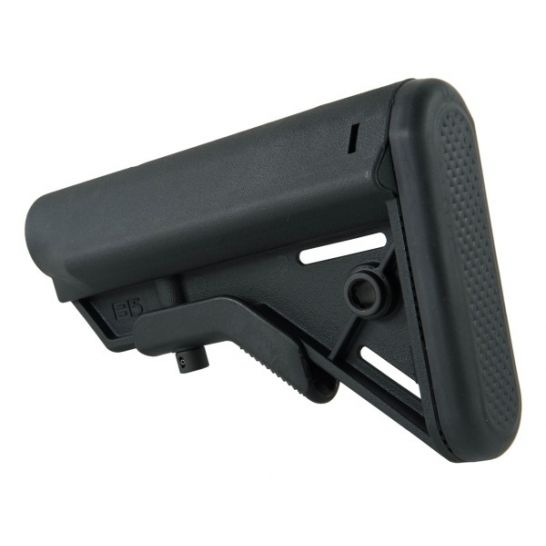 If you weren't impressed by our minimalist but thick stock pick above, prepare to be mind-blown by our last pick's slim profile. Its cheek weld isn't only comfy but also very consistent. The B5 Systems Bravo stock is constructed from premium-quality materials so expect long-lasting durability even after getting bumped around.
Pros
Ergonomic cheek weld
No-slip cushioned butt-pad
Solid build
Cons
Pricier than most brands
Not compatible with commercial buffer tubes
What Customers Say
This stock has a perfect finish and fitment. Minimal wiggle room and allows a shooter to achieve a great cheek weld on the sopmod style cut while being a slimmer size. If you're in the market for a great stock at a low price, you can't go wrong.

Jesse
Multiple qd mounts, great color and high cheek weld suface area. Allows for you to utilize your charging handle. This stock meets all my needs and more. I run them on my duty rifle and all my AR platforms.

Wess Peek
Conclusion
That's it! Say bye-bye to all the rattling and hello to increased accuracy and a good-looking build! 
If you're looking to replace your rifle's entire lower, we're not here to stop you. Instead, we'll give you our recommendations for the best 300 Blackout lower receiver.