Best Overall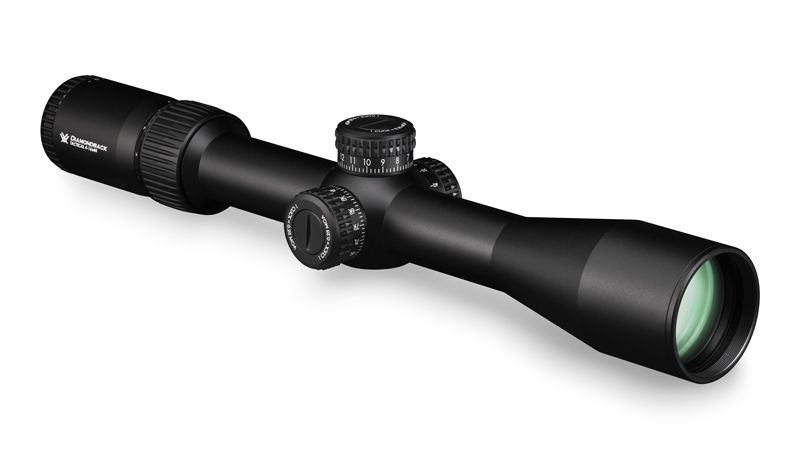 Vortex Diamondback 6-24×50
You can't go wrong with the clear glass and VIP warranty.
Value: 9/10
Performance: 9/10
Cost: 9/10
Check price at Amazon
Check price at PSA
Best Budget Scope for Competitions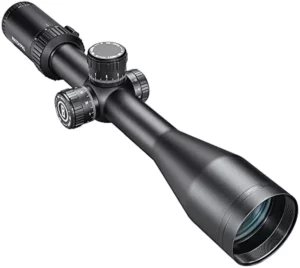 Bushnell Match Pro 6-24×50
Your new long-range buddy on a budget.
Value: 8/10
Performance: 7/10
Cost: 9/10
Check Price at Amazon
Best for Hunting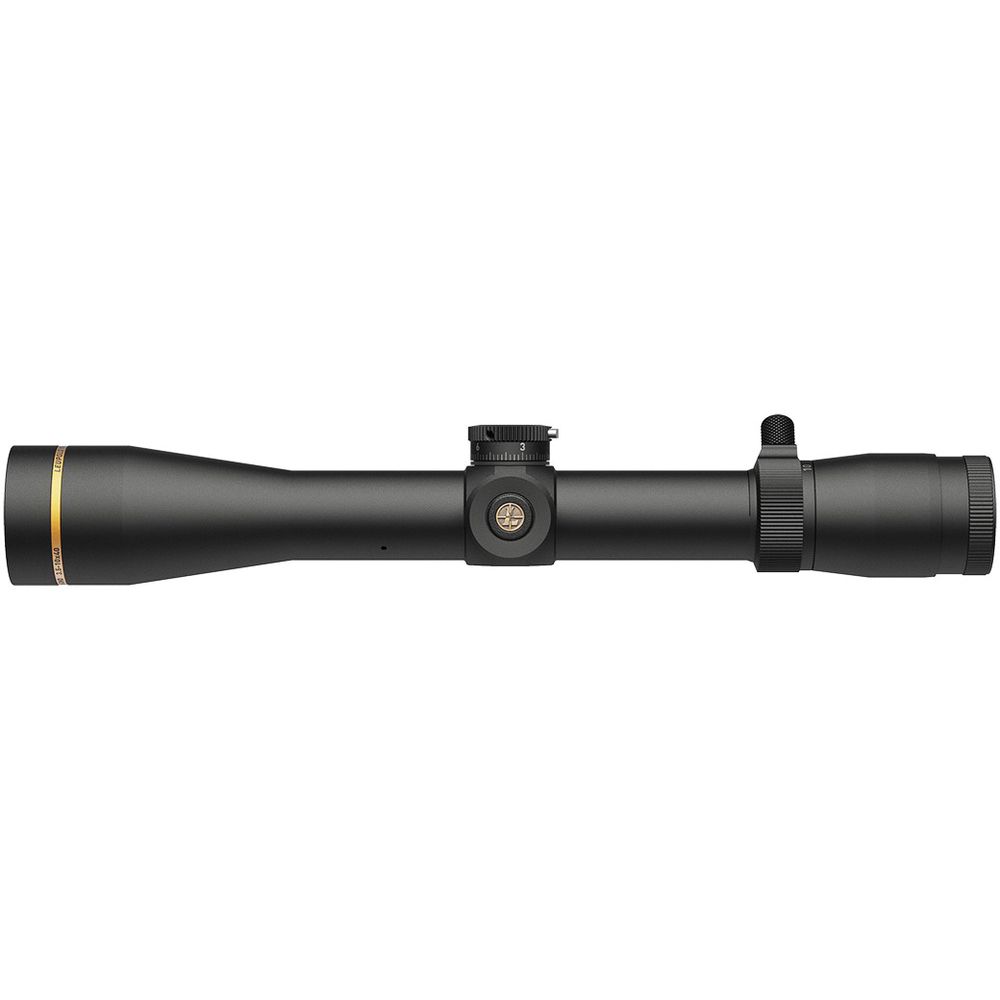 Leupold VX-3HD Rifle Scope – 3.5-10x50mm
Get ready for superior reliability and increased accuracy.
Value: 8/10
Performance: 9/10
Cost: 7/10
Check price at Amazon
Check Price at PSA
Check Price at Brownells
Precision is the name of the game when it comes to long-range shooting. But does precision always equate to a heavy price tag? The answer, surprisingly, is no. Dive into our guide to discover the best long range scopes under $500, where quality meets affordability.
What to Look for in the Best Long Range Scope Under $500 
We narrowed down the crucial features to make it easier for you to pick out the best long range scope under $500. Let's break it down:
Reticle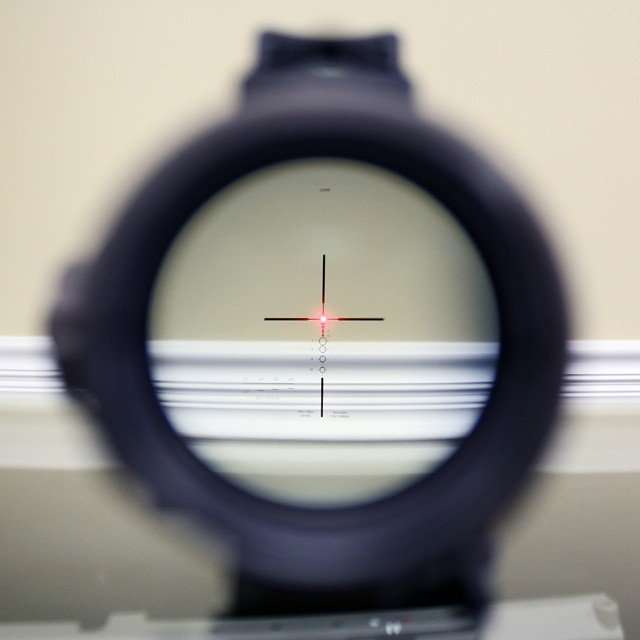 The reticle is a crucial element as it assists in targeting and aiming. Look for a BDC (Bullet Drop Compensator) reticle. This design incorporates holdover marks to help estimate the bullet's drop over longer distances, but is only geared towards popular cartridges. 
Mil-Dot reticles are another excellent option. They have dots spaced in one milliradian intervals on the crosshairs, aiding in estimating distance and windage.
Illuminated reticles can also be a game-changer, especially under low-light conditions. However, ensure that it doesn't overpower the target's view and has plenty of adjustment levels. 
Magnification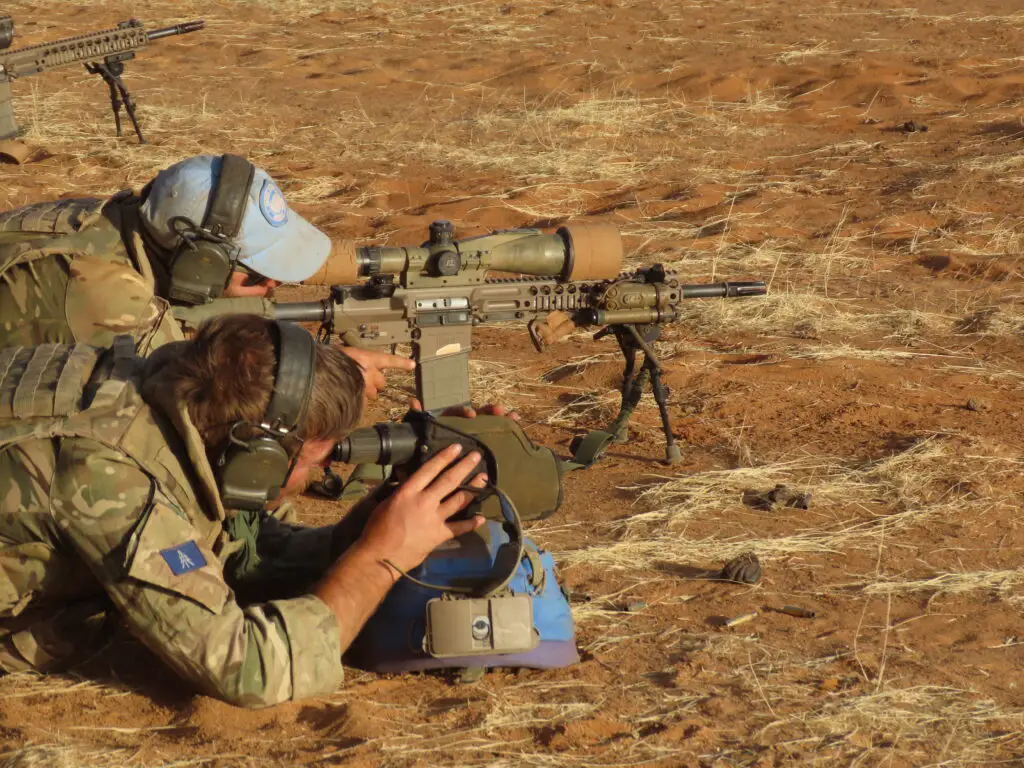 Magnification is essential for precision shooting. When choosing the best scopes under $500, a magnification range starting from 6x is desirable.
However, versatility is key. A scope with variable magnification like 6-24x provides both broader views at the lower end and finer detail at the higher end. Remember that very high magnification curls light gathering ability and can introduce more distortion in lower quality glass.
Size and Weight
A bulky scope can throw off the balance of your rifle, affecting accuracy. Therefore, considering weight is essential, especially if you'll be moving around with your rifle.But don't compromise on durability. Sometimes, an extra ounce or two can mean a more rugged and long-lasting scope.
Objective Lens Diameter
The objective lens size impacts the amount of light that enters the scope, determining clarity and brightness of the view. Larger objective lenses (like 50mm) allow more light but can also increase the scope's size and weight.
Lens Coating
Good quality lens coatings reduce glare and maximize light transmission. Multi-coated or fully multi-coated lenses can drastically improve image clarity and brightness.
Durability and Build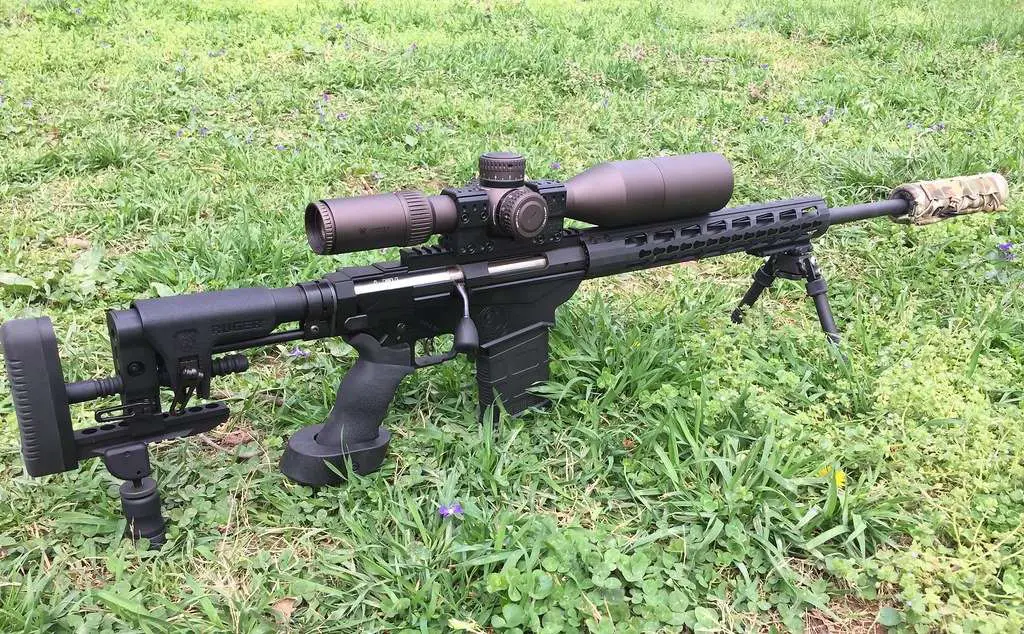 Waterproof, fog proof, and shockproof features are crucial. This ensures the scope can handle various environments and the recoil from the rifle.
Look for scopes with a single-piece tube construction. They tend to be more durable and offer better alignment for optics.
Adjustment Features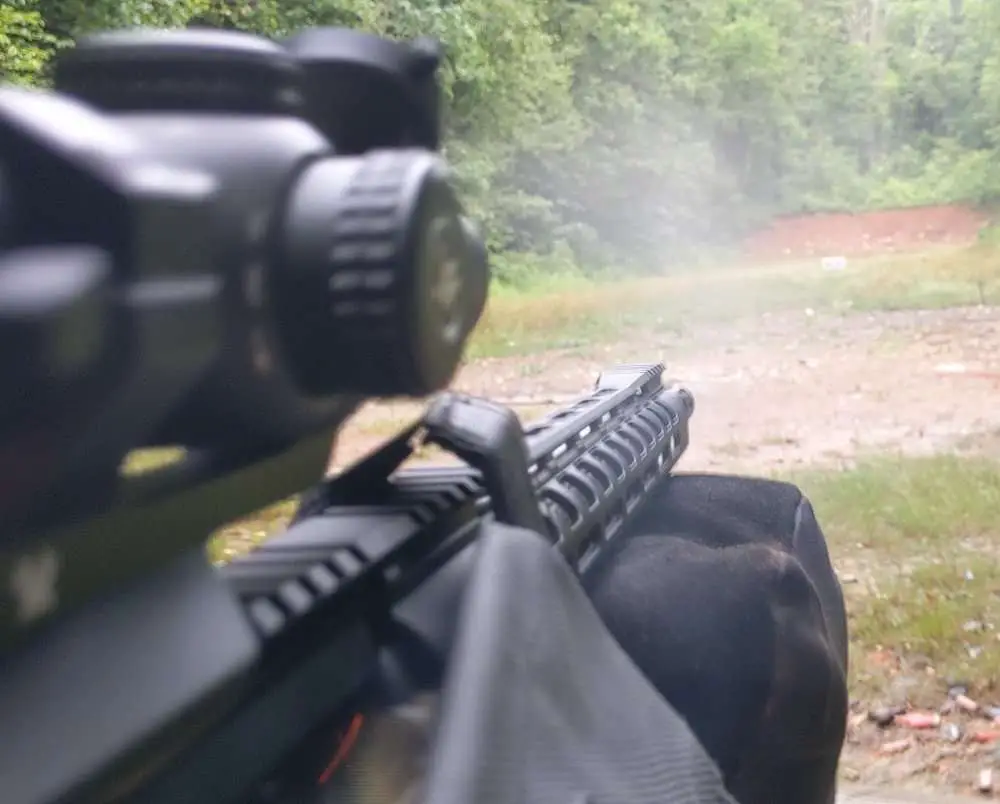 Turrets should be easily adjustable, allowing for windage and elevation corrections. They should also offer tactile feedback so you can adjust without looking.
Parallax adjustments are also valuable in precision scopes, as they correct potential reticle movement in relation to the target at different distances.
Shooting Application
As previously mentioned, your scope choice should align with your specific purpose. If you're hunting in low light, you might prioritize a bright scope. 
In contrast, open-space shooting might benefit from greater magnification and less emphasis on the field of view.
6 Best Long Range Scopes Under $500
Overall Best Long Range Scope Under $500: Vortex Diamondback 6-24×50
The Vortex Optics Diamondback Tactical First Focal Plane Riflescope delivers incredible precision at long distances. We love it for long precision shooting because its side parallax knob and exposed tactical turrets make adjustments hassle-free. 
This scope also guarantees smooth magnification changes even in the worst weather, making it a great hunting companion. 
If you're looking for a scope that gets the job done but doesn't break the bank, the Vortex Optics Diamondback won't disappoint. Plus, Vortex's lifetime warranty and easy claims process has really set the bar in the industry.
Pros
Fast-focus eyepiece
Extra-low dispersion glass
Shock-proof, waterproof, fog proof 
Lifetime warranty
Cons
No parallax adjustments past 300 yards
What Customers Say
Very good scope for the money. Love the warranty and so far it's very accurate for my skill level. Sighting my 6.5 hells canyon in I could clearly see my groups and while at max zoom short-range objects can get a bit out of focus it's still full stars for me.

Cryptos
Best Budget Long Range Scope Under $500 for Competitions: Bushnell Match Pro 6-24×50
The Match Pro is explicitly designed for competition shooting, making it an ideal pick for PRS, NRL, or NRL22 contests. Its 10-MIL turrets utilize a straightforward base-10 method, enhancing your speed and precision, offering an advantage during competition. 
The durable etched glass reticle comes with windage and elevation holds. This ensures resilience, while its locking turrets guarantee the settings remain unchanged.
It would've been better, however, if eye relief was a bit more generous.
Pros
Tool-less turret reset
Affordable
Illuminated reticle
Repeatable tracking
Audible clicks
Cons
No lens caps
Short eye relief
What Customers Say
Compared with others in the same price range this is a superior scope. Clear glass, solid turrets, and functionality. Mounted on my Anschutz 22lr. Very happy with it.

Juanpi
Best Long Range Scope Under $500 for Hunting: Leupold VX-3HD Rifle Scope – 3.5-10x50mm
Our best pick for hunting is equipped with the Custom Dial System, a unique feature that allows you to set the exact adjustments on the turrets according to your needs. No more holdovers or ballistic calculations are required! All you need to do is range your target, set the dial, and aim.
Like every Leupold scope, the VX-3HD can perform through extreme weather and has been impact-tested and verified. Plus the ergonomic controls are also user-friendly. And who doesn't love the superior light transmission from dusk 'til dawn?!
However, get your wallet ready as these premium features come at a high price.
Pros
Lightweight (13.5 oz)
Generous eye relief
Waterproof and fogproof
Excellent glare reduction
What Customers Say
Great scopes. Impeccable product and warranty. Bought 2 and we love them.

Shane
Maven CRS.1 3-12X40
If you didn't like the Leupold, the Maven CRS.1 is another excellent option for long-range big game hunting.
This versatile hunting rifle scope features C Series glass, that delivers a vivid, bright, and contrasting image with true color representation. It also comes with a special variant of the Simplified Holdover Reticle (SHR), with 0.25 MOA/click increments for straightforward and speedy holdovers. 
Weighing just 14.18 oz. and boasting a sleek design, the CRS.1 is suitable for most hunting scenarios and stands out as our top recommendation for hunting big game in both the East and West.
Pros
Lightweight (14.08z)
Waterproof, fogproof, scratch-resistant
Comes with a lifetime warranty
Streamlined profile
Cons
Expensive
Short eye relief
What Customers Say
The Maven CRS.1 does excellent with a predictable return to zero. So you can confidently adjust your windage and elevation without having to worry that your next trip out to the range being a glorified sight-in session.

Luke C.
KonusPro EL-30 4-16X44
Having the KonusPro EL-30 is like having 10 riflescopes. Why? Because it features 10 types of reticles that you can easily switch without changing the point of impact.
The magnification and eyepiece knobs also turn flawlessly with a nice texture. The adjustment turrets also offer audible clicks and can be easily locked to prevent re-zeroing. Battery replacement also doesn't need a lot of work, not that you need to do it often.
We didn't like how the battery compartment is a little bulky, but that's just a minor drawback for us.
Pros
Affordable
10 reticle options
Lockable turrets
What Customers Say
Very nice scope, love how you have a choice of 10 different reticles..glass is very clear.

Gene
Bushnell Engage 6-24×50
The key feature of the Bushnell Engage is its light-gathering properties. For an optic under $500, it offers excellent brightness and clarity.
This riflescope is available in both an illuminated and non-illuminated reticle. So take your pick based on your needs.
We also like the adjustable eye relief and the crisp windage and elevation turrets. The Engage comes with features that usually come with premium scopes. These features are target-style locking turrets, 30mm scope tube, and side parallax adjustment. 
However, like in most value scopes, you might experience a bit of blurriness at higher magnification.
Pros
Holds zero well
Great tracking
Excellent brightness
Reasonably priced
Cons
Turret adjustment requires tools
Blurriness at higher magnification
What Customers Say
Wind/elevation dials clicks very well and the caps screw on top and it very secure. The end caps for each lens are pretty good. I LOVE the illumination dot for the reticle. It is great for dusk and night and when you can't see the crosshairs. And you only have to put it on when you want to so battery should last long time. I would def recommend.

Nickwise
Best Long Range Scope Under $500: Our Key Takeaways 
Wrapping things up, just because you're on a budget doesn't mean you have to settle for less! There are some pretty awesome long-range scopes out there for under $500 that can totally nail it when it comes to precision and clarity. Do your homework, know what you're after, and you can score a real gem without breaking the bank. After all, it's not about the price tag, but getting the right gear for your adventures!
Last update on 2023-11-17 / Images from Amazon Product API