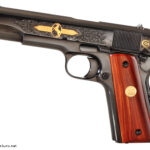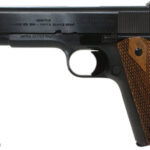 Users' Rating (Click a star to rate this gun.)
Summary:
The description, pricing and photos of Colt's 100th Anniversary 1911 pistols.
Manufacturer's Description
Colt is producing two limited-edition versions of its 100th Anniversary 1911 pistol. The first, model 01911ANVII, features a slide enhanced with scroll engraving and decorated with historic Colt symbols highlighted in 22 kt. gold. It's finished in polished royal blue on all surfaces and sports smooth Cocobolo grips with 100th anniversary gold-plated medallions. It comes in a glass-topped walnut display case with French-fitted red lining and a Serpentine Colt etched on the glass panel. Colt will produce 750 units.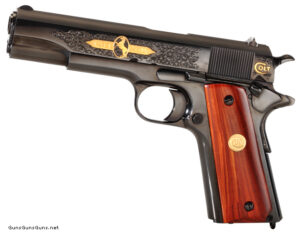 The second, model 01911ANVIII, is based on the collectible Colt model 01918 configuration and finish. It sports custom rollmarks on the frame and slide relative to the history of the model 1911. It comes in Special Edition 100th Anniversary packaging, and Colt is limiting production to orders placed by Mov. 30, 2011.
MSRP: $2,295 (model 01911 ANVII)
MSRP: $1,150 (model 01911ANVIII)