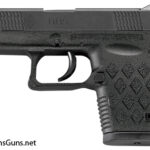 Editor's Rating: 8.0/10
Users' Rating (Click a star to rate this gun.)
Summary: Paul Markel's review of and rating for the Diamondback Firearms DB9 pistol, including a description, range report, photos, pricing, specs and user ratings. (Click here to see all of Markel's handgun reviews.)
Editor's Review
For at least five years, there's been a battle among gun makers to see who can make the smallest, lightest, easiest to conceal 9mm handgun. Add to that list the DB9 pistol from Diamondback Firearms of Cocoa, Fla.
I got my hands on a DB9 for a test and eval, and I've recorded my impressions below.
The Details
The latest subcompact 9mm to come down the pike looks a lot like a Glock 19 that was put under a shrink-ray. The two guns do share some similar qualities. Both employ black polymer frames and stainless steel slides, for instance. However, the comparison comes to an end there. The DB9 uses a double-action-only, striker-fired trigger mechanism that's completely contained within the gun. (Diamondback calls it the ZERO-Energy system, and says the patent is pending.) No external hammer or firing pin is visible.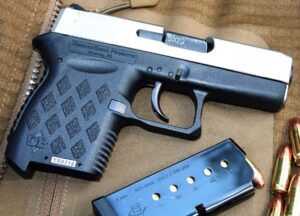 As far as external controls are concerned, the DB9 has only two: the trigger and magazine release button. The gun was purposely built to be simple to operate and very thin. No slide lock or catch is present, and the DAO trigger negates the need for a mechanical safety lever.
The DB9 measures only .80″ inches wide and 5.6″ long. The barrel measures a scant 3″ long. A six-round single column magazine feeds the pistol, and its empty weight comes to only 11 oz.
Atop the slide you'll find a rudimentary set of sights. The front sight blade has some white paint to make it easier to find. Diamondback put tiny white dots on the rear sight, but for the life of me I can't imagine what useful purpose they might serve.
My sample gun came with a silver stainless steel slide mated with a black frame. (The polymer frame is available in a variety of colors. Available slide finishes include black and stainless.) The grip features a raised diamond pattern for texture. On the slide, Diamondback has taken the time to machine forward and rear cocking serrations in a unique wave pattern, a nice touch. The base of the magazine includes a floorplate with a bit of a shelf for your ring finger to rest against. Your pinky finger will dangle.
While the overall dimensions of the gun put it in running for most compact 9mm pistol on the market, the weight, or lack thereof, is what you notice when picking the gun up. At 11 oz., the DB9 is definitely a 9mm featherweight. By comparison, the Kimber Solo 9mm weighs 17 oz. and holds six rounds in the magazine. The Ruger LC9 holds seven rounds in its mag and weighs 17 oz.. The S&W Shield, not a pocket gun, weighs 19 oz. and holds seven or eight rounds depending on the magazine.
Range Report
Pocket guns are great for people who don't like to carry guns. They're compact and easy to carry; i.e., they require little modification of your normal mode of dress.

Of course, the smaller the handgun, the more difficult it is to use effectively. Pocket-sized pistols have sharp recoil and only a small amount of surface area for the shooter to hold on to. In addition, the short sight and long trigger press amplify any shooter-induced errors.

Small, light handguns require more dedicated training and practice than full-sized handguns. Unfortunately, far too many people who buy pocket pistols do so with very little regard to practice or training. Most are lucky to ever fire 50 rounds through their pocket blaster.

Make your own choices, but I would rather practice and have as much confidence as possible with the tool I might need to save my life one day.
—Paul Markel
For my range time I took along Winchester USA 115-grain FMJ training loads and Federal 124-grain Hydra-Shok defensive fodder. Both are standard velocity loads. As you can imagine, Diamondback advises against firing +P or +P+ ammunition in the DB9.
Here's the reality of the matter: Firing an 11 oz. 9mm pistol, even with standard velocity ammunition, is an eye-opener. You feel it in your hands, and there's no getting around that fact. It's not going to kill you to shoot the gun, but I don't see many people getting through a box of 50 rounds in a single range session.
As for reliability, both of the aforementioned loads cycled the gun without issue in my hands. Keep in mind you need to lock your wrist when shooting a pistol, particularly one with such sharp, short slide stroke. Limp-wristing a pocket pistol like this is a sure path to a stoppage.
In the accuracy department, I didn't feel the need to stretch it out beyond 7 yards. Let's be practical, folks: Pocket pistols are guns you carry as a backup or for when you don't think you'll need a gun.
Using the base sights, I found 2″–3″ six shot clusters were indeed possible at 5 yards. If the shooter does their part, they should be able shoot a full magazine from seven yards into a group they can cover with the palm of their hand.
Final Thought
The DB9 might not be the answer to all your personal defense needs, but it is one answer.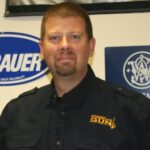 Paul G. Markel became a United States Marine in 1987 and served his nation honorably during peace time and at war. Among the many hats he has worn in his career, Markel has been a police officer, professional bodyguard, firearms instructor and gun writer. Markel is the creative director and host of "Student of the Gun," a weekly television show airing on the Sportsman Channel (www.studentofthegun.com). Visit his Web site at www.paulmarkel.com.
The Specs
| | | | | | | |
| --- | --- | --- | --- | --- | --- | --- |
| Caliber | Capacity | OAL | BBL | Width | Height | Weight |
| 9mm | 6+1 | 5.6″ | 3″ | .8″ | 4″ | 11 oz. empty |
Note: Diamondback Firearms also produces direct relatives of the DB9 chambered in .380 ACP (the DB380) and .32 NAA (the DB320).
Pricing
MSRP: $500–$600
More Photos