Editor's Rating: 9.5/10
Users' Rating (Click a star to rate this gun.)
Summary: Walt Rauch's review, photos and rating of the Ed Brown Massad Ayoob Signature Edition 1911 pistol, including photos, pricing, a range report and user ratings. (Click here to see all of Rauch's handgun reviews.)
Editor's Review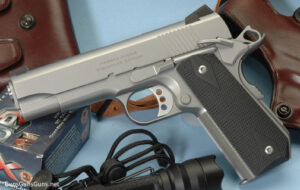 What a great combination to collaborate on the build of a 1911, .45 ACP pistol for self defense: Ed Brown and Massad Ayoob. Ed Brown is a premier 1911 gunsmith, and as far as self defense—armed or not—Massad Ayoob need not take a step back from almost anyone.
The result? The Massad Ayoob Signature Edition 1911 (MA1911).
The Details
The MA1911 is a limited-edition 1911 based on the Ed Brown Executive Carry Series pistols incorporating suggestions from Ayoob of what he's found helpful on a 1911 for a self defense arm. (In the interest of full disclosure, I'm friends with both Brown and Ayoob.) According to the Ed Brown Products website, Ayoob's suggestions directly addressed those items he wants in a 1911 pistol made for concealed carry, home defense or a lawman.
Ayoob wanted the 4.25″ barrel (and slide) on the Ed Brown Bobtail frame, which combined make the pistol that much easier to conceal. His next two suggestions were dictated based on his long exposure and work regarding litigation concerning firearms and their use, with particular note taken of the often false claim of accidental discharge due to a "hair trigger." First, Ayoob specified a smooth, but crisp 4.5 lb. trigger setup. Second, having also encountered such legal allegations of a dropped or otherwise strongly struck 1911 discharging with resulting harm to someone, Ayoob asked for an extra-heavy-duty firing pin spring which, in his opinion, should clearly address and rebut any such claim of inertia discharge.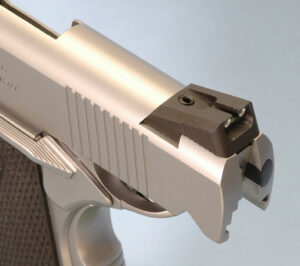 Regarding shootability, Ayoob considers night sights mandatory, concluding that they can help in making correct shot placement under less-than-adequate lighting. To further aid this goal, Ayoob also wanted an accurate 1911 that can shoot 2″ or tighter 25-yard groups using modern, quality JHP ammunition.
Range Report
In my range work, this desire was well borne out. The results shooting indoors at 20 yards from a table rest: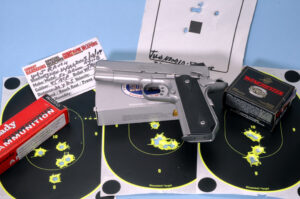 Hornady 185-grain XTP: 2″ group, five shots.
Winchester Personal Protection 230-grain SXT: 1.75″ group, five shots.
CorBon 230-grain Performance Match JRN:1″ group, four shots. (Due to a range distraction, I had to stop for a few minutes and thus had to re-grip and re-sight for the fifth shot, which resulted in the final group measuring 1.5″.)
I also stood up and put five more rounds of the same ammo into 2″ using the 1″ black square in the head box of the Warren Tactical reduced-size IDPA practice target.
After all was said and done, I knew a few things: 1) The match barrel was indeed match grade; 2) the enlarged ejection port window, coupled with the well-tuned extractor, consistently directed empty cases flying out and to my right rear; and 3) I was having a very good day shooting. The trigger set up at 4.5 lbs. as Ayoob had requested, and it released akin to the proverbial "breaking like a glass rod." I also knew I should quit while I was ahead!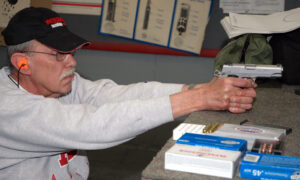 I turned the gun over to John Lysak, who took a seat and occupied  himself by shooting at existing bullet holes in the target. He was having a very good day as well, with most of his shots just making his target hole aiming point a bit larger.
I'm now pretty well convinced all Ed Brown 1911s are intrinsically accurate. Over the past two years, I've reviewed three, including this MA1911 and two Special Forces models, one with and one without an accessory rail. All of which have delivered similar results. The only variables were shooter, ammunition and lighting conditions.
More Details
Speaking of lighting, Trijicon night sights, which have a nice white oval around them, are dovetailed into the top of the slide (which has been given a matte finish for glare reduction), where they can be adjusted for windage. But in the foregoing precision shooting, I blacked out the rear sight inserts because, depending on how a light source strikes them, they are so visible they overpower my ability to then clearly see and focus on the less-illuminated front sight.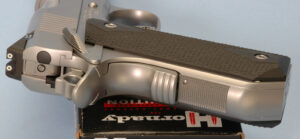 I called Ayoob and asked him about some of his choices. He told me he wants ambidextrous thumb safeties for when a left-handed student's gun goes down in one of his defensive handgun classes. In that case, Ayoob wants to be able to lend the student his personal 1911. Ayoob also pointed out he has himself needed such a set-up when his right hand or arm was injured.
Regarding the black, checkered G10 Micarta grips, he said he already has them on some of his other 1911s. They have a good gripping surface and afford a slimmer grip, which is a plus for those who have small hands. Additionally, the material is quite scratch resistant and complements the all-stainless-steel pistol. (Not everyone wants a salty-looking carry gun.)
Ayoob also told me he didn't have many suggestions because most of the features he would have suggested were already present on the Elite Carry series pistols thanks to Brown's 30-plus years of building 1911s for self defense, home protection and competition. Ed was also one of the top guns in IPSC action shooting back in the day—he does know 1911s!
The MA1911 carries its 4.25″ barrel and matching slide on top of a full-size frame, a configuration also known as "Commander" size. (Colt owns the rights to this designation, however.) The slide has grasping grooves in the rear only. The short barrel length, combined with a full-sized, single-column frame is considered by many knowledgeable 1911 users to be the smallest configuration that is reliable over the widest range of uses and abuses. Smaller 1911s can and do work well, but they need more attention paid to replacing the recoil and magazine springs before they weaken.
As pointed out above, for increased concealment the frame is modified with the Bobtail housing. The modification rounds off the abrupt bottom rear profile of the gun, but is done without shortening the frame. From Ed Brown's Web site: "…Unique with the Executive Series pistols is the 25-LPI-checkered frame and half checkered (on the mainspring housing) Bobtail. This pattern is not too rough on the hands, but not too fine for a secure grip." In handling and shooting this gun, I found the checkering to be just as stated.
Interestingly, a seven-round (not eight), all-metal magazine (including the follower), is supplied. I see this as choosing to lean toward total reliability over any perceived gain of having an eighth round in the magazine (and Ed Brown Products makes an excellent eight-round magazine). The magazine well is slightly beveled to aid in snag-free reloading.

Naturally, all Ed Brown Hardcore parts are used; you can find the full listing on the Ed Brown Products Web site and in the company's catalog. Suffice to say, most if not all of the parts, except springs, are made by Ed Brown Products.
To personalize this gun, Ayoob's signature is laser engraved on the right side of the slide, with his name repeated on the left. Beneath this, "Signature Edition" appears in square-cut lettering. Retailing at $2,720, the gun ships with Ayoobsad Ayoob's Book of Concealed Carry.
Final Thoughts
The pistol is chambered for .45ACP, which is Ayoob' favorite defensive pistol cartridge. The resulting Massad Ayoob Signature Edition 1911 truly does embody the combined skills of Massad Ayoob and the talents of Ed Brown to create one fine fighting handgun!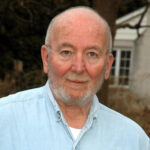 Walt Rauch received a BS degree from Carnegie Tech and completed service as a Special Agent in U.S. Army Intelligence. Rauch was a U.S. Secret Service Special Agent and a Philadelphia, Pa., Warrant Unit Investigator. He now operates a consulting company for defense-weapon and tactical training. Rauch & Company services include expert witness testimony on firearms use and tactics.
Rauch is also a writer and lecturer in the firearms field. He's published in national and international publications including InterMedia's Handguns, several Harris Publications specialty magazines, Police and Security News and Cibles (France). He is the author of a book on self-defense, Real-World Survival! What Has Worked For Me, as well as Practically Speaking, a comprehensive guide to IDPA defensive pistol shooting.
The Specs
| | | | | |
| --- | --- | --- | --- | --- |
| Caliber | Capacity | OAL | BBL | Weight |
| .45 ACP | 7+1 | 7.75″" | 4.25″ | 35 oz. w/unloaded mag |
Pricing
MSRP: $2,720