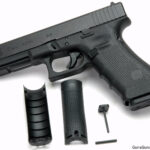 Editor's Rating: 8.5/10
Users' Rating (Click a star to rate this gun.)
Summary: Walt Rauch's review, photos and rating of the Glock 17 Gen4 pistol, plus user ratings, user comments, specs and a range report. (Click here to see all of Rauch's handgun reviews.)
Editor's Review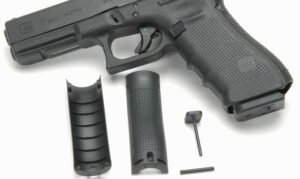 For the rest of us Glock devotees, we've long recognized that there are three generations of Glock pistols. Not including some model variants, First Generation guns have a finely-pebbled grip area. Second Generation guns feature grenade checkering on frontstrap and backstrap. Third Generation guns added finger placement ridges on the frontstrap and dished-out thumb rests on the top of the side panels, along with an accessory rail located on the dust cover. Gen4 is short for Fourth Generation of the Glock pistol, the formal existence of which began in 1980 as a result of Gaston Glock's pistol winning the Austrian Army's field trials held to find a new handgun for its military forces. After this success, Gaston Glock early on adopted the term "Glock Perfection," intending this to be a never-ending goal of making and selling the very best handguns possible. To support this, any modifications to the Glock gun were simply integrated into ongoing manufacture. (For anyone who attempts to follow or know all of these modifications—good luck!) Officially, until the Gen4, there was no formal recognition of generational changes to the design.
As far as internal changes, I doubt any one person has a complete listing. I even doubt that Glock Gmbh itself has a formal list. Of course, adding to the challenge of compiling such a list, not all the forgoing changes were made to all models.
In this review, I discuss my Glock 17 Gen4 sample in 9x19mm. The G22 in .40 SW is the only other Gen4 available right now. (My best information indicates most of the other Glock models will eventually become Gen4, too.)
What's New?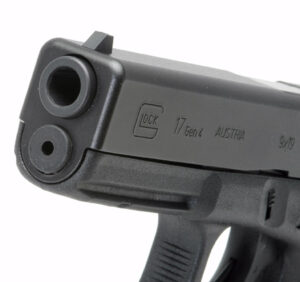 The Gen4 features several significant changes. The grip is the Short Frame (SF) version, making it shorter front to rear than a Gen3 frame. Glock supplies two additional backstap attachments, either of which can be added to the grip to change it to a standard or large frame.
The Rough Textured Frame (RTF) surface treatment has been modified, making the spike-like projections dubbed "polymid" in earlier versions smaller and not as sharp (and now termed "cubid"). Also, the finger grooves are not as prominent as those found on a Gen3 gun.
The rectangular magazine catch remains grooved but has been enlarged and then lengthened rearward. The catch is also reversible now, and you can change it easily by simply reversing the release and reinstalling the magazine-catch retaining spring.
The dimension of the dust cover accessory rail and the extractor, which continues doing double duty functioning as a loaded-chamber indicator, remain unchanged. In addition, the Gen4 pistol now uses a version of the dual captive recoil spring found in Glock's subcompact models.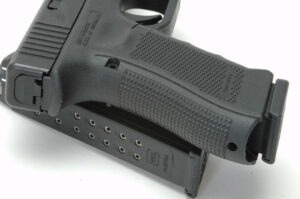 I noted two other changes. There's a vertical cut in the left rear of the frame just forward of the left-rear guide rail, and the forward lower arm of the trigger bar is now notched below the trigger spring attachment opening. I suspect the vertical cut is to allow installing a radio-frequency identification (RFID) tag, say for inventory or round count. The notch controls trigger spring movement at its attachment point, and less flexing should decrease breakage at this point.
The rest of the Gen4 gun remains standard Glock with fixed sights. The square-notch, white-outlined rear sight is dovetailed into the slide for windage adjustments, with additional sight heights available for elevation changes. The front sight is pinned in and has a white dot in its face. Night sights are a (U.S.) factory option.
The extractor also serves as a loaded-chamber indicator and the smooth-faced Safe Action Trigger pull measured 6 lbs. (Various trigger-weight options exist, again in the U.S.) The magazine is constructed to allow for ambidextrous or reversible release. All other dimensions and metal treatment have not changed. The Gen4 ships (U.S.) with three magazines, magazine loader, cleaning rod and brush, all in a lockable polymer storage case.
What's the Verdict?
The Grips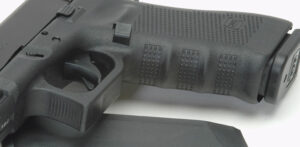 When looking at the interchangeable grips, I thought this modification was well overdue because companies such as Smith & Wesson, Ruger, SIG Sauer and Heckler & Koch all offer grip-altering options. In addition, this requirement is finding its way into official military and law enforcement agencies' requests for bidding (RFB) to supply new handguns. For example, sometime prior to 2010 a U.S. federal agency included this specification in its RFB. Forward-thinking Glock has a G22 Gen4 in .40 SW ready to go.
When I examined the additional backstraps of my sample Gen4 gun, I looked to see how well (or not) the attachment was designed, because I could foresee it shifting or coming off at the worst possible time. Well, Glock did its homework. The lower edge of the backstap has a sturdy lip hooking over the opening in the lower frame, and it's secured at the top rear of the frame by a longer replacement trigger housing pin (supplied), using the also-supplied disassembly tool. Both backstraps fit snugly to the frame.
The two backstraps are marked, respectively, "M" (2mm) and "L" (4mm). By adding the M backstrap, you move up to a standard frame, while the L backstrap creates the size of a large frame. With either, you can still use the lanyard-attaching hole in the frame because the backstraps have a matching opening. To install, you simply remove the trigger housing pin with the supplied disassembly tool, then select one of the two units supplied and insert the corresponding longer trigger housing pin. The written and pictorial instructions included with the backstraps help.
The nice "problem" here is I find I very much like the SF grip. Also, I have historically shot standard- and large-frame guns equally well. I did shoot with both optional backstraps, and they stayed put. Realistically, they need long-term use and abuse for a proper answer. I suspect any field testing will be performed by end users—those who have expressed the concerns this alteration is supposed to address.
This grip option will also help address complaints from some (primarily employed in government entities) who, having failed to pass a required course of fire, claimed their reason for failure was due to the gun not fitting their hand-size properly.
The Recoil Spring System
I also wondered about the why and how of the recoil spring system. I strongly suspect this change resulted from Glock's ongoing effort to build a G22 in .40 SW that won't malfunction regardless of the ammunition used, with or without the addition of the now almost ubiquitous lights and lasers hung on the gun's dust cover. As I see it, the problem is the frame flexes when the gun is fired, and this distortion is a large factor in how the gun operates. Changing ammunition and hanging a weight on the frame certainly can change this dynamic and can result in the worst possible malfunction—episodic and not repeatable on demand.
In short, Glock was forced into playing whack-a-mole. Changing the recoil spring system affects the interaction of slide and frame, so reverting to a version of the dual captive recoil spring used in the subcompact Glocks might just be the definitive cure.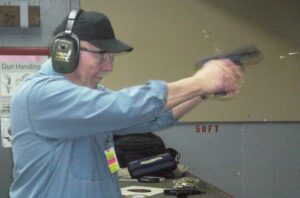 The new system is heavier and for me does decrease felt recoil, even in 9mm. Also, contrary to Internet opinions, the heavier system did not interfere with shooting the low-power 9mm ammunition I had on hand, which included Federal American Eagle and Remington UMC 115-grain bullets, with velocities around 1,050 fps. (I didn't have any frangible stuff.)
In my non-scientific opinion, I think Glock has really done its homework, although any final determination of success or failure can only come from multiple end users. One final thought: The new unit should double or triple the number of rounds you can fire before spring replacement is even recommended.
I did find one-and-a-half downsides to this change. The most obvious? You need more strength to manipulate the slide than before. (I wouldn't bet against this being the next excuse for the aforementioned qualification failures.) Late-breaking news: A reliable source told me there's a strong possibility the G17's spring weight will be decreased based on reports of the slide failing to fully cycle with one or two brands of ammunition. No further details were available at press time.
The "half" problem? The gun is now slightly more difficult to reassemble, with more care needed to ensure the recoil spring unit is exactly centered against the barrel abutment when re-installing the slide.
Range Report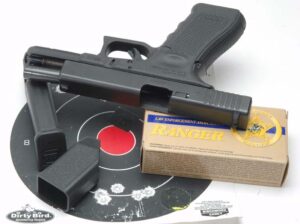 In repeated range visits, I found my ability to shoot well (or not) was not affected at all by the shorter SF frame. To put a sharp point on this, I had completely put the backstrap options out of mind until I came to write this review.
On my next range trip, I did shoot with both, and they did nothing good or bad to my gun manipulation and shooting results. Shooting seated and supported I managed five-shot groups from 1.5″–4″ at 25 yards with the gun shooting to point-of-aim. The two backstraps are now back in the Glock case, where I suspect they will never again see the light of day.
Final Thoughts
If you need to verify parts compatibility, a new, updated Glock Armorer's Manual is the best way to go.
The Gen4 Glock is a winner for me. So much so that I bought it—and I'm strongly moving toward selling my first and second gen G17s!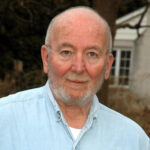 Walt Rauch received a BS degree from Carnegie Tech and completed service as a Special Agent in U.S. Army Intelligence. Rauch was a U.S. Secret Service Special Agent and a Philadelphia, Pa., Warrant Unit Investigator. He now operates a consulting company for defense-weapon and tactical training. Rauch & Company services include expert witness testimony on firearms use and tactics.
Rauch is also a writer and lecturer in the firearms field. He's published in national and international publications including InterMedia's Handguns, several Harris Publications specialty magazines, Police and Security News and Cibles (France). He is the author of a book on self-defense, Real-World Survival! What Has Worked For Me, as well as Practically Speaking, a comprehensive guide to IDPA defensive pistol shooting.
The Specs
| | | | | | | |
| --- | --- | --- | --- | --- | --- | --- |
| Caliber | Capacity | OAL | BBL | Height | Width | Weight |
| 9mm | 17+1 | 7.87″" | 4.49″ | 5.43″ | 1.18″ | 22.75 oz. |
Pricing
MSRP: $649