Editor's Rating: 6.5/10
Users' Rating (Click a star to rate this gun.)
Summary: Dave Spaulding's review of and rating for the SIG Sauer P250 pistol, including a range report and SIG's specs and photos and user ratings and comments. (Click here to see all Spaulding's handgun reviews.)
Editor's Review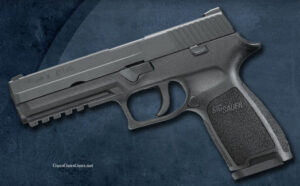 Whatever the reason, finding a single handgun that will fit wide range of hand sizes poses a real problem. Several gun manufacturers attempt to address this issue by offering semi-auto pistols with interchangeable back straps on the grip.
SIG Sauer's P250 not only features changeable grips, it also offers interchangeable frame sizes, grip configurations, slide assemblies, barrel lengths and calibers. SIG's gun not only can be sized to fit a wide variety of individuals, but also different missions. A law enforcement agency, for example, can set it up for uniform patrol, SWAT, plainclothes/off-duty or deep-cover ops in just a few moments.
Trigger Action
The entire weapon platform is based around the trigger assembly, also called a receiver or chassis. The trigger assembly contains the weapon s serial number, which is displayed through a slot cut into each frame. This assembly inserts into the frame and is held in place by the takedown lever and a notch molded into the rear of the frame at the grip tang. It takes just a few seconds to field strip the gun and remove the receiver. This assembly is available in both a standard length and, for those with small hands or short fingers, a short-reach trigger.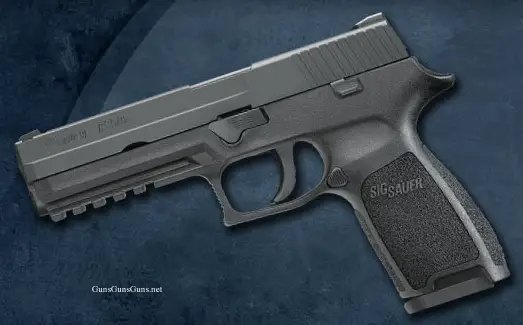 The trigger action is a true double-action only (DAO), which requires the same long, consistent manipulation for each press and release, which both cocks and releases the hammer. The P250 isn't a striker-fired weapon, but hammer-fired, which many authorities feel is a more reliable ignition system. Some won t like this as it slows your ability to shoot quickly. However, SIG-SAUER Academy Director George Harris believes this DAO trigger action may be a blessing in disguise.
While I admit I don't like long triggers, the one on my test P250 was quite smooth, making trigger control easier to accomplish. It took me about 50 rounds before I stopped my tendency to short stroke the follow up trigger action. However, once I got the hang of it, I was able to string together shot-to-shot times, with accurate hits, in the .25- to .28-second time frame. No, my time won t win any competitions, but this gun isn't intended for that. The SIG P250 is a service pistol for moderately trained law enforcement officers and military personnel for close-quarter defense. In that regard, the P250 will serve quite well.Many folks try to shoot faster than their ability to do so, Harris told me in a recent phone call. Of course this results in misses at a time when they might not be able to afford a miss. A longer trigger action will require slowing down and concentrating on their shooting, which in the end will result in more hits. Any trigger action can be dealt with via proper training and the P250 is no different. True enough!
Frame Fits for All
The varied P-250 frame sizes are best called full, compact and subcompact with proportionate slide and barrel lengths. My test gun was the P250 C model, which is the mid-size or compact version. The first thing I noticed when I took the P250 from its box was that the slightly curved back strap grip fit my small hands quite well. This isn't surprising because SIG put a great deal of research into the grip configuration.
The company surveyed nearly 30,000 people to obtain a sense of what shape grip would give the P250 its best pointing characteristics. The final production frame(s) possess traits the company found via this research. The C (compact) grip is long enough that my pinky finger doesn't hang off the bottom while my trigger finger rests squarely on the trigger just forward of the first knuckle. That said, I would opt for the short trigger assembly.
My gun was a pleasant-looking two-tone with a brushed stainless-steel slide on top of a black polymer-like frame (a black slide is available, too). The frame is made of a secret proprietary material SIG claims isn t a polymer like other companies use. The slide actually rides on steel rails, which are part of the trigger chassis, not the composite-material frame. The frame is quite strong and should offer a long service life.
The bottom of the grip frame has half-moon indentations on each side. This is more important than many officers realize. These indentations permit a shooter to rip the magazine from the gun without locking the slide open in the event of the dreaded double-feed malfunction. Just push the magazine-release button, grasp the bottom of the magazine and pull. Once this is accomplished, work the slide to eject any garbage from the chamber, simplifying what may be a complex problem in the middle of a fight. The frame's dust cover, like that on many modern pistols, features a molded picatinny rail for adding lights and lasers to the gun, freeing an officer s support hand to help shoot.
Extra Features
Many law enforcement administrators and shooters will appreciate that the P250 is completely ambidextrous. Slide-lock levers on both sides of the trigger assembly extend out and over each side of the frame. The magazine-release button switches to either the right or left side in just a few seconds, making it available to either the thumb or index finger of either hand, depending on which method the shooter uses.
The test gun came equipped with SIG-Lite night sights securely dovetailed into the slide. These sights are quite bright and highly visible in both daylight and low-light environments. The sights come in variable heights to fit an individual shooter s point of aim/point of impact.
My test gun was a 9mm, but the P250 also is offered in .40 SW and .357 SIG. Is it possible to have a subcompact in 9mm and a full-size gun in .357 SIG? You bet! The slide and barrel will fit the frame assemblies and magazines for each caliber. The P250 in .45 ACP doesn't interchange with the others, however.
Range Report
I tested the P250 using a number of 9mm loads proven to work on the street in actual police shootings. I tested these loads off-hand at 50 feet by firing five-round groups in a semi-slow fire mode (for example, as fast as I could reset the trigger and get the sights on the desired point of aim, keeping George Harris admonition in mind). Each load was tested for velocity by firing five rounds across the screen of a Shooting Chrony chronograph located 15 feet from the gun s muzzle and averaging them.
The results:
Corbon 115-grain DPX hollow point +P: 3″ group, 1,257 fps
Remington 115-grain jacket hollow point: 3.5″ group, 1,167 fps
Speer/ CCI 124-grain Gold Dot Hp +P: 2.25″ group, 1,238 fps
Winchester 127-grain SXT HP +P+: 2.25″ group, 1,277 fps
I then spent an afternoon shooting several hundred rounds of various full-metal jacket and hollow-point loads through the P250 with only a few minor problems. First, the single magazine supplied with the test gun would not take its full complement of 15 rounds. After loading the magazine several times, this problem went away.
Second, in the test's beginning, the gun had difficulty chambering several of the hollow-point loads. But like the magazine, this problem went away after a few rounds were fired. To be fair, this isn't an unusual problem with many semi-auto pistols. It's always a good idea to shoot enough rounds through the gun to ensure it will function flawlessly with the type or style of ammo you carry.
Conclusion
In the end, the SIG P250 is a reliable duty-grade pistol, which will go a long way toward satisfying the needs of a large number of law enforcement agencies around the world.
Dave Spaulding is a 28-year law-enforcement veteran, retiring at the rank of lieutenant. He's worked in all facets of law enforcement—corrections, communications, patrol, evidence collection, investigations, undercover operations, training and SWAT. He currently operates Handgun Combatives, a handgun-combat training program, and he's authored more than 800 articles for various firearm and law enforcement periodicals. In 2010 Spaulding received the Law Officer Trainer of the Year award, and he's also the author of the best-selling books Defensive Living and Handgun Combatives.
The Specs
| | | | | | | | |
| --- | --- | --- | --- | --- | --- | --- | --- |
| Size | Caliber | Capacity | BBL | OAL | Width | Height | Weight |
| Full Size | 9mm, .357 SIG, .40 SW, .45 ACP | 17+1 (9mm), 14+1 (.40 SW and .357), 10+1 (.45 ACP) | 4.7″ | 8″ | 1.4″ | 5.5″ | 29.4 oz. |
| Compact | 9mm, .357 SIG, .40 SW, .45 ACP | 15+1 (9mm), 13+1 (.40 SW and .357), 9+1 (.45 ACP) | 3.9″ | 7.2″ | 1.3″ | 5.1″ | 25.1 oz. |
| Subcompact | 9mm, .357 SIG, .40 SW, .45 ACP | 12+1 (9mm), 10+1 (.40 SW and .357), 6+1 (.45 ACP) | 3.6″ | 6.7″ | 1.1″ | 4.7″ | 24.9 oz. |
Update: SIG now offers a .22 LR version of this pistol, the P250-22.
Pricing & Shopping
MSRP: $750–$870