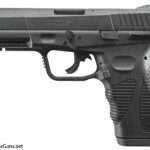 Editor's Rating: 7.0/10
Users' Rating (Click a star to rate this gun.)
Summary: Paul Markel's review of and rating for the Taurus 24/7 G2 pistol, including a description, range report, photos, pricing, specs, user ratings and user comments. (Click here to see all of Markel's handgun reviews.)
Editor's Review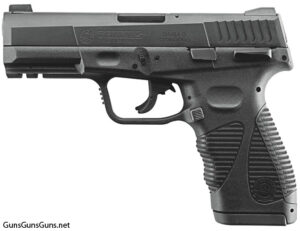 Despite the predictions of hard-core purists in the early 1990s, the so-called plastic gun fad is far from over. Quite the opposite, as every major handgun manufacturer in the world now has some form of polymer-frame pistol and/or revolver.
Taurus International entered the polymer-frame pistol market with the 24/7 model several years ago. Since that time, it has added a tremendous number of guns to the line and made several modifications to the original design.
The Taurus model 24/7 G2 is the latest version of the pistol. In this review I look at the full-size, 9mm incarnation of this model.
The Details
The Generation 2, or simply G2, is essentially a culmination of the original 24/7 models and the Taurus 800 series. (Here are links to our basic-info pages for the 24/7 Pro and the 24/7 OSS.) It's chambered in 9mm, .40 SW or .45 ACP, and full-size or compact models are available.
The full-size G2 in 9mm holds a full 17 rounds of ammunition in steel magazines, two of which come with each gun.
Stainless steel or blue steel versions are available. Taurus provides three different backstraps in small, medium and large. The full-size stainless steel barrel measures 4.2″ long, and the gun measures 7.28″ long overall. (The compact's stats: 3.5″ barrel, 6.6″ long.)
As for the controls, this gun is a lefty's dream. All of the manual controls are ambidextrous—the magazine release button, slide lock, decocker and manual safety lever.
The 24/7 G2 is a striker-fired gun, and you can get it with either a double-action/single-action (DA/SA) trigger, a DA-only trigger or an SA-only trigger. Other features include:
An external extractor;
a loaded-chamber indicator on top of the slide;
drift-adjustable, three-dot (white) sights (the rear sight has a tiny elevation screw);
contoured ambidextrous thumb rests and finger indexing pads;
polymer body construction with smooth and functional contours;
a firing pin block and the key-based Taurus Security System; and
a firing-pin cocking indicator.
Each pistol ships in a padded hard case all the accessories mentioned herein.
Range Time
It's been many years since I tested out the original 24/7 Taurus pistol, so I wanted to give this model a serious workout. For my range testing I picked out five separate loads of 9mm ammunition to include FMJ training ammunition and controlled-expansion defensive rounds. I gathered ammo from Federal's American Eagle, CorBon, DoubleTap, Hornady, and Wolf.
Step one: Chronograph each load over my Shooting Chrony F1. From the 4.2″ barrel I expected moderate velocities, and I found every load was on par with pistols of similar size:
Next up: bench work. I posted paper targets on a 15 meter stand. During slow, deliberate shooting you truly get to know the trigger of a gun. The first-shot DA trigger press seemed a bit rough, but the SA press was a bit better. From 15 meters, I discovered that six shot groups around 3″ were the norm. Also, rounds were striking 3″–4″ above point of aim but centered for windage. Here are my complete results:
American Eagle 115-grain FMJ: 2.75″ group
CorBon 115-grain +P JHP: 2.87″ group
DoubleTap 115-grain TAC-XP: 2.58″ group
Hornady 124-grain TAP: 2.79″ group
Wolf 115-grain FMJ: 3.11″ group
Shooting Drills
The 24/7 G2 is not marketed as match or target gun—it was built for personal defense. With that in mind, I set about running numerous shooting drills with the handgun.
For initial reliability testing, I loaded both magazines full with 17 rounds and topped off the G2 with one in the pipe. The result? The pistol cycled reliably when topped off.
I engaged cardboard silhouette targets from a standing two-hand hold. Thirty-five rounds into the practical testing I switched to one-hand shooting. I fired a total of 18 rounds right-hand (dominant) only. After a magazine change, I fired 17 rounds fired left-hand (support) only. The G2 ran without a hiccup.
Next up: moving drills, forward, backward and laterally. These drills test the shooter and their equipment, and during them I truly longed for a more practical set of sights. To be frank, three-dot sights are for amateurs and people who don't shoot fighting handguns. Excessive white paint, or any other color, distracts the eye and draws attention away from what's really important, the front sight. Folks, gun-makers put the front sight directly above the muzzle for a reason. The direct correlation between the muzzle (where the bullet exits the gun) and the front sight is critically important. For handgun distances, aligning your dominant eye with the front sight puts the muzzle onto the target with very little or no assistance from the rear sight.
Any color or configuration of the rear sight that distracts from the front sight focus is extraneous and unnecessary. When time is short, such as a fight for your life, the fractions of seconds wasted to ignore a brightly colored rear sight, to differentiate between rear dots and front, or to make the three dots line up perfectly is potentially hazardous.
If you find yourself in a fight for your life with a handgun, you're already having a bad day. Why would you deliberately complicate matters with a cluttered set of sights? This is particularly true when we consider that most gunfights occur during poor lighting conditions.
Getting Down
I ran a last set of drills from unconventional and awkward positions. It's an imperfect world and often you'll have to fight from non-traditional positions. My drills included shooting from a flat prone (belly down), fetal prone (on your side) and supine (on your back). Flat and fetal prone are particularly useful when shooting around low, limited cover. The supine position simulates being knocked on your butt or falling down. No time-outs in gun fights—you must be able to fight from whatever position you find yourself in.
Finally, I practiced engaging targets from kneeling; both knees down, strong knee down and support knee down. You don't know what kind of cover you might have available, left or right, high or low. It may very well pay big dividends to learn to work from all positions.
Final Thoughts
I'm pleased to report the 24/7 G2 cycled every round I put through it, even though I ran the lion's share of practice and drills with the less expensive American Eagle and Wolf FMJ loads.
Despite my misgivings about the trigger feel during slow fire, I found it wasn't much of an issue during the drills. The trigger felt rough, no doubt about it, but like many inexpensive factory guns, I'd say a dedicated break-in period will probably help the components smooth out and mesh together.
Bottom line: Training and practice is the key to running any firing system.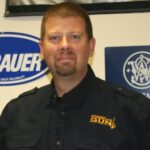 Paul G. Markel became a United States Marine in 1987 and served his nation honorably during peace time and at war. Among the many hats he has worn in his career, Markel has been a police officer, professional bodyguard, firearms instructor and gun writer. Markel is the creative director and host of "Student of the Gun," a weekly television show airing on the Sportsman Channel (www.studentofthegun.com).
The Specs
| | | | | | | |
| --- | --- | --- | --- | --- | --- | --- |
| Caliber | Capacity | BBL | OAL | Width | Height | Weight |
| 9mm | 10+1, 17+1 | 3.5″ | 6.6″ | n/a | n/a | 27 oz. |
| 9mm | 10+1, 17+1 | 4.2″ | 7.28″ | n/a | n/a | 28 oz. |
| .40 SW | 10+1, 15+1 | 3.5″ | 6.6″ | n/a | n/a | 27 oz. |
| .40 SW | 10+1, 15+1 | 4.2″ | 7.28″ | n/a | n/a | 28 oz. |
| .45 ACP | 10+1, 12+1 | 3.5″ | 6.6″ | n/a | n/a | 27 oz. |
| .45 ACP | 10+1, 12+1 | 4.2″ | 7.28″ | n/a | n/a | 28 oz. |
Pricing
MSRP: $498 (full size)
MSRP: $514 (compact)