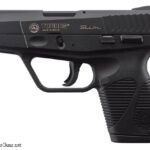 Editor's Rating: 7.0/10
Users' Rating (Click a star to rate this gun.)
Summary: Dave Spaulding's review of and rating for the Taurus 709 Slim pistols, including a range report, Taurus' specs, photos and MSRP, and user ratings. (Click here to see all Spaulding's gun reviews.)
Editor's Review
The Taurus 709 Slim is a super-compact 9mm pistol that will easily slide into a pocket or waistband. Slim is the name of this slick new entry into the Taurus line for a reason: Available in both blue and two-tone stainless or titanium, this small pistol can easily fit into places that are not normally concealment locations. Due to the slim lines, there are no revealing bumps, which makes concealed carry easier than ever before regardless of your needs.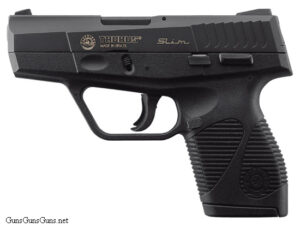 The 709 is available only in 9mm and features a striker-fired single-action trigger with the shortest reset I've ever felt on a factory built pistol. With a 7+1 shot capacity (9+1 with an extended magazine), this slick little "slim-line nine" will handle just about any situation a lone individual might face.
The pistol weighs just 19 ounces, and measures a mere 6.24″ long and less than 1″ thick. The trigger guard is big enough to engage the trigger even when wearing gloves. A lever in the face of the trigger prevents rearward travel unless it's squarely engaged, so inadvertent compression of the trigger is reduced, a nice touch when carrying the gun in deep concealment. Also included on the 709 is a visual loaded chamber indicator as well as the Taurus Security System, which allows users to securely lock the gun using an inconspicuous keylock.
The low-profile three-dot sights are a nice compromise between having enough of a sight picture to see quickly and keeping them small enough that they don't snag when worn concealed or hang up on the draw. While the three-dot configuration does not work for my tired old eyes, they do work for most people. In my case, I painted the front sight with a layer of white appliance touch up paint and once it cured, covered that layer with some bright finger nail polish. This produced a high-visibility sight I can see in a wide range of light conditions that will stand up to gun cleaning solvents. The contrast worked well with the rear white dots and took minimal effort.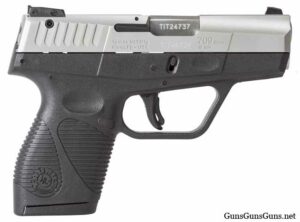 The polymer frame offers a trim grip with molded texturing for a solid hold. The grip has a nice curve to the backstrap that adds gripping surface without bulk to the compact lines. Some will say the grip is actually too small for getting a solid two-handed hold, but keep in mind what Taurus was trying to accomplish here. This is not a service grade or even an off-duty gun, it's a deep concealment weapon that will go anywhere, hide anywhere but still offer enough power to end an attack quickly. (When loaded with a street-proven 9mm load, the Taurus 709 Slim should easily do this if the shooter does their part.) To help add to the grip surface, the polymer frame has index pads on each side of the frame below the slide. By inserting the support-hand thumb into one of these indents, the support grip will be consistent while also offering an additional contact point.
Another nice feature of the Slim is the simple takedown procedure. One can't help but compare it to the Glock: When you pull the slide to the rear and manipulate the dual pull-down latch, the slide comes off the end of the frame. The Slim also has a slide-lock lever and a simple frame-mounted, push-up safety that locks the gun's action.
Range Time
I headed off to the range with the new Slim and what I had left of my dwindling supply of 9mm ammo. I don't like to bench-rest guns intended for fighting, especially a gun like this whose sole purpose is close-quarter personal defense. I've been a serious student of individual combat my entire adult life, and this study, along with my personal experiences, has led me to a number of conclusions about the subject.
One of these is that more people miss their target because they can't control the trigger. Forget point shooting versus sighted fire—if you can't control the trigger, you can't control the gun, period. Thus, I test the accuracy of this type of gun off-hand at reasonable combat distances. In the case of the Slim, I chose 50 feet, though in reality that's actually a bit far. But what the heck, if it will hold a 50′ group, closer should be a snap.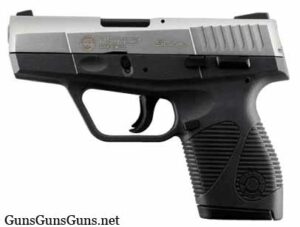 Hornady ammo is known for its accuracy, and the first four rounds went into a 1″ red dot at the center of the Birchwood Casey Dirty Bird target. On the fifth shot, I couldn't help but marvel at my wonderfulness, and you guessed it, I pulled the shot low left.
All the loads used would be a good choice for the Taurus Slim, though the felt recoil will be a challenge. The grip of the Slim is quite small in an effort to keep the gun as compact as possible, so there's not much to hold on to. Rapid-fire groups required a great deal of concentration, so if you're going to carry the Slim, you might want to consider a load that's not as hot. Remember: The most battle proven loads will be of no use if you can't hit what you're shooting at, and rapid follow-up shots might be needed to end the fight quickly. Choose your load wisely for this little gun.
The remainder of my range time consisted of classic drills such as the Bill Drill, El Presidente', the Double Nickel and running through the Crucible instructor standards. When I ran out of ammo, I'd fired 337 rounds through the Slim without a single malfunction. Several folks who were at the range tried out the Slim and all commented that the grip was indeed small, but it was also a very nice gun to shoot.
Once again, this gun has the shortest reset of any factory gun I have event tested. This easy-to-work trigger action resulted in some fine split times as long at I concentrated on hanging on. Did I encounter any problems? Sure, but they weren't the gun's fault.
Forget trying to do a competition style speed load with the Slim. The short grip, slim magazines and flush magazine button made such a reload all but impossible. With practice you will get better, but if a larger button and grip were incorporated into the design, then it would no longer be Slim, would it?
Conclusion
Other than this, I found the Taurus Slim to be a very pleasing gun. Would I buy it? Heck yes! As a matter of fact, I might just add this Taurus Slim to my personal collection.

Dave Spaulding is a 28-year law-enforcement veteran, retiring at the rank of lieutenant. He's worked in all facets of law enforcement—corrections, communications, patrol, evidence collection, investigations, undercover operations, training and SWAT. He currently operates Handgun Combatives, a handgun-combat training program, and he's authored more than 800 articles for various firearm and law enforcement periodicals. In 2010 Spaulding received the Law Officer Trainer of the Year award, and he's also the author of the best-selling books Defensive Living and Handgun Combatives.
The Specs
| | | | | | | |
| --- | --- | --- | --- | --- | --- | --- |
| Caliber | Capacity | BBL | OAL | Width | Height | Weight |
| 9mm | 7+1, 9+1 | 3″ | 6″ | .96″ | 4.53″ | 19 oz. |
709 Slim Pricing & Shopping
MSRP: $483–$623
Retail: $179.99 (black) @ Brownells—


Retail: $269.99 (stainless slide) @ Brownells—