Best Overall 1-6x Scope
Vortex Optics Razor HD Gen II-E
A favorite among small game hunters.
Value: 9/10
Performance: 9.5/10
Cost: 8.5/10
Check Price
Best Value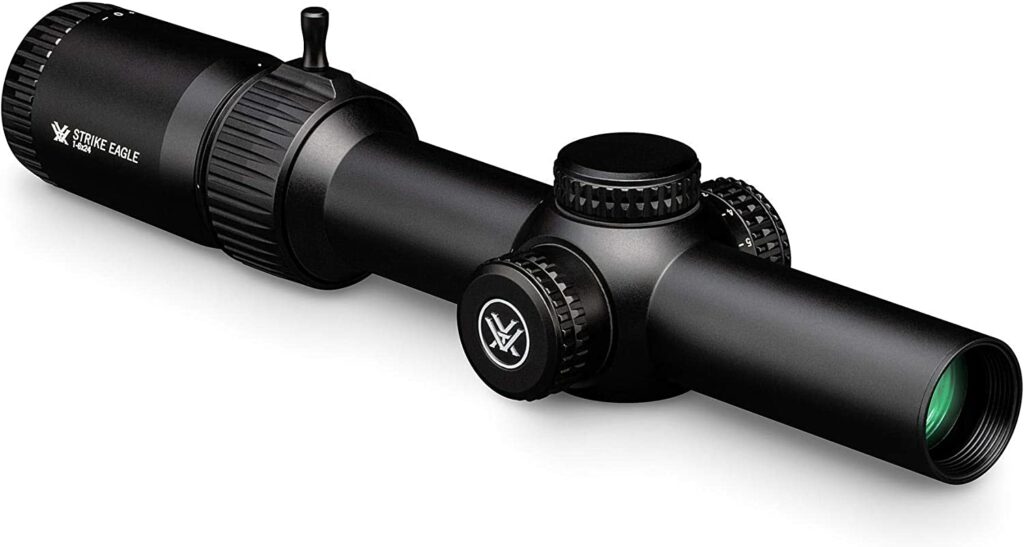 Vortex Strike Eagle Gen 2
Performs as reliably as its more expensive rivals.
Value: 9.5/10
Performance: 7.5/10
Cost: 9/10
Check Price
Best Premium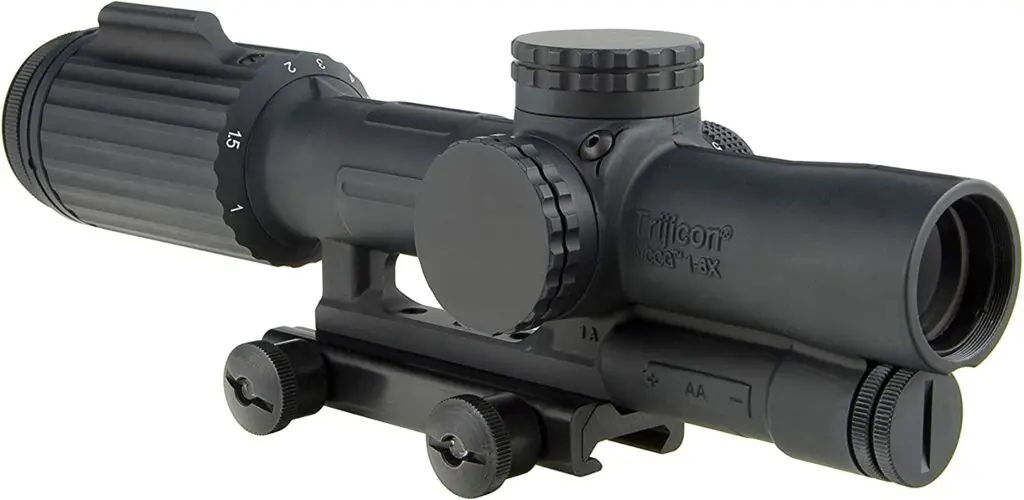 Trijicon 1-6x24mm VCOG Riflescope
An investment you will never regret.
Value: 8.5/10
Performance: 9.5/10
Cost: 7/10
Check Price
Finding a scope that's reliable for both close quarter battle situations and medium-range shooting can be tricky. That plus you need to consider other features such as eye relief, fast target acquisition, and extreme precision. You're in luck! Because we don't recommend just any product, we test them ourselves! And our picks for the best 1-6x scopes will blow your mind! Let's get to it!
Features to Consider + How we Choose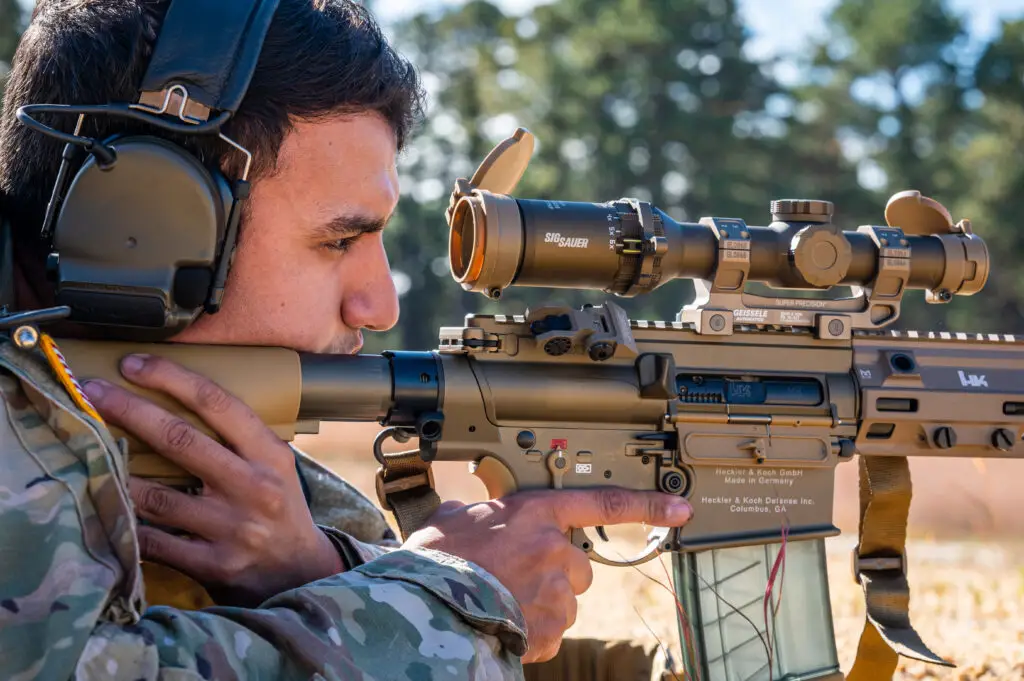 Clarity
Images in low-quality rifle scopes get blurry or distorted around the edges when at maximum power where a clear sight picture is critical. Stay away from those. 
You want your sight picture clear from the get go with excellent light transmission and minimal-to-no distortion at the highest magnification.
Eye Relief
Make sure your scope has ample, if not generous, eye relief for sighting flexibility and a larger field of view.
Controls
Choose a scope with consistent, repeatable controls for easy adjustments as you engage targets at varying distances along the way.
Material Quality and Weight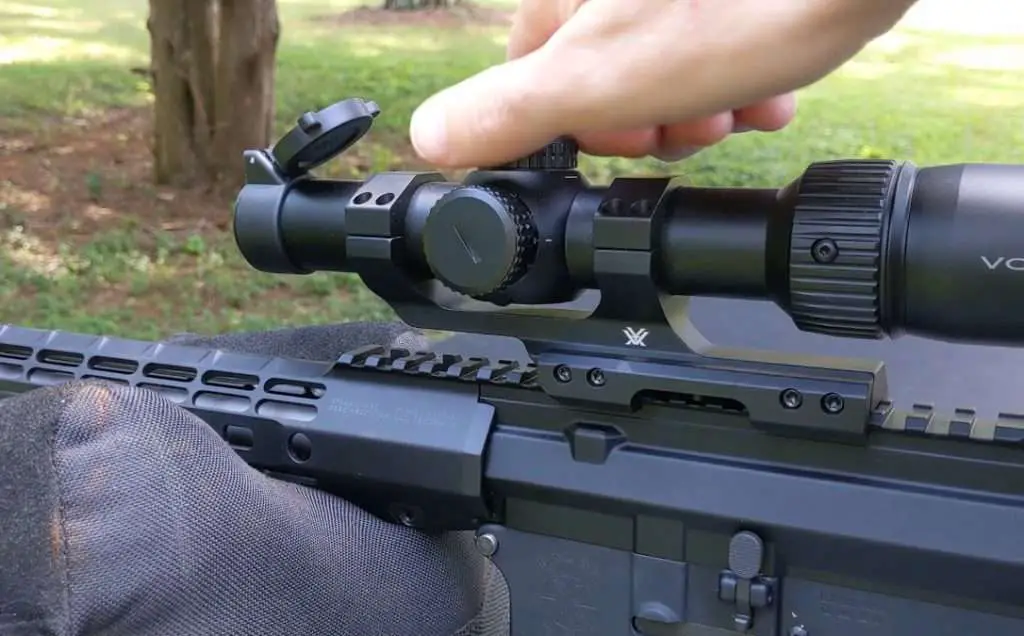 A durable scope can hold zero well, even after rounds of heavy recoil or after getting bumped around. However, more solid scopes are also heavier. So weigh which feature you want to prioritize – transportability over durability, or vice versa.
Price
We know it's a bummer to spend a lot on one piece of shooting equipment. But think of it as an investment that you'll benefit from long-term. You'll probably keep your scope for decades, so when you consider the value in that sense, going for quality and performance is a much easier choice. Believe us, it'll be worth it.
If you need to watch what you spend, we also have an affordable but reliable pick for you below.
5 Best 1-6x Scopes
Best Overall 1-6x Scope: Vortex Optics Razor HD Gen II-E 
Its true 1x zoom is complemented by its reticle's daylight-bright illuminated center dot. The Razor HD Gen-II E is also lightweight for easier transitions between multiple targets and less arm fatigue when spending long hours on the range. It's the premium big brother of the Strike Eagle which we'll be reviewing in a bit, and we picked it for the improved optical performance and eye box.
This scope is really clear in person, and you can definitely see what you're paying for.
The Razor HD takes pride in its apochromatic (APO) optical system that features premium index-matched lenses for unparalleled image quality. This scope is also impact-tested, so it can withstand heavy recoil.
The Razor HD comes in three reticle types; the JM-1 BDC, the VMR-1, and the VMR-2. The proprietary JM-1 BDC reticle is simple and intuitive and features an illuminated center red dot. The JM-1 BDC reticle is great for "rapid, accurate, shooting at distances from point-blank to 600 yards." https://vortexoptics.com/razor-hd-gen-2-e-1-6×24-riflescope.html
The VMR-1 reticle is based on minute-of-angle (MOA) sub tensions while the VMR-2 reticle is based on milliradians. Both reticles are designed to maximize long-distance shooting and ranging abilities.
Pros
Capped turrets
4 inches eye relief
Lightweight
APO optical system
Friction-reduction system
Comes with lifetime warranty
What Customers Say
The Vortex Optics Razor HD Gen II-E is a really good and forgiving optic for your rifle. Between the eye-searingly bright red dot, the wide FOV, crystal clear glass, and overall design, you are getting a lot of good features for your money. This is an easy recommend but make sure you are getting the reticle type you want before pulling the trigger.

Tipsy McStagger
Excellent Scope. Not cheap, but the clarity of the glass, the ability for fine adjustment, and zero-set is pure perfection. If you're looking for a scope to double as a red-dot and a 500+ yard precision instrument then this is it.

Art
Best Value: Vortex Strike Eagle Gen 2
The Vortex Strike Eagle SFP riflescope comes with an AR-BDC reticle that's specifically tuned to match the ballistic performance of popular .223 / 5.56mm and .308 / 7.62mm loads. This means you can achieve more efficient rapid shooting at short to medium distances. This illuminated reticle also provides holdover and ranging references from 0-600 yards and is great for low-light use. Not to mention it's fog proof and waterproof.
We've had hands-on experience with this scope, and it's a really good value.
Pros
Comes with lifetime warranty
Capped turrets
Affordable
Illuminated BDC3 reticle
Side illumination dial
Cons
Eye box can be a bit unforgiving
Glass clarity isn't great at high magnification
What Customers Say
I'm not an expert on optics. Much of what I know is based on product research and less on practical application. Nevertheless, based on my research and my experience with the scope so far, this is the best value available. You won't find another scope of this quality, with these capabilities and features, from a manufacturer with a reputation like a Vortex anywhere close to this price range.

Eric Stikes
My range is only 500 TDs. Being a novice to bolt action rifles. This is bar none a great entry-level scope. Awesome glass and smooth adjustment. Definite buy. Locked in and adjusted hit 500 yds 8 inches round Ar500 plate all day long. You cannot beat the Vortex warranty. Lifetime. There is your cue to buy.

Darren
Best Premium Option: Trijicon 1-6x24mm VCOG Riflescope
The Trijicon Variable Combat Optical Gunsight (VCOG) rifle scope costs more than typical LPVOs. But that's for good reasons.
First, the VCOG is manufactured to military standard specifications. So you know it can take a good beating regularly. Second, its lenses are of superior quality and guarantee excellent light transmission with no distortion. Finally, its reticle comes with bullet drop compensation and ranging abilities.
Pros
Virtually indestructible
4 inches eye relief
Mil-Spec illumination electronics
Waterproof to 66 feet
What Customers Say
The glass is like looking through high definition reality. I had a vortex hd 1×6 and there is no comparison. I mounted mine with the geisle acog mount. It's so solid. I love the ease of adjusting the magnification.

Bryan Pettit
Primary Arms SLX 1-6x24mm SFP Gen III Illuminated Riflescope
The SLX Gen III illuminated riflescope is one of Primary Arms' best LPVOs. It sports a hard-anodized 6063 aluminum construction and a matte black finish. Its reticle comes with 11 brightness settings that's low-light to day-light bright. One of the best things about the SLX Gen III is the glass quality can compete with higher end optics – you won't believe this scope costs less than $300!
Pros
Affordable
Lightweight
Waterproof, fog resistant, and nitrogen purged
Comes with a lifetime warranty
3.5 inches eye relief
Cons
Reticle is only partially illuminated
What Customers Say
This is a very nice [peice] of glass for the money. Will be purchasing more for other rifles.

Tim Lucabaugh
In my opinion, this is a game changer for a small caliber rifle scope. Definitely worth the price! This is the one and only option to go with! You will not be disappointed.

Knighthood LLC
Vortex Viper PST Gen II 1-6×24 Riflescope
Our last pick is also Vortex Optics' third entry for this list. What can we say, they really produce solid LPVOs!
The Viper PST Gen II features an illumination dial that's been built into the side focus adjustment knob. This allows quick access and smooth operation. It also features a VMR-2 reticle that offers effective range determination, holdovers, and windage corrections. The Viper PST Gen II comes with 10 intensity settings with off positions between each level.
Pros
3.8 inches eye relief
Comes with lifetime warranty
Illuminated reticle
Waterproof, shockproof, and fog proof
What Customers Say
This is hands down the best variable powered optic under 1k. Daylight bright dot and it's vortex quality. It is not a razor, the clarity is fine, but there are clearer options for a little more money, but this is hard to beat.

Amazon Customer
Very good eye relief and easy to use like a regular red dot when set to 1X magnification.

Cosmo Cat
Conclusion
That's all folks! If you want a scope that'd cover longer distances, take a look at the best 1-8x scopes.
Last update on 2023-12-06 / Images from Amazon Product API