Best Overall
Trijicon RMR Type 2
A workhouse red dot
Reticle: 9/10
Battery Life: 10/10
Cost: 6/10
Check Price
Best Under $200
Sig Romeo5
All the features, great price
Reticle: 8/10
Battery Life: 8/10
Cost: 10/10
Check Price
Quickest Target Acquisition
EOTech XPS2
Less battery life but great usability
Reticle: 9/10
Battery Life: 6/10
Cost: 8/10
Check Price
You've finally managed to get your hands on the iconic AK-47. You're pumped, you're ready, but there's just one teensy, little snag. The iron sights are fine for the occasional plinking or casual shooting. 

However, if you're looking to take your accuracy game to the next level or if you're planning to use it for home defense or tactical purposes, those stock sights just aren't gonna cut it. It's a common frustration, believe me, we've been there too!
Enter red dot sights. They are the perfect solution to your aim and accuracy woes. 
But with a plethora of options out there, which one do you choose? Which is the best fit for your trusty AK-47?
In this article, we've handpicked the best red dot for AK-47 just for you. So, let's dig into the meat and potatoes of it all, and find you the perfect red dot sight to have you shooting like a pro in no time. 
Best Red Dot for AK: Must-Have Features
Size of Reticle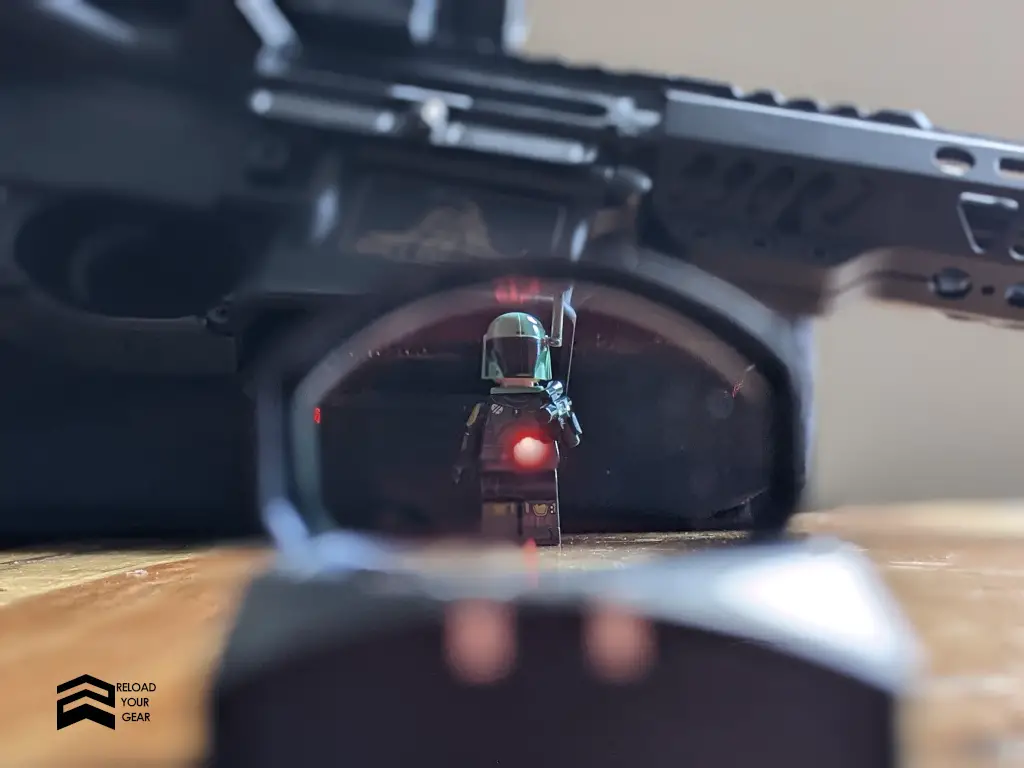 Size matters! When we talk about the size of the reticle in an AK 47 red dot sight, we're referring to the dot's diameter, measured in minutes of angle (MOA). A larger reticle (like a 4 MOA dot) can be picked up quickly by the eye, making it great for close-quarter situations. 
On the flip side, a smaller dot (like a 1 MOA) offers a finer point of aim and is typically better for long-range shooting. Ultimately, the best size depends on your specific needs and shooting style.
Reticle Design
Speaking of reticles, the design itself can make a world of difference in your shooting experience. The standard design is a simple dot, but there are other options like crosshairs, donut-shaped, or even combination designs. 
Some shooters prefer a single dot for its simplicity, while others prefer a more complex design that can offer additional information like bullet drop compensation. 
The best design is subjective and really depends on personal preference and your specific use case.
Night Vision Capability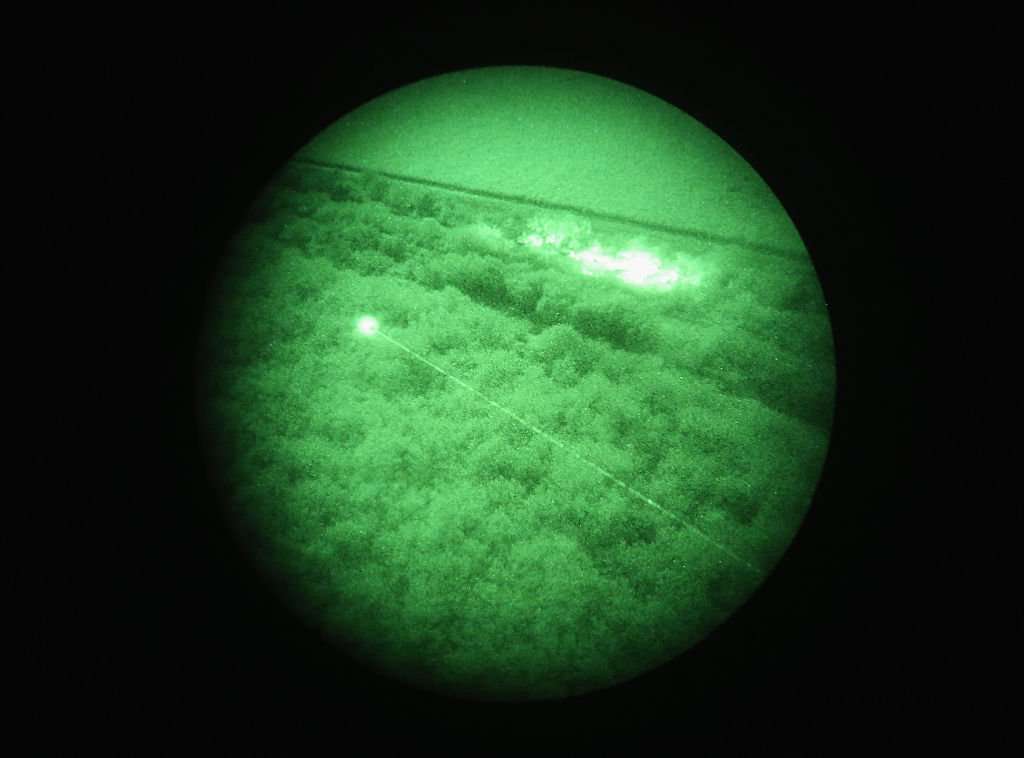 No matter if you're a dedicated night hunter or simply want to be prepared for any lighting situation, having an AK47 red dot with night vision compatibility is a huge plus. 
This feature allows you to use your sight in tandem with night vision devices, ensuring you can accurately aim regardless of low-light conditions. Just remember, not all AKs with red dot have this feature, so if it's a must-have for you, make sure to check the specifications before you purchase.
Battery Life
Battery life is often overlooked, but it's a crucial factor when choosing a red dot sight. A sight with a poor battery life can leave you high and dry at the most inconvenient times. 
A top-tier red dot sight for AK 47 boasts battery life that lasts thousands of hours, sometimes even up to 50,000 hours. Aim for a model that has a solid battery life to ensure you're not left changing batteries in the middle of a critical moment.
Price
AK47 red dot sights can vary widely in cost, from budget-friendly to quite pricey. Remember, a higher price doesn't always mean better quality. It's more important to find a sight that suits your needs and budget. 
You'll find great options at various price points, but just be aware of what features you may be sacrificing with a less expensive model.
Best Overall: Trijicon RM07-C-700679
The Trijicon RM07-C-700679 is a top-of-the-line red dot sight crafted by Trijicon, one of the most reputable manufacturers in the optics industry. It's a popular choice among firearms enthusiasts for its quality, durability, and reliability.
Constructed from military-grade aluminum alloy, this bad boy is ready to handle whatever rough and tumble situation you might throw at it. Whether it's a downpour in the wilderness or an unforgivingly hot, sandy desert, the RM07 is your trusty companion that won't back down.
It also has an auto-adjust mode, which means the sight will adapt to the surrounding light conditions without you having to lift a finger. Talk about a smart sight!
Put simply, the Trijicon RM07-C-700679 RMR Type 2 is the full package. Reliable, adaptable, and smart – it's no wonder it's the best overall.
Pros
Highly durable and resistant to impact, water, and fog
Provides a precise aiming point
Compatible with a wide range of firearms
Compact and lightweight
Adjustable brightness
Cons
Limited reticle options
Smaller window size
Expensive price
Score
Size of Reticle Score – 5/5
Multiple options available here, 1, 3.25, and 6.5 MOA dots
Reticle Design Score – 4/5
Just a dot, but good enough for most…
Night Vision Capability Score – 5/5
Covered!
Battery Life Score – 5/5
Four years of continuous use enough?
Price – 3/5
They do retail at 3x the cost of others . . . worth it? Probably not for most.
Overall Score – 4.4/5
What Customers Say
This is coming from a Grandmaster ranked competitive shooter who is also in several "Pro List" programs that do NOT included Trijicon, but do include some of Triji's competitors. This is my third Type 2 that I've purchased over the years for Home Defense (HD) rifle and pistol, with about the same number of other types of dots on my competition guns. First off, with reference to competition guns (ie, "play guns" that will only be used at the range), I go a different route than the RMR. There are other quality dots that are less expensive, have more brightness settings, and provide some better optical advantages in terms of window size and glass clarity. That said, the RMR can ABSOLUTELY be used on a competition gun, especially if the firearm is intended for dual-use with HD in mind. For instance, I use my RMR equipped PCCO for both HD as well as competition, just removing the flashlight on competition day. I just practiced with my RMR equipped Pistol Caliber Carbine (with a forward mounted flashlight no less!!!) at my Steel Challenge range and was able to consistently run sub-2 second Smoke and Hope strings with one getting down to 1.85 seconds.

jkrispies
Best Under $200: Sig Sauer SOR52001 Romeo5 Red Dot Sight
The Sig Sauer SOR52001 Romeo5 Red Dot Sight is a high-quality optical device produced by Sig Sauer, a globally recognized firearms manufacturer known for their emphasis on performance and reliability.
Check out this full review for all of the details.
Here's why it's hands down the best option under $200.
The Romeo5 is all about giving you more bang for your buck. It comes packed with features that you'd usually find in pricier models. This sight features a 2 MOA red dot reticle, which hits that sweet spot between precision and speed – ideal for both close-quarters and mid-range shots.
One of the standout features of this red dot sight is its Motion Activated Illumination (MOTAC). You move, it wakes up; you stop, it sleeps. This cool function extends battery life, saving you cash in the long run. It's always ready to go when you are, and there's something pretty cool about that!
Moreover, the Romeo5 comes with an integrated M1913 Picatinny interface that provides industry-standard mounting options for a wide range of applications. Whether you're in the field hunting, at the range, or in a tactical situation, this red dot sight will not let you down.
Pros
Provides quick target acquisition
Turns on the illumination automatically
Versatile mounting options
Reliable and durable 
Cons
Some users have reported inconsistencies in terms of quality control
Limited adjustment range
Only offers a 2 MOA red dot reticle
Score
Size of Reticle Score – 4/5
Just a 2 MOA dot
Reticle Design Score – 4/5
Again, it's a dot…
Night Vision Capability Score – 5/5
Yep!
Battery Life Score – 4/5
Motion-activated and 40,000 hours at a nominal setting . . . pretty legit
Price – 5/5
Priced to sell
Overall Score – 4.4/5
What Customers Say
I recently purchased the Sig Sauer Romeo5 red dot optic from Amazon and I am extremely satisfied with my purchase! The Romeo5 arrived quickly and was well-packaged. The optic itself is high-quality and well-made, with clear and bright optics that make it easy to acquire targets quickly. The sight is easy to adjust and holds zero well, even after extended use. The build quality is solid and the construction feels durable, with a sturdy and lightweight design that feels comfortable to use. The Sig Sauer Romeo5 red dot optic has exceeded my expectations and I highly recommend it to anyone looking for a reliable and effective sight for their firearm. Overall, I am very happy with my purchase and would definitely purchase from this seller again.

Daniel Turtoi
Best for Quick Target Acquisition: EOTech XPS2-0 Holographic Red Dot Sight
The EOTech XPS2-0 is a high-end holographic red dot sight that uses a holographic image of a reticle embedded into the viewing window and illuminated by a laser diode. This holographic system enables the shooter to view the reticle with two eyes open, facilitating rapid target acquisition and situational awareness.
With a large, open viewing window and a 68 MOA ring surrounding a 1 MOA dot reticle, this red dot sight is designed for rapid target engagement. The reticle layout provides a quick reference point, allowing your eyes to easily find the target without blocking your view. Basically, it's like having a hawk's sharp, rapid focus condensed into a neat little sight.
On top of its speediness, the XPS2-0 doesn't skimp on quality. It's built like a rugged fortress that can handle recoil and resist water, so you know it's made to last.
It's incredibly compact, too. The XPS2-0 has a shortened base that only requires 2.75″ of rail space, leaving you plenty of room for rear iron sights or magnifiers.
One more notable aspect is its efficient power use. The EOTech XPS2-0 operates on a single CR123 battery, offering a good battery life.
Pros
Enables quick target transitions and engagement
Provides a clear and precise aiming point through its holographic technology
Offers a wide field of view
Durable aluminum housing that is both waterproof and fog-proof
Designed to operate reliably in extreme temperatures
Cons
Reticle can appear dimmer in bright daylight conditions
Only comes with a single 1 MOA dot reticle
Can be difficult to use for beginners
Score
Size of Reticle Score – 4/5
Mostly 1 MOA but interesting design options
Reticle Design Score – 5/5
Multiple options is cool! 1 dot, 2 dot w/ range estimation ring
Night Vision Capability Score – 5/5
Yep!
Battery Life Score – 3/5
1,000 hours at a nominal setting . . . meh!
Price – 4/5
Priced to sell
Overall Score – 4.2/5
What Customers Say
I have a ton of 44 mag through this EOTech on a S&W 629 now and have just moved the sight to an AR15. I picked up a Leupold FXII handgun scope for the 44 mag from Jose Rodriguez at The Scopesmith. All in all a better setup for both platforms. I've bumped my rating on the EOTech from 4 to a very solid 5 on the AR15. This is not to say that the EOTech is bad on the 44 mag. It is, in fact, quite nice and, importantly, survived more that 250 rounds of very hot, very nasty 320 grain hard cast 44 magnum without a hitch. The same can't be said for my right hand. The EOTech is incredibly durable. I hope the same can be said of the Leupold after the same abuse. In just 20 rounds, the locktite on the Warn mount screws rattled loose, so time will tell.

W. E. Thackrey
Best for Durability: Aimpoint PRO Red Dot Reflex Sight
The Aimpoint PRO Red Dot Reflex Sight is a high-quality, durable, and reliable sight specially designed for law enforcement and military use. But due to its excellent features, it also became a popular choice among civilian gun owners.
Check out our full Aimpoint PRO review if you have time.
The Aimpoint PRO has tough-as-nails housing. It's made from high-strength aluminum that can take a beating and keep on ticking. Whether it's a slip, a drop, or harsh weather conditions, this red dot sight can survive almost anything.
And it's not just tough on the outside; it's robust on the inside too. The sight's internals are sealed within the sight body to protect them from shock, vibration, and harsh elements. 
The red dot sight is also waterproof up to 150 feet, making it suitable for use in various weather conditions.
For mounting, the Aimpoint PRO includes a QRP2 rail grabber mount. This mount has a torque-limiting twist knob that provides pressure enough for the sight to withstand severe recoil while also allowing for quick attachment and detachment.
Pros
Built to withstand shock, recoil, and harsh environmental conditions
Designed with an "always-on" function
Offers a clear and parallax-free 1x magnification
Mount is robust and easy to install
Intuitive controls for adjusting brightness levels
Cons
Heavier weight
Does not offer magnification capabilities for longer-range engagements
Higher price point
Score
Size of Reticle Score – 4/5
Just 2 MOA
Reticle Design Score – 4/5
Just a dot again
Night Vision Capability Score – 5/5
4 NV Settings
Battery Life Score – 4/5
30,000 settings
Price – 4/5
Mid- to Premium-Level pricing
Overall Score – 4.2/5
What Customers Say
Decided to buy 3 of these lights back in September of 2021 and have had them on a timer ever since and they're still going strong! Installation was simple if you have proper knowledge of electrical and have proper mounting equipment.

Lights came with a built in level which was nice if you dont have one on hand! They haven't had any issues since ive installed them and they're still very bright! Just purchased another one to add to the side of the warehouse.

Overall i would highly recommend this light to anyone who needs an area to be washed out nicely.

I have them on a timer which turns on at 12am and turns off at 6am everyday 24/7.

Alejandro Salazar
Burris FastFire II Reflex Red Dot Sight
The Burris FastFire II Reflex Red Dot Sight boasts a shockproof design which means it's built to handle any amount of recoil you throw at it. From the soft push of a .22 to the hard kick of a .50 BMG, this sight is your sturdy, unshakeable sidekick.
What makes the Burris  FastFire II stand out from the rest is its durability and stability. Thanks to its solid construction and advanced tech, it maintains its reticle position even under heavy recoil. The last thing you want is a sight that gets thrown off by every shot, and the FastFire II makes sure that's a non-issue.
The FastFire II doesn't just handle recoil like a boss; it's also user-friendly. It comes with a 4 MOA dot that's easy to spot and align with your target, even in a hurry. So no matter how quick you're shooting or how heavy the recoil, you can count on your aim being on point.
Pros
Can handle any amount of recoil from various calibers
Perfect for shooters of all experience levels
Can withstand rough handling and adverse weather conditions
Can easily mount on handguns, shotguns, hunting rifles, and tactical firearms
Cons
No multiple brightness settings
No night vision compatibility
Its protective cover is not attached
Score
Size of Reticle Score – 3/5
Just 4 MOA
Reticle Design Score – 4/5
Just a dot again
Night Vision Capability Score – 1/5
Nope!
Battery Life Score – 2/5
Unstated
Price – 5/5
Value pricing
Overall Score – 3.4/5
What Customers Say
IT's a great sight. Easy to install, except the battery cap. Not sure why they make the cap such a pain to use. My advice is to push down on the cap and turn ccw about a half turn, then continue to push down and slowly turn clockwise to tighten. I put some electrical tape on the tip of my screwdriver to make a snug fit in the slot on the cap. The glass is clear and the 3 moa dot is easy to see. I mounted it on my shotgun for turkey hunting, so the smaller dot is the better choice for me.

BigDawgFan
Best Under $100: Bushnell Trophy TRS-25 Red Dot Sight Riflescope
The Bushnell Trophy TRS-25 Red Dot Sight Riflescope is a compact, budget-friendly sighting solution designed to provide fast target acquisition and precision aiming. Despite its low price, it doesn't skimp on performance or quality, which makes it a popular choice among hunters, sport shooters, and other firearms enthusiasts.
We did a full review of the TRS-25 here.
The TRS-25 also offers a clear, bright view. With a 3 MOA red dot reticle and multi-coated optics, you'll get a crisp, bright sight picture, ensuring that you can acquire your target quickly, no matter the lighting conditions.
Let's not forget about the TRS-25's durability. It's waterproof and fog proof, so whether you're dealing with a sudden downpour or an early morning fog, this sight will keep on delivering. But let's be honest, this is not an RMR. It's affordable for plinking, but you may want to pay up if your life will rely on it!
Overall, the Bushnell Trophy TRS-25 Red Dot Sight Riflescope offers high-quality performance at a budget-friendly price, making it an excellent option for those looking for a cost-effective sighting solution.
Pros
Excellent performance at a budget-friendly price
Offers 3 MOA red dot reticle for quick target acquisition
Shockproof construction
Waterproof and fog-proof
Offers 11 brightness settings
Cons
The brightness dial can be a little stiff to turn
Not ideal for users that prefer sharper, smaller dot for precision shooting
Shorter battery life
Score
Size of Reticle Score – 3/5
Just 3 MOA
Reticle Design Score – 4/5
Just a dot again
Night Vision Capability Score – 3/5
11 settings
Battery Life Score – 2/5
Not great based on experience
Price – 5/5
Value pricing
Overall Score – 3.4/5
What Customers Say
I don't write reviews much anymore. I figured I'd chime in with a contemporary 2022 opinion.

I always put off buying a TRS-25. I figured it's a pricier "cheap" red dot. I always opted for the red dots in the $25-50 price range (Field Sport, Feyachi, Midten), figuring they're just range red dots. I've owned half a dozen of these red dots in that price range, and even the ones that are "TRS-25 Clones". I always assumed the ones that look just like the TRS-25 are pretty much the exact same thing with different markings on them. 6 years after buying my first cheap red dot for range time, I've finally bought the TRS-25 that I saw then. I just always figured it wasn't worth double or triple the cost of those.

C. Kiehl
Our Key Takeaways
In this article, we've taken a thorough look at the top 7 best red dots for your AK-47, from Trijicon's high-performing sights to Bushnell's affordable options. Each product offers distinct features and advantages.
You might gravitate towards the robust Aimpoint PRO, favor the quick target acquisition of the EOTech XPS2-0, or appreciate the recoil readiness of the Burris FastFire II. Don't worry if you're budget-conscious – the Sig Sauer Romeo5 and Bushnell Trophy TRS-25 offer great value.
Finding the perfect red dot for your AK-47 comes down to your specific needs and shooting style. All the red dots we've explored are excellent, but the right choice will depend on your intended use.
Consider your options carefully, assess the pros and cons, and don't rush the decision. Once you've selected your sight, you can look forward to a more accurate and efficient shooting experience.
Last update on 2023-09-18 / Images from Amazon Product API