Our Top Picks
Best Overall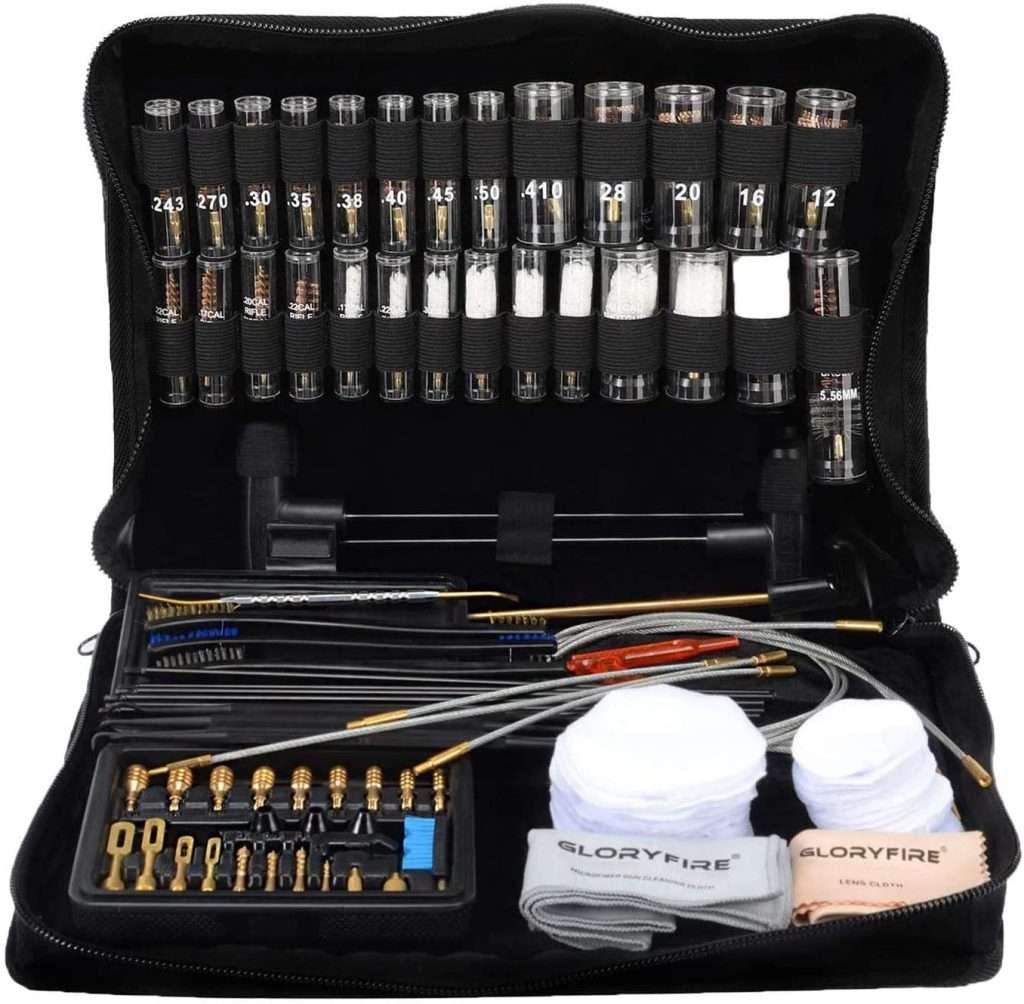 Gloryfire Gun Cleaning Kit
This kit guarantees superior gun cleaning.
Check Price
Best Budget Rifle Cleaning Kit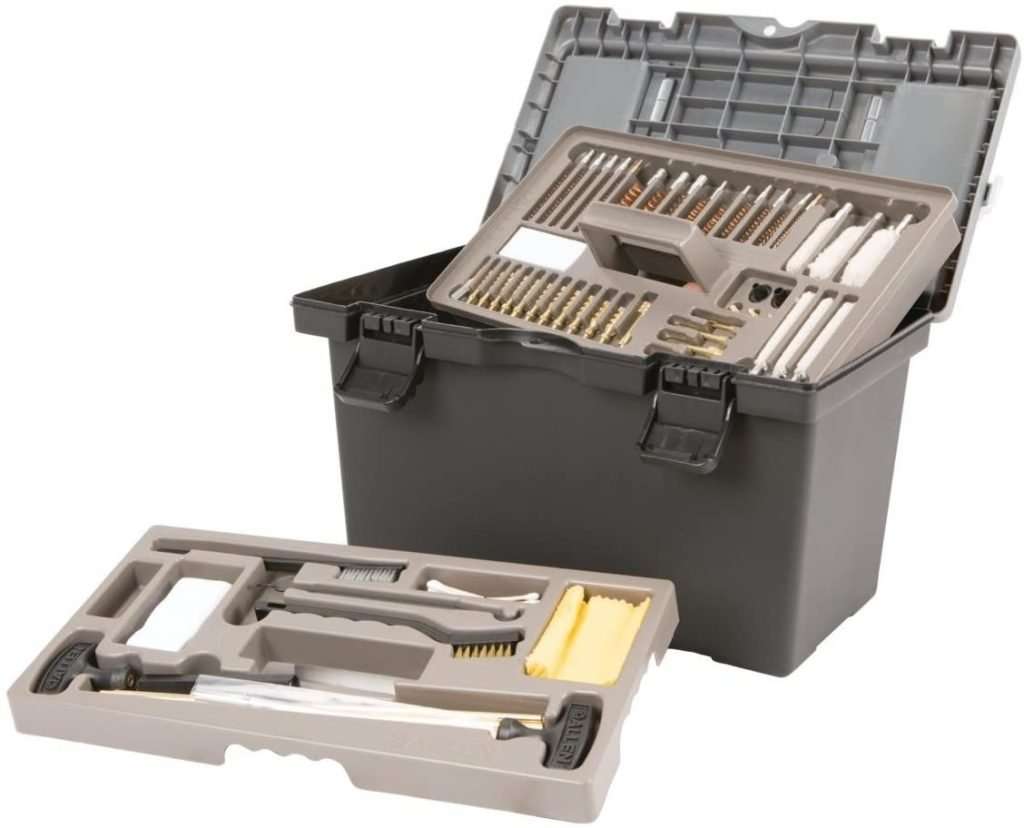 Allen Ruger Rifle & Handgun Cleaning Kit
This kit is best if you're on a limited budget.
Check Price
Best Universal Cleaning Kit
Otis Elite Gun Cleaning Kit
We recommend this kit if you have a diverse gun collection.
Check Price
Best Portable Rifle Cleaning Kit (or for a Range Bag)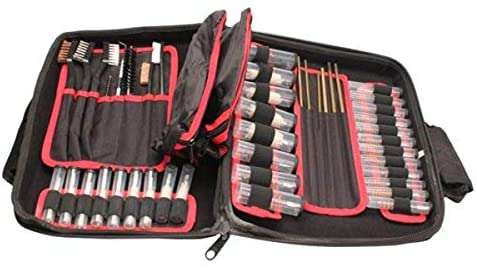 Winchester Soft Sided Gun Care Case
This cleaning kit is the perfect travel companion.
Check Price
We know how confusing it is to choose among the available gun cleaning kits. So we've decided to narrow down your options. After all, you don't want to ruin the rifling in your precision rifle barrel with a cheap, Chinese cleaning kit. Let's review the best rifle cleaning kits and find something better that will work for your needs.
Comparison of the Best Rifle Cleaning Kits
How We Choose + Our Must-Have Features
Not all gun cleaning kits have everything you need. So when choosing one, here are items to look for.
Bore Brush

Bore brushes are essential in a gun cleaning kit as they scrub off heavy carbon buildup from your gun barrel. 
There are two types of bore brushes – bronze brushes and nylon brushes. Most kits come with bronze brushes since they're good for getting bits of metal out without scratching your steel barrel. Some kits include nylon brushes which is a great bonus since the bronze ones can be too rough for your gun's sensitive parts.
Bore Mops
Bore mops are great for removing residue and excess oil from your bore. Look out for those that are made of cotton as they're more durable.
Cleaning Rods / Bore Snakes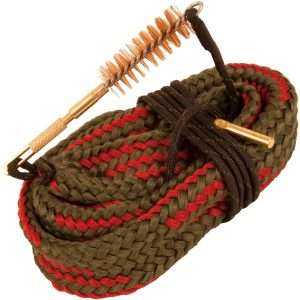 Kits either have rods, tips, and patches or do it all at once with a bore snake. One goes for versatility while a bore snake is faster. Many brands manufacture rods that bend, break easily, or will scratch your barrel. So, we make sure to only include the sturdiest ones in this article.
Cleaning Patches
Cleaning patches are made of fabric and are dipped in a cleaning solvent then passed through your gun barrel. We recommend getting patches that are made of cotton or its equivalent.
Best Overall Rifle Cleaning Kit: Gloryfire Gun Cleaning Kit
Gloryfire guarantees the quality of their cleaning rods. They tested different materials and broke 600 rods while developing their extra-tough, reinforced rods.
The Gloryfire Gun Cleaning Kit comes with bronze brushes needed to clean .17 to .50 caliber guns. So, you can clean anything from rimfire rifles to large centerfire handguns with this kit. These brushes are made of iron cores for long-lasting durability. 
This kit also has brass jags for rifles and pistols, and cotton swabs for pistols, rifles, and shotguns. Gloryfire also allows you to choose between two cleaning methods – rod or rope.
Customers also commended how every tool in this kit is of superior quality compared to other kits. It may be more expensive than some brands, but customers say it's worth the money. When you're cleaning firearms that cost $500+, I think it's worth paying for a nicer cleaning kit to make sure they last forever!
We've read nearly 100% positive feedback for this outstanding kit, that's why Gloryfire is our best overall rifle cleaning kit.
Pros
Each tool is of superior quality
Reinforced rods
Velvet-lined kit
What Customers Say
"This kit is outstanding and comes with everything you need to be able to clean multiple types of firearms, carbines, rifles, shotguns. Whatever you need for your tools. If you have multiple firearms etc., & even if you don't this is your kit. It even has space if you want to add oils and cleaners to the pack as well. It's lightweight and comes in a great quality zip up case as well. It takes up very little space. Definitely happy with this pick."
"The holy grail for gun cleaning. No cheap pieces. All quality. A bit pricey…but in the end, I couldn't find a quality complete set that was even close. Quality Counts."
Best Budget Rifle Cleaning Kit: Allen Ruger Rifle & Handgun Cleaning Kit
Allen Ruger made sure not to compromise quality while providing a budget-friendly option.
What we love most about the Allen Ruger Rifle & Handgun Cleaning Kit are its cleaning patches. These patches are made of soft, knit cotton for easier cleaning, unlike synthetic patches. Since they're made of 100% cotton, they completely absorb excess oil and solvent, how convenient is that? You also get to choose from 3 different patch sizes.
For those of you using old t-shirts for cleaning, there's still something for you . . . .
The brass cleaning rod that comes with this kit is sturdy, and the rod's handle also has a swivel for faster cleaning.
However, it would've been better if the kit had some space where you can put your solvent in. Overall, the Allen Ruger Gun Kit's quality is top-notch for its price.
Pros
Knit cotton cleaning patches
Heavy-duty brass cleaning rod
Cons
The kit's case is not that durable
Size indicators are difficult to read
What Customers Say
"This is a five-star review because everything included is top-notch. Even the plastic case is quite sturdy.
That said, there are two small issues:
1. The size markings on the case are hard to read. Not critical, just could be easier with some colored paint on the letters.
2. One needs oil and cleaner; there is no place in the case to store even two small bottles. Again, not critical, but it would be more convenient for portability."
"This is a very complete collection of tools for just about any caliber you're likely to need to clean. My only issue with them is that I wish the caliber was more clearly marked on the various brushes and other parts. Marking the case would help. Other than that, this gets the job done quickly and easily."
Best Universal Gun Cleaning Kit: Otis Elite Gun Cleaning Kit
Unlike our first two picks, the Otis Elite Gun Cleaning Kit comes with a 0.5 fl. oz. Bio-CLP, so it's a complete package.
The Otis Elite Gun Cleaning Kit has an extensive variety of tools for different calibers – from rifles and pistols to shotguns and inline muzzleloaders.
This incredible kit comes with memory-flex cables that are constructed from aircraft-grade metals. These cables come in different lengths for superior breech-to-muzzle cleaning. 
We also love how portable the kit's nylon carrying bag is. But it would have been better if it had more pockets for better organization.
Pros
High-quality memory-flex cables
Comes with lens cleaning tools for optics care
Comes with a warranty
Cons
Carrying bag is not that durable
Lacks compartments for organization
What Customers Say
"I love the kit itself. I've been shooting for over 39 years, and my cleaning supplies have become a hodge-podge of accumulated parts. Still and all, I never seemed to have exactly what I needed when I needed it. That's all solved by the Otis Elite – it has just about everything!"
"Having recently inherited a diverse collection of firearms, I found myself in need of a cleaning kit capable of handling multiple calibers in a convenient package. Let me tell you, this kit fits the bill! It includes tools for breaking down and fine detailing almost any firearm, plenty of gun oil/solvent, hundreds of cloth cleaning patches, and bore brushes for just about any caliber you could want. "
Best Portable Rifle Cleaning Kit (or for a Range Bag): DAC Winchester Super Deluxe Soft Sided Gun Care Case
Aside from having every tool you need to keep your guns in top shape, the DAC Winchester Super Deluxe Gun Care Case is compact and portable.
We recommend this cleaning kit if you have more than one type of firearm or like to take a cleaning kit to the range with you. It has 68 pieces of tools and accessories intended for different calibers. 
Its case is made from soft EVA material and has removable pouches for extra cleaning supplies. 
The DAC Winchester Cleaning Kit also has intended pockets for each tool so everything stays in place during transport. The caliber is also indicated on each tool, so that's a great bonus.
As for the cleaning tools, most customers mentioned that they're of higher quality compared to other brands. One minor downside is that the cleaning patches are a little too big for the bore on smaller rifles.
Pros
Very organized case
Universal kit
Machined aluminum handle
Cons
Cleaning patch is too big for recommended bore
Solvent and oil are not included in the kit
What Customers Say
"If you're looking for a killer bargain and a great Xmas present, you will not go wrong buying this kit. I was very pleased and continue to be with this item."
"This is exactly what people make it out to be – the Taj Mahal of gun cleaning kits. There's more than enough parts in here for 90% of people's gun cleaning needs and each part comes with some kind of individual packaging. The case is nice and thin, yet sturdy enough it will last a while. Everything is marked for caliber which is a nice step up from some of the cheaper kits out there."
Hoppe's No. 9 Deluxe Gun Cleaning Kit
Hoppe's has been a trusted brand for generations. 
What's great about this kit is that it comes with the Hoppe's No. 9 Gun Bore Cleaner and lubricating oil. We also love how the oil does not leave any residue nor dry out after use.
This kit also contains a three-piece brass rod that has a ball-bearing swivel handle to follow the bore's rifling. It also comes with phosphor bronze brushes, a silicone cleaning cloth, and Hoppe's "Guide to Gun Care" booklet.
However, it would have been better if the kit had a needle applicator for the lubricant.
Pros
Heavy-duty box
Comes with bore cleaner and oil
Comes with a gun care booklet
Universal kit
Cons
Patch holders are not labeled properly
No needle applicator for the lubricant
What Customers Say
"It has enough cleaning for at least a dozen cleanings, enough oil for many more. You'll need to buy (more pieces of) cloth after the first four cleanings or so, and there are no real instructions as you can clean almost any gun with it, but this aside, it has a decent case suitable for storing the items it comes with. Perfect for home cleaning and someone who is new to guns."
"I received one as a gift and have since purchased one as a gift. Multi caliber, and multi need. Brushes, swaps, and pads, as well as the rod and adapters. A must-have for gun owners."
Frequently Asked Questions
What is the best rifle cleaning kit?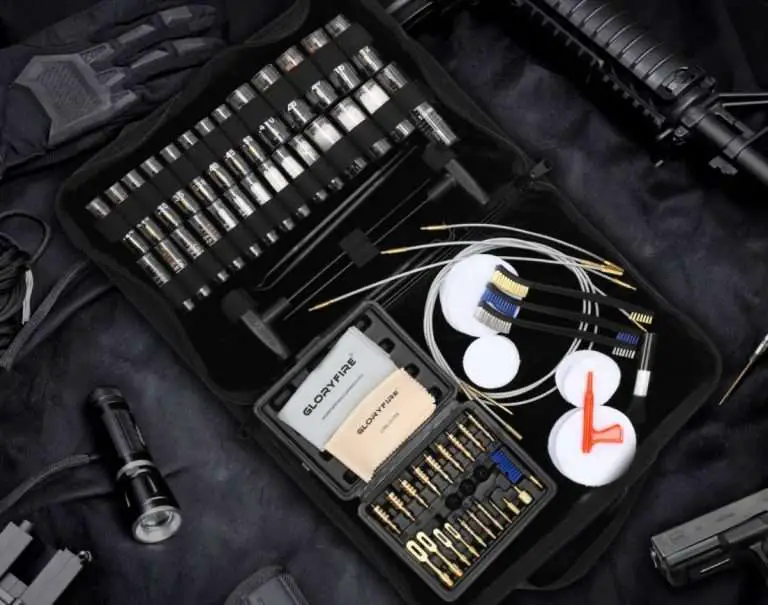 We think the Gloryfile Gun Cleaning Kit is the best gun cleaning kit for all-around use. But, the others on our list are better choices for travel to the range and budget shoppers.
What are the items required for cleaning a rifle?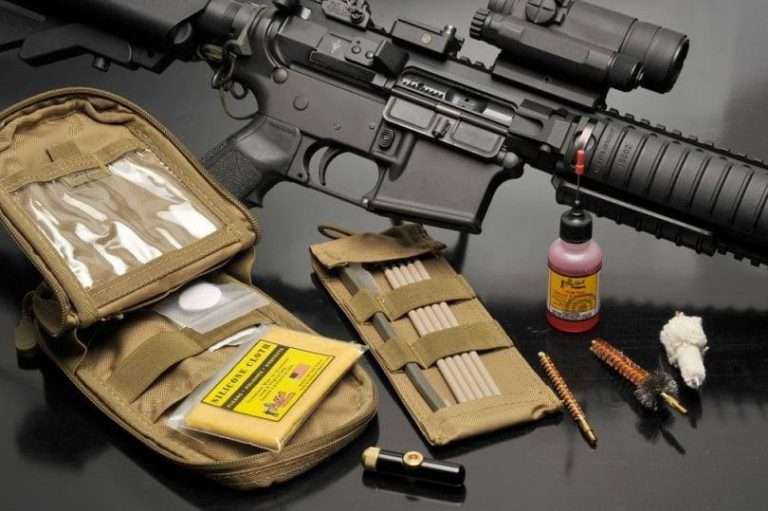 When cleaning a rifle, here are the gun supplies you would need:
Gun cleaning mat 
Bore cleaner or solvent
Lubricating oil
Bore brush
Bore mop
Cleaning patches
Cleaning rod/bore snake (optional)
Latex gloves (optional)
Do I need to clean my rifle after every use?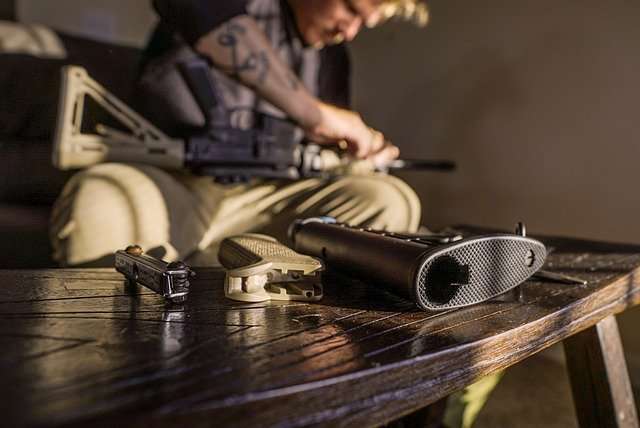 Yes, we recommend that you clean your rifle after every use. This is to avoid carbon buildup and to immediately remove contaminants that cause rust and corrosion.
What is the best cleaning kit for an AR-15?
If you'd ask us, we recommend the Gloryfire Universal Gun Cleaning Kit, as it's not only great for rifles, it's an extraordinary cleaning kit for any type of gun. Be sure to see the rest of the list for the best budget kit and the best kit for your range bag.
Final Thoughts
We hope we made choosing easier for you. Now you can rest easy knowing that you have a great kit to rely on. If you don't have one already, be sure to get a gun cleaning mat to avoid losing parts and a post-cleaning mess!
If you're looking for cleaning supplies tailored for the AR-15, our top pick for the best AR-15 cleaning kit will blow your mind!
Last update on 2023-09-19 / Images from Amazon Product API