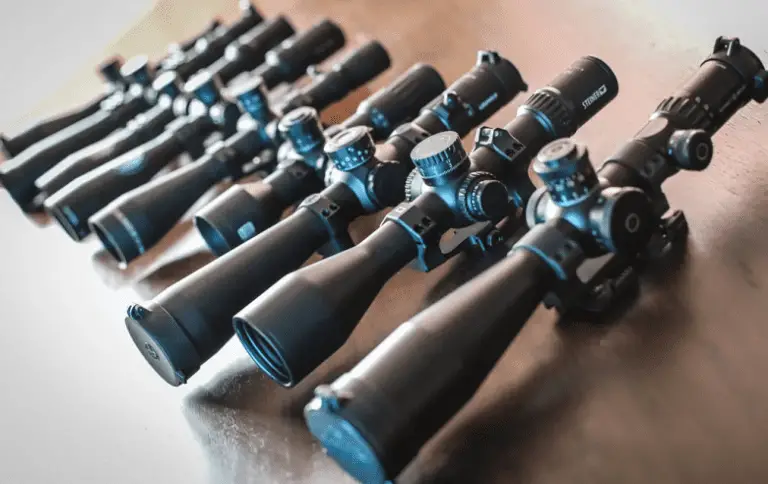 Our Top Picks
Best Overall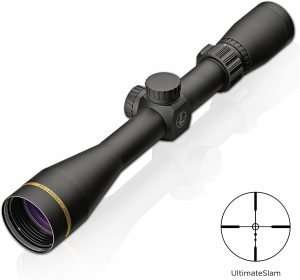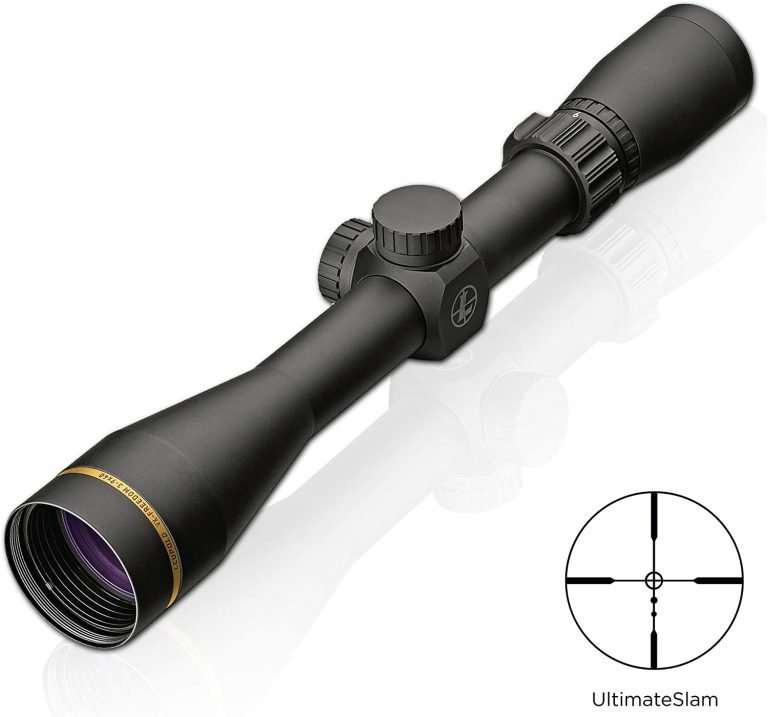 Leupold VX-Freedom 450 Bushmaster 3-9×40 Riflescope
Specially designed for dusk to dawn hunting.
Check Price
Best for Hunting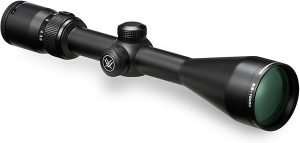 Vortex Optics Diamondback 4-12×40 Second Focal Plane Riflescope
Delivers incredible image clarity.
Check Price
Best Eye Relief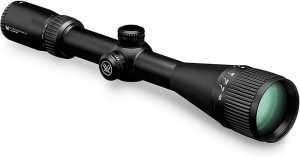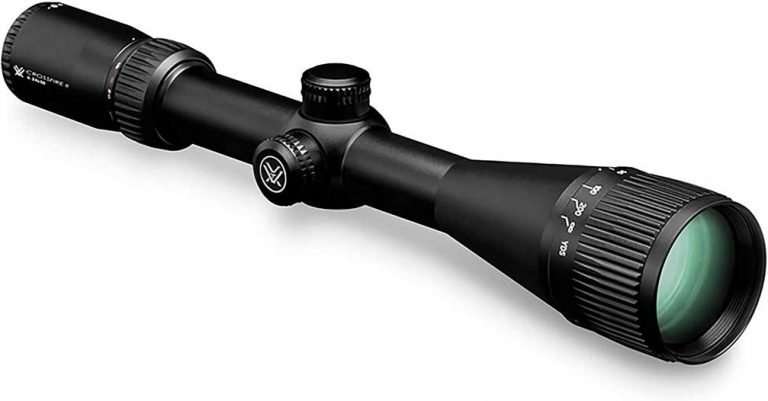 Vortex Optics Crossfire II Adjustable Objective, Second Focal Plane Riflescope
Offers quick and easy holdover estimation.
Check Price
Best Illuminated Reticle
Monstrum G3 6-24×50 First Focal Plane Rifle Scope with Illuminated MOA Reticle
Great for low-light shooting.
Check Price
Best for Long Range Shooting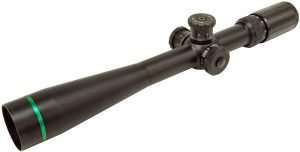 Mueller Target Rifle Scope
Guarantees edge-to-edge clarity.
Check Price
What qualifies as a great scope? Can you get a reliable scope without wiping out your savings? We answer those questions in this article and listed the best rifle scopes under $300.
Comparison of the Best Rifle Scopes Under $300
How We Choose + Our Must-Have Features
Magnification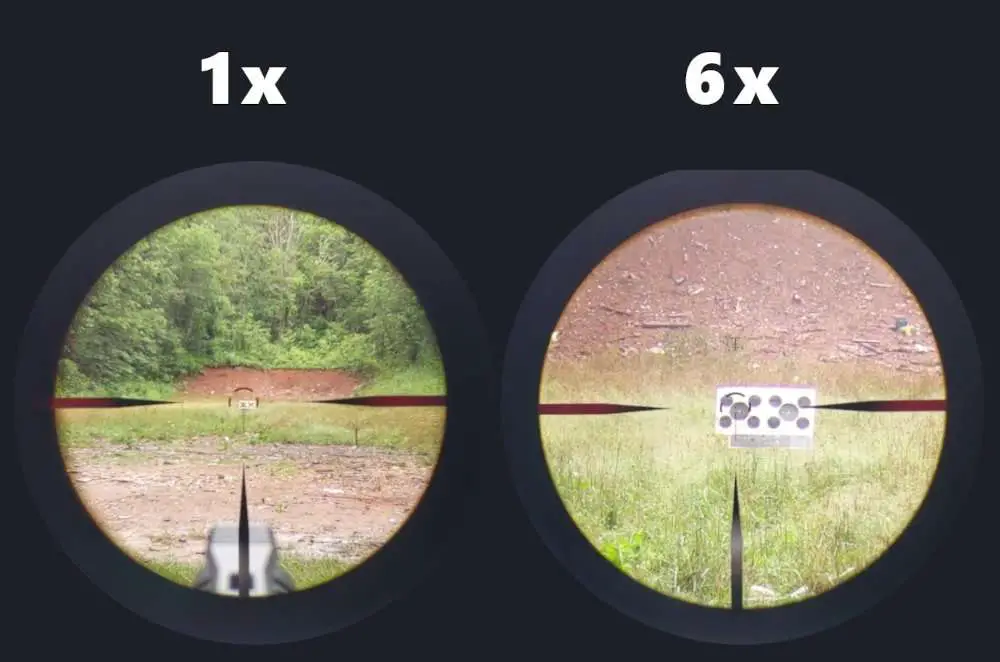 Decide on your scope's magnification first. If you're regularly engaging targets at a wide variety of ranges, get a scope with variable magnification so you can use it for close-range and long-range shooting.
A scope with adjustable parallax is also a big plus for shooting long distances. If you like shooting steel at common self-defense ranges, a 1x optic is faster than any magnified scope since it's a natural sight picture for your eye. That way, you can easily keep both eyes open and maximize your situational awareness.
Clear Sight Picture
Optical clarity is a must for scopes. An optic with an objective lens of at least 30 mm diameter will let plenty of light in (larger is better for hunting in low-light conditions). Fully multi-coated lenses made from high-density glass are also important for sight picture quality. And if you think you can't get those from low-cost scopes, that's where you're wrong. All of the listed scopes guarantee high light transmission, and improved glare reduction when sighting in a wide range of conditions.
Reticle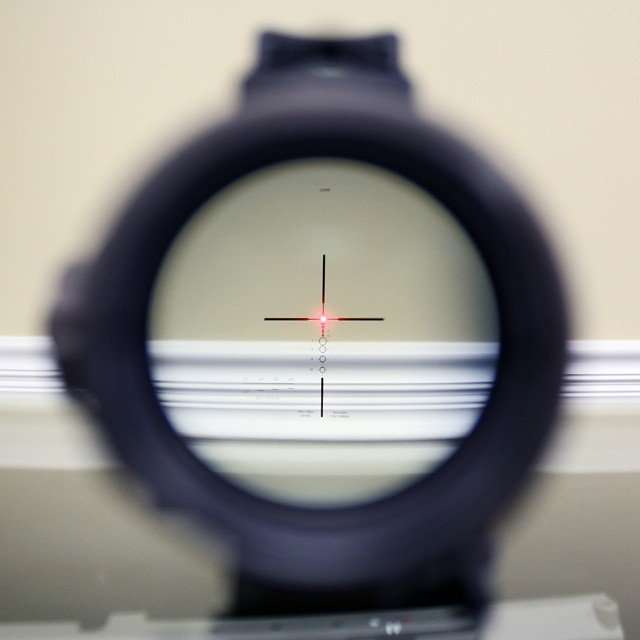 If you'll be shooting at longer distances, choose a scope that compensates for that, and wind drift, to help extend your effective shooting range. Also, if you have a reticle with holdover points, you won't have to dial in your ranges and can shoot more quickly.
Durability
Accidents are part of game hunting and target shooting. So your scope needs to be sturdy enough to survive drops and bumps, as well as stay dry in rain and snow. And all the scopes we've listed below are shockproof, waterproof, and fog proof so you won't be disappointed no matter what you choose.
5 Best Rifle Scopes Under $300
Best Overall: Leupold VX-Freedom 3-9×40 Riflescope
The VX-Freedom Riflescope comes with a ballistically matched bullet drop compensation elevation dial and precision 1/4 MOA finger click adjustments for elevation and windage.
And like every Leupold optic, it's equipped with an impressive light management system. This proprietary technology delivers optimum light transmission and reduced glare for hunting from dusk to dawn. This scope is also designed and tested to perform in the most extreme weather conditions and environment.
Plus, its internals are engineered using state-of-the-art sealing methods to keep the optic moisture-free forever. However, the VX-Freedom's parallax is fixed at 100 yards so we don't recommend it for short-range shooting. It's more suited to longer distances and hunting.
Pros
Lightweight
Incredible low light performance
High-quality glass
Cons
Elevation and windage turret clicks are a little spongy
Parallax is fixed at 100 yards
What Customers Say
"Glass is crystal clear, images are crisp. The ability to dial for distance substantially improves the versatility of the 450 BM, as you aren't left to make as big of a guess. It's a beautiful scope, but what else do you expect with a Leupold."
"This scope comes with the CSD for 450 Bushmaster. The eye relief is excellent. I was hitting a 2″ group at 200 yards with a 450 upper on my AR. Highly recommended."
Best for Hunting: Vortex Optics Diamondback 4-12×40 Second Focal Plane Riflescope
We'll begin by commending Vortex's premium lifetime warranty and how reliable its customer service is. Not that you'll have to use it often, because their scopes are designed to last.
The Vortex Diamondback is equipped with a precision-glide erector system for smooth magnification changes even with extreme weather. Aside from hunting, this scope is also perfect for long precision shooting because its side parallax knob and exposed tactical turrets make adjustments hassle-free.
One minor drawback is that these turrets can't be locked, but they're very tight and are resettable.
Pros
Fast-focus eyepiece
Extra-low dispersion glass
Shock-proof, waterproof, fog proof
Lifetime warranty
Cons
No parallax adjustments past 300 yards
What Customers Say
"Very good scope for the money. Love the warranty and so far it's very accurate for my skill level. Sighting my 6.5 hells canyon in I could clearly see my groups and while at max zoom short-range objects can get a bit out of focus it's still full stars for me."
"Beautiful piece of glass. Most are intimidated by 6-24 but it is such a good range of zoom. The parallax settings were spot on and the reticle is very eye-friendly. Not too long for most rifles even with sunshade. The eye relief is more than adequate to prevent scope bite. Very happy there is finally a high-quality FFP scope out there at a budget rifle price point."
Best Eye Relief: Vortex Optics Crossfire II Adjustable Objective, Second Focal Plane Rifle Scope
The Crossfire II uses the Dead-Hold BDC (Bullet Drop Compensation) reticle which provides reference marks to compensate for bullet drift at long ranges.
Vortex scopes are made from aircraft-grade aluminum, so shockproof performance is guaranteed. Plus, the Crossfire II comes with an O-ring seal and is purged with nitrogen, so you don't have to worry about moisture. You can also easily dial accurate long-range shots with its tactical elevation and windage turrets. That and Vortex's ever-reliable parallax adjustment knobs.
However, the Crossfire weighs more than other scopes at this tier and may wear you down on a long day of armed hiking. Other than this setback, this versatile optic is a good choice for all your hunting needs.
Pros
Long eye relief
Premium lifetime warranty
Affordable
Waterproof, fog proof, shockproof
Cons
It's a little heavy
The image gets fuzzy at high magnification
What Customers Say
"For the most part I am very pleased about this scope build quality is very good and the VIP warranty is awesome The Parallax and the magnification all that it's very good my only issue is the red-dot In the center is not very bright and gets washed out very easily installed new batteries I'm trying it on the highest setting and still it's washed out"
"Installed on a Ruger American. The scope has nice glass for the price you're paying. Turrets are fairly crisp, with no skipping of the clicks to date. Front parallax adjustment, rear focus, and magnification all move easily with just the right amount of resistance. The turrets are resettable. I haven't seen anything whatsoever that would keep me from buying another Crossfire II. Vortex also stands by their product 100%!"
Best Illuminated Reticle: Monstrum G3 6-24×50 First Focal Plane Rifle Scope with Illuminated MOA Reticle and Adjustable Objective
The Monstrum G3 6-24×50 First Focal Plane Rifle Scope is perfect for medium to long-range shooting. Its adjustable objective lens comes with a range estimation feature, parallax elimination, and guarantees a sharper image focus.
Its illuminated MOA reticle also features user-friendly and consistent ranging information on all magnification levels. Plus, it's constructed from high-quality glass and heavy-duty aluminum so it's well-built. And the honeycomb shade that comes with it doesn't obstruct shooting or sighting in, unlike other brands.
One tradeoff for its affordability, however, is that the image gets a little blurry at the highest zoom setting.
Pros
Affordable
Fog proof and waterproof
Turrets click audibly
Comes with heavy-duty scope rings
Cons
Warranty is limited to one year
Narrow eye relief range
What Customers Say
"I bought this for my AR-15 and will eventually move it to my Ruger precision .308 that being said …… the scope was shipped fast came as described I had no problem mounting it on my M&P 15 went to the range and within 5-6 rounds was on target yes I did use a laser bore sight, love this scope! for the $$ it's a great value IMO none better on the market I also bought the 4×14 for my wife's AR-15 as well, be sure you torque all the mounts to factory specs and re: torque after a few rounds, the reason I can't give it 5 stars is the very first time out the front cap cover broke they seem to be very flimsy IMO it's the scopes only downfall. absolutely recommend Monstrum!!!"
"I switched from a name brand $200 scope, shooting 1/4" MOA, on my Remington 700 SPS Tact. AAC-SD .308Win w/20" bull barrel! I made the switch because I've done a lot of research and watched too much YouTube, it helped out a lot with my choice! I fought in the beginning with getting zeroed, 10 rounds later I'm stacking them within 1" moa rushing my shots, it was cold and windy. I can guarantee I'll be back to my 1/4" when the wind dies off and I take my time! Highly recommend you give this scope a chance! It's awesome for the money!"
Best for Long Range Shooting: Mueller Target Rifle Scope
The Mueller Target Rifle Scope is another low-cost alternative with excellent performance. It delivers a clear field of view and long eye-relief so you can adjust the scope forward without tightening the eye box. It also comes with a simple target non-duplex crosshair, making it a great choice if you prefer an ultra-fine reticle.
Its windage and elevation side focus knobs are fully exposed, making zeroing in quick and easy, and they click audibly. However, eye alignment at the maximum magnification becomes an issue.
Pros
Comes with a limited lifetime warranty
Generous eye relief
Comes with a sunshade
Cons
No external locking mechanism
It's heavier than most scope brands
What Customers Say
"Nothing bad about the scope bought out of stupidity, should've known the scope had a very low chance of withstanding .300 WinMag. After about 10 shots the crosshair began to rotate, after my buddy shot it more the crosshair was canted at about 45°. Besides that, it was flawless, Parallax was awesome, the scope was crystal clear and the crosshair was clean. But you get what you pay for. Might be able to salvage it and use it for another rifle."
"Would have gotten a fifth star if it was a bit lighter! Works great and is a quality product. Just a bit 10oz heavier than some more expensive scopes, but the functionality is there. For bench rest shooting, you're good to go, but for off-hand shooting this might be a bit heavier than you may like, depending on your rifle."
Conclusion
A lot of people say that shooting is an expensive hobby. But we say it doesn't have to be! We made sure to list the most cost-effective but reliable optics. Now mount that scope and have some fun!
If you want optics that'll survive combat and heavy use, here's an article about the best military scopes.
Last update on 2023-09-25 / Images from Amazon Product API