Best Overall
Last update on 2020-11-23 / Images from Amazon Product Advertising API
Choosing a tactical watch may seem an impossible mission. 
Timepieces evolved over time and, if only a few years ago any watch equipped with an altimeter, barometer and maybe with a daily alarm was considered sufficient for military or outdoor activity, nowadays we are speaking about modern tactical GPS watches.
This type of outdoor watches is ultra-technological, being typically equipped with much more than a simple GPS. 
In the simplest models, we find the traditional ABC function in addition to the GPS, while the most advanced models integrate heart rate monitors, weather detectors and even operating systems that allow you to synchronize the watch with the mobile phone.
The many excellent functions of these watches made them extremely requested on the market. 
As an answer to the demand, many popular or less popular manufacturers launched their own lines of military or outdoor GPS watches.
And since it is never easy to decide which timepieces to buy, we decided to put up this list of tactical GPS watch reviews. Hopefully, it will help you find the GPS watch you're looking for.
Quick Look: Best Tactical GPS Watches
In a hurry? Here are our top picks.
Nixon Mission Smart Watch
Samsung Gear S3 Frontier
Suunto Ambit2 GPS Watch
Our Reviews Of The Best Tactical GPS Watches
#1 Nixon Mission Smart Watch
The Mission smart watch by Nixon is definitely one of the most popular tactical watches on the market. 
The watch is powered by Android Wear and is characterized by a sporty yet casual design.
The manufacturer produces this watch in three different colors that can match any style and personal taste. 
The design is defined by simple lines that try to imitate the beauty of the analog watches.
In fact, the digital dial indicates the time in an analog fashion while an ambient light sensor will adjust the luminosity to make the display visible in all circumstances.
Regarding the features, this watch is water resistant at 330 feet, it has a gyrometer and the traditional ABC function. 
The capacitive display can be used even with wet fingers and the manufacturer also launched two apps that are compatible with Android smartphones and that are designed to provide further tactic tools.
Unfortunately, Nixon is not compatible with iOS systems but the users still appreciate its qualities.
#2 Samsung Gear S3 Frontier
The renowned manufacturer Samsung is famous worldwide for its state-of-the-art technological solutions, and things are no different when it comes to tactical GPS watches. 
The Gear S3 Frontier is a reliable and durable smartwatch developed to resist to any type of outdoor activity.
The design is attractive, the watch being defined by sleek lines and a classic analog dial. But don't be fooled by the accurate imitation of the traditional watches. 
The Gear S3 Frontier is a full tech watch equipped with Android system and that can be easily synchronized with your mobile phone.
Thanks to this feature you will be able to have almost all your smartphone functions on your wrist, including the integrated GPS that can keep track of your activity.
Other than this, the watch is water and dust resistant and it also resists well to extreme temperatures and shock.
#3 Suunto Ambit2 GPS Watch
Suunto is a brand renowned worldwide for its tech tactical watches, one of the most popular being the Ambit2.
This watch follows the stylish, minimalist, slightly sporty line of the other Suunto watches. 
The wristband and case are made of high-quality plastic, while the display shows the essential information using the same minimalist style characteristic of the brand.
Among the many useful functions we can mention, in addition to the GPS, the altitude log with difference altitude measurement, the barometer with storm alarm and the weather trend indicator. 
The switch between alti and baro functions is made automatically, while a compass with semi-automatic calibration will help you stay on track.
According to the users, this watch really has what it takes to be a top tactical GPS watch, and the only drawbacks highlighted are related to some minor design flaws and expensive price.
#4 Garmin Tactix GPS Navigator
Another excellent tactical GPS watch for men is the Tactix Navigator by Garmin. 
This watch comes equipped with a ton of useful tactical functions, beginning with the extremely accurate ABC feature that provides real-time information about the altitude, atmospheric pressure, and direction.
Tactix gives you the possibility to create your own routes and records bread crumb trails on the move thanks to the high-quality GPS. 
A really useful feature is TracBack, a tool that will guide you back along a previously recorded path so you will never get lost.
With Tactix you will also be able to share your adventures with family and friends using two dedicated apps, keep track of your activity, measure your performances or plan activities thanks to the many additional features.
According to the users, there are no real drawbacks of this watch, but it might be difficult to learn how to operate it.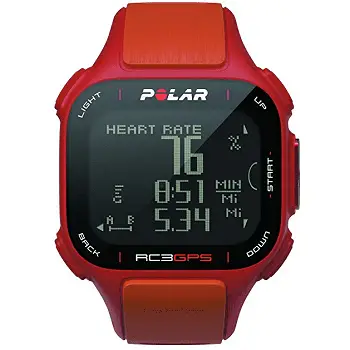 GPS timepieces almost never come at low prices, but if you're looking for a reliable tactical GPS watch for sale then the Polar RC3 might be the right choice.
This model by Polar has a modern design and gadget performances. 
It comes with an integrated heart rate monitor, an altimeter and the device tracks and keeps a log of many variables, including speed, distance, and route.
The model is compatible with a series of other devices and it can be used either as activity tracker during exercise or as a tactical watch when hiking or on the field.
However, the rather low price comes at a cost. The RC3 is not water resistant and it doesn't have a compass. 
For these reasons, you will not be able to use it for all purposes and for orienting you will have to rely on external tools.
It was a tough decision, but we decided that the best tactical GPS watch is the Garmin Tactix GPS Navigator. 
This tactical watch impresses with the accuracy of the GPS, with the long-lasting battery and with all the other features designed both for training and outdoor activity.
We also like the fact that it can be synchronized with a wide range of devices and that it can be used as a smart watch.
It is true, learning how to operate the Tactix might be tricky. Nevertheless, once you discover its features, Garmin becomes a hard-to-replace watch.